Review: 'Taking Shots' by Toni Aleo #Reviewathon
August 22, 2019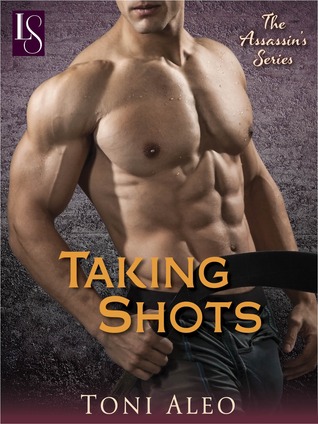 Taking Shots
by
Toni Aleo
Series:
Assassins #1
Published by
Loveswept
on October 4, 2011
Genres:
Contemporary Romance
Format:
AudioBook
Source:
Audible Escape
Goodreads
Purchase at
Amazon
|
Apple
|
Google Play
|
Kobo

In Toni Aleo's exhilarating Loveswept debut, the first in a series featuring the hockey hunks of the Nashville Assassins, a reformed bad boy helps a charming, willful woman face off against the demons of her past. No matter how hard she tries, Elleanor Fisher never thinks she's good enough, from her job to her weight to her love life. After enduring years of abuse at the hands of an ex-boyfriend, Elli has been drifting through life in a daze. Until, that is, she meets Shea Adler on a promotional shoot for the NHL's Nashville Assassins. Before Elli knows what's happening, the gorgeous Shea breaks the ice and shatters her world. A brilliant athlete inside the rink, Shea Adler is tired of the life he's living outside of it: the women, the money, the drinking. But everything changes when he meets Elli. After laying eyes on this feisty, witty, beautiful woman, he feels like he's just taken the hardest hit of his life. No matter how skeptical she is, Shea knows they are meant to be together—if only he can convince Elli to put her insecurities aside before she misses out on a shot at love.
Praise for Toni Aleo's Nashville Assassins romances "Aleo melts the ice and hits it into the net with her Assassins series."—Award-winning author Jami Davenport "Taking Shots is really the whole package. You get romance, humor, steamy sex, drama, and then it all wraps up with a great conclusion. I am amazed that this is Toni's first book. She has come out in a huge way. I can't wait to read more from her. Don't hesitate for a moment to grab this book."—Guilty Pleasures Book Reviews "A little steamy, a little heartbreaking, and a whole lot of fanning yourself are in order this time around readers. Are your cheeks feeling a little pink yet? Get used to the feeling."—Dreaming in the Pages, on Trying to Score "Empty Net is an honest, heartwarming, endearing story. . . . Toni Aleo doesn't just write a story. She gives you the ability to experience the journey of her characters right along with them. Her stories are enveloped with passion, emotion, humor, love; and let me tell you, that girl knows how to write a sex scene that just makes you sweat!"—Guilty Pleasures Book Review "Sexy and riveting . . . the perfect combination of love and lust."—USA Today bestselling author Heidi McLaughlin, on Blue Lines Includes a special message from the editor, as well as excerpts from these Loveswept titles: Trying to Score and Empty Net.
Taking Shots by Toni Aleo has been on my TBR for a long time, and I finally made time to read/listen to the book. Unfortunately, this book only gets three stars from me. I'm not a fan of female characters that can be whiney and self-conscious about herself always. It drove me a little batty. It also drove me crazy with how her family (mother) treated her. Grr! They were not helpful with her self-esteem, and I wished that the heroine, Elli Fisher, would've stayed away from her mother and sister. Her mother has to be the most cynical person in life due to how she treats her daughter. I wanted to go through the book and deal with her mother myself. Her father though was very supportive and proud of her, especially since she's a successful photographer.
This is when she meets her favorite hockey player on the Nashville Assassins team, Shea Adler when she's working as a photographer. They end up hooking up with each other, but of course, Elli has issues throughout the relationship because she knows Shea doesn't usually go out with her type. She's not a stick figure with blonde hair. She's not a size 0-2, which I loved how Toni Aleo wrote Elli. I found her beautiful, and I was tired of her bringing herself down.
Elli though has a health condition in the book that is explained after a while, but she's a beautiful and successful woman who should love herself. Shea on the otherhand wants a change. He doesn't want to type his typical type. He finds Elli fascinating and immediately falls for her. He's not the same guy that Elli thinks throughout this book. Although, towards the end of the book, there is some drama.
Elli and Shea are perfect if they didn't go hang out with Elli's family that much. Shea realizes where Shea gets her insecurities, and he tries everything to bring up her self-esteem in this book. I loved Shea more than Elli because he was trying to prove himself and also prove he's in love with Elli.
Will, I read another book in this series? Yes. I want to try another book from the series. Toni Aleo is a new-to-me-author, so I want to try other books too from the author. I did enjoy the storyline in this book, but between Elli and her family, it drove me crazy. There was also the issue that I listened to this book. I'm very picky with my narrators, so I should've read the book instead of listened to it. I may try another book from the narrator, but contemporary romance audiobooks tend to make me not like listening to them.
If you are a fan of hockey romance that this book could be for you.
---
Story Rating: 3 stars
Steaminess Rating: 3.5 stars
Standalone or part of series: Part of series, but can be read as a standalone.
Do I recommend this book? Yes to hockey romance fans.
Will I read other books from the author? Yes. I'll also continue the series when I have time to squeeze it in between other books.
Tropes/Elements: Hockey (Sports) Romance
Hero: Hockey Player; Player (Has been known to hook up with skinny blonde women)
Heroine: Photographer; Self-Conscious; Low Self-Esteem; Whiney at times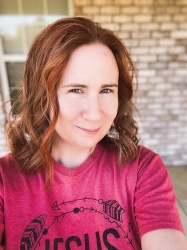 Latest posts by FranJessca
(see all)