Review: 'The Better to See You' by Kate SeRine
February 18, 2013
I received a complimentary copy of the book from Netgalley in exchange for an honest review. This does not affect my opinion of the book or the content of my review.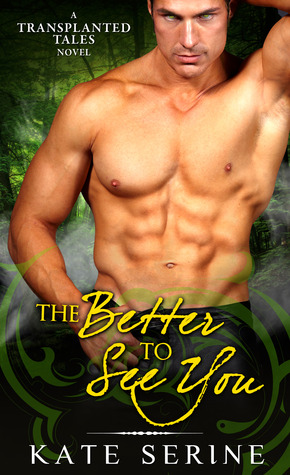 The Better To See You
by
Kate SeRine
Series:
Transplanted Tales #2
Published by
eKensington
on February 7th 2013
Genres:
Paranormal Romance
Format:
eArc
Source:
Netgalley
Goodreads
Purchase at
Amazon
|
Apple

Once upon a time, a spell went awry and Make Believe characters were cast into the ordinary world. And the results aren't always happily ever after…
Everyone thinks fairy godmothers can do no wrong. But if not for a certain spell mis-cast by Lavender Seelie, Cinderella's former fairy godmother, the Tales would not be stuck in the Here and Now. Fortunately for Lavender, she's about to get a second chance at a happy ending…
The Refuge, a sanctuary for wayward Tales, seems like the perfect place for Lavender to start a new life—especially when she discovers an unexpected ally in Seth, the brooding werewolf who's been typecast as a villain ever since his run in with Little Red Riding Hood. But when humans from nearby towns start turning up dead, their bodies mutilated with archaic Tale symbols, Lavender wonders if Seth's deep sensuality has blinded her to the truth. And that distraction could put innocent lives in danger. Including her own…

"The Better to See You" is the second book in the Transplanted Tales series and it left me wanting even more after reading it.
"The Better to See You" picks up where "Red" left off at, but this time it is about Lavender Seelie, aka The Fairy Godmother, and Seth, aka the Big Bad Wolf.
Lavender is in deep water with Cinderella and her husband, the Prince, James because she ends up burning down their home.  Now Lavender is forced to hide somewhere else due to James wanting to hurt her or kill her.
Tess who we know from the first book has the perfect place where Lavender can hide.  It is called The Refuge, and it is where all the distraught Tales go that are upset about being in the ordinary world.
It was not such a great idea for Lavender since she is the reason why all the Tales are in the Ordinary world in the first place.
Lavender ends up in the arms of Seth who saves her the night she is trying to find the refuge.  What she does not know is the sanctuary has some serious issues of its own, and someone is out to kill either her or Seth.
 I fell in love with Seth in "Red" and fell even more in love with him in this book.  The best parts of the book are how Kate SeRine tells the story of the characters and how they ended up the way they are.
Lavender was a strong character for me in this book, and I had a lot of respect for her.  She made some mistakes and was trying to correct them. She was shunned by her mother and the rest of fairies due to what she did to the tales, and she did not let her bother her.
Seth kept making me upset because I knew he was hiding something from Lavender.  He should have just come out and told Lavender.  Did he not realize she would figure it out?  Grrrr!!
I also loved how Tess and Nate played a part in this book as well.  Loved them in "Red" and I got to find out what is happening to them as well.  =)
I was a little confused on some parts of the book, but it did not take me long to pick up what happened. I think it was mostly because I was more in shock at the ending and who the bad guy was and what they were doing.
Oh…and Puck well you will need to read the book to find out about him, but I wanted to slap him around a bit for Lavender.  Darn him…LOL
Kate SeRine takes our favorite fairy tales and gives them a new twist to their tales, which some may be considered good, while others wicked evil.  Just be prepared to be shocked at who is deemed to be evil.
If you are a fan of the fairy godmother, the wolf from Red Riding Hood and other tales, you'll enjoy this twisted make and believe tales that Kate writes.  I know I am addicted to finding out what is happening to these versions of my favorite fairy tales.
I highly recommend this book and the series and look forward to reading the next tale in the "Transplanted Tales" series by Kate SeRine.  =)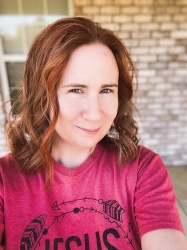 Latest posts by FranJessca
(see all)