Review: 'The Deal' by Elle Kennedy #romanceopoly
April 25, 2019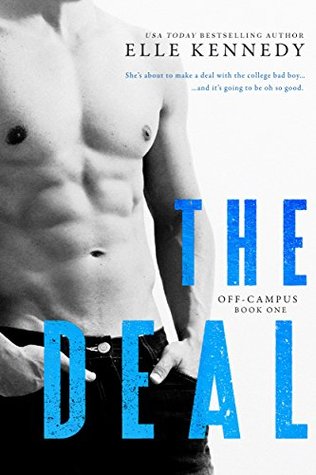 The Deal
by
Elle Kennedy
Series:
Off-Campus #1
Published by
Self-Published
on February 24, 2015
Format:
eBook
Source:
Purchased
Goodreads
Purchase at
Amazon
|
Barnes & Noble

She's about to make a deal with the college bad boy...
Hannah Wells has finally found someone who turns her on. But while she might be confident in every other area of her life, she's carting around a full set of baggage when it comes to sex and seduction. If she wants to get her crush's attention, she'll have to step out of her comfort zone and make him take notice...even if it means tutoring the annoying, childish, cocky captain of the hockey team in exchange for a pretend date.
...and it's going to be oh so good
All Garrett Graham has ever wanted is to play professional hockey after graduation, but his plummeting GPA is threatening everything he's worked so hard for. If helping a sarcastic brunette make another guy jealous will help him secure his position on the team, he's all for it. But when one unexpected kiss leads to the wildest sex of both their lives, it doesn't take long for Garrett to realize that pretend isn't going to cut it. Now he just has to convince Hannah that the man she wants looks a lot like him.
---
The Deal is not the first book I've read from the fabulous Elle Kennedy, and this book will not be my last from her. I'm kicking myself in the rear for not starting the Off-Campus series sooner and thanks to the Romanceopolyathon that happened April 8th – 14th I was able to read The Deal within less than two days. I had a hard time putting down this book because of the characters and the storyline. I especially fell head over heels for playboy Garrett Graham. Well, he was a playboy at first until he met Hannah Wells and then she changed him for the better.
The Deal has one of my favorite tropes, and that is a Pretend/Fake Relationship in it. Graham is failing one of his college classes, which has his GPA plummeting. That is an issue since he plays hockey at the college. He needs to keep his grades up to keep playing. He ends up finding out one girl in his class has some stellar grades in the same class he's flunking and asks her to tutor him. Unfortunately, she's not jumping to tutor him. He's never had any girl turn him down. He finds out she has a thing for another guy and convinces her in a 'fake' relationship with him to get the guy of her dreams to notice her finally and also get her seen by others. Unfortunately, the pretend relationship may turn into something else for Garrett, even though he doesn't do relationships ever.
I LOVED this book, but I think I already said that in the beginning. I usually don't like guys that are players, and that is what Garrett is at the beginning of the story. Oh…but he starts showing another side of himself in the book. Hannah is also a sweet girl, and she's gone through a lot. She had something happen in her past that changed her, and she's trying everything to come to terms, but it has affected her in her relationships. Poor Hannah. I adored her character and how strong she is, even when she thinks she isn't. She has Garrett though to help her get through everything, and the ending of this book had me on the edge of my seat on what was going to happen between the two characters. I won't spoil it for anyone who has not read this book though.
I look forward to reading the next book in the series because I want to read more of Garrett's hockey player roommates and who they hook up with since they are just as bad as he is/was in this book. I also need to check out even more of Elle's books because she has become a favorite due to the characters and stories she has written..
---
Story Rating: 5 stars
Steaminess Rating: 4 stars
Standalone or part of series: Each book can be read as a standalone.
Do I recommend this book? Yes, most definitely.
Will I read other books from the author? Yes.
Tropes/Elements: Pretend/Fake Relationship

This post contains affiliate links you can use to purchase the book. If you buy the book using that link, I will receive a small commission from the sale. It will help sponsor future giveaways but costs you nothing extra. You can read the full disclosure underneath the Privacy Policy.
---
---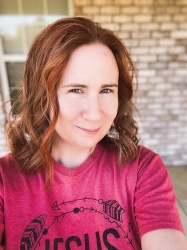 Latest posts by FranJessca
(see all)