Review: 'The Foul Mouth and the Fanged Lady' by Richard Raley
I received a complimentary copy of the book from the Author in exchange for an honest review. This does not affect my opinion of the book or the content of my review.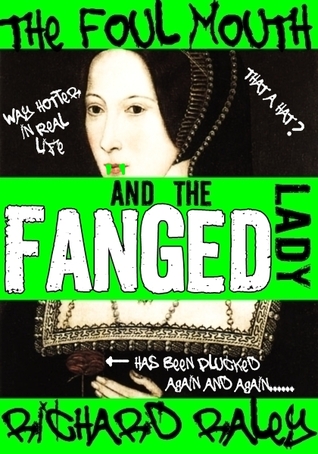 The Foul Mouth and the Fanged Lady
by
Richard Raley
Series:
King Henry Tapes #1
Published by
Self-Published
on August 29, 2011
Genres:
Urban Fantasy
Pages:
271
Format:
eBook
Amazon Kindle
Goodreads

My Review
I was skeptical at first to read this kind of book, but once I started reading, I got into it. First off, this was the first book I read where it takes you into different periods of someone and the person is recording the story. You learned about the main character, King Henry Price (Yes that's his name) from his 14-year-old self and then at 22 years old. At 14 years old you found out how Henry's life is with his parents and when he met Ceinwyn Dale who happened to be tracking Mancers to save them from themselves and teach them their powers at an Asylum that she wants Henry to go to learn. She can't save everyone though, and you find out who she is unable to save in the book. That is when Henry learns he is a Mancer himself and he's mainly a "Geomancer." At 22 years old, we learn how Henry has grown out of his "Foul Mouth Teenage self" and now is trying to make a living out of the Asylum running an Antique Shop, but with a twist on his real powers as a Mancer. That is when he is approached by a Vampire (The Fanged Lady), Annie B who needs his help…and she won't take any answer, but yes. I was a little thrown off at first on going back and forth to Henry at 14 when he was going into the Asylum, and when he was 22, and he was battling Vampires with Annie B. After a while though, I knew why the book was the way it was. It was better to go back and forth because you learned a little more about the character Henry and why he was the way he was. You also learned what he went through when he was younger. He didn't have an easy life, and it was better for him to attend the Asylum and get away from his family. I felt terrible for him for what his parents put him through. He didn't have an adult to take care of him. My favorite character though would be Annie B…which learn in the story is Anne Boleyn. Really? Anne Boleyn? How could that be? Well, when you read the book, you find out a different point of view of Vampires and some other characters that will have you in shock. Richard Raley did his research, and I love the fight scene at the end with Annie B, Joan d'Arc, and King Henry Price. Yes, I typed Joan d'Arc. She's really in there too. Annie B was a sassy, kick-ass character that knew how to put Henry in his place. She also knew how to throw down and happened to scare the crap out of Henry in the story. She scared me too. For my first Indie Book, I have to say I'm glad I read this book first. Maybe I'll branch out more and read some more books in this genre now. I gave this book 4 stars. I would give it 5 stars…but I usually give a book 5 stars that had me on the edge of my seat. That's the only thing I didn't get from this book…but that doesn't mean it's not good. I recommend this book to anyone who likes the Urban Fantasy or Indie Genres. Thank you, Richard Raley, for giving me a chance to read your book and reviewing it. I want to read the next book in the series when it comes out. King Henry Price sure knows how to tell his story. =)


I guess I should type a bio here. I'm FranJessca or Fran for short. I'm the owner of Book Lovin' Mamas and main Reviewer. I've been reviewing books since I got out of the Navy in 2011. Now 8 years later, I'm still reviewing, but this time with my youngest sidekick.
When I'm not reading and reviewing, you can find me at my day job during the week and on the weekend taking care of our little farm.

Latest posts by FranJessca (see all)