Review: 'The Jaguar Legacy' by Maureen Fisher
I received a complimentary copy of the book from the Author in exchange for an honest review. This does not affect my opinion of the book or the content of my review.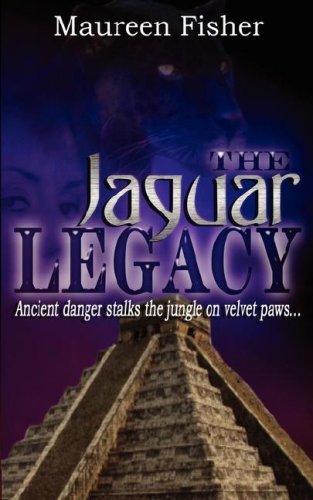 The Jaguar Legacy
by
Maureen Fisher
Published by
Lachesis Publishing
on February 1, 2007
Genres:
Paranormal Romance
Pages:
368
Format:
eBook
Amazon Kindle
|
Amazon Paperback
Goodreads

THE JAGUAR LEGACY, Lachesis Publishing 2007 ANCIENT DANGER STALKS THE JUNGLE ON VELVET PAWS! What if Charley had lived before? What if she had created a legacy of betrayal that spanned several millennia? What if passion could heal her soul and love could release her from bondage? THE JAGUAR LEGACY is a vividly told story of romance and suspense, healing and redemption. Despite baffling panic attacks that devastated her career, journalist Charley Underhill barges in on a Mexican archaeological dig, bent on sniffing out a juicy expos that will restore her reputation and earn enough money for her mother's life-saving treatment. Haunted by past betrayals, Dr. Alistair Kincaid isn't about to let a smart-mouthed reporter leak word of his latest discovery, an ancient Olmec city, to the press. A battle of wills and wits ensues. Strands from a past life intertwine with the present, drawing the couple into a vortex of chilling evil. Torn between redeeming her soul and betraying the man she loves, Charley faces impossible choices.
My Review
I'm a huge history buff at times. I would rather sit in a History class and learn about our past then dive into the present at times. So when Maureen contacted me to read and review her book "The Jaguar Legacy," I jumped at the chance. Unfortunately, it took me a while to read this book since I had other priorities and I did find myself stepping away from this book a bit when I was reading it. It wasn't grabbing my attention like I thought it would.
This is my opinion on the book though, and other readers may find this book more appealing to them. I did enjoy the mysteries, the history, and the romance brewing between Charley and sexy, Alistair (maybe it's because the Scottish accent since I can perfect the accent in my mind…being married to the half-Scottish man myself who has a Scottish family). Damn how I love the Scottish accent. Yum!!
Unfortunately, the book did drag on in certain parts and other parts it went fast pace. Like I stated before I enjoyed the mysteries of it and what Charley figured out what was happening to her from the black-outs. I also enjoyed the little bit of shifting back and forth to characters to dig inside of their heads instead of just Charley's. I didn't like Charley's mother though. I have a massive problem with people who dive into the bottle too often and become dependent on it. It's been a huge debacle with me since I had a friend killed by a drunk driver. Hence, I'm the lady who drinks one glass of wine in my house, or when I do go out, I'm the designated driver. What Charley was doing for her Mother wasn't helping her and Alistair was trying to tell her, but she wasn't listening. He even said his life story on what happened to him.
I did love the Olmec's ways and of course getting glimpses of past experiences with the Olmecs in Charley's blackouts. Even though they ended up not being all that good in the end though once Charley put the clues together. At the end of the book, it comes along on what is expected and what is supposed to be done to correct everything. (read the book if you want to know)
I also wasn't very fond of Leila, Alistair's ex-wife…but that's to be expected though. You always have to have a villain, and sometimes she just went too far.
I recommend this book to anyone who loves adventure, history, and mystery. There's not too much romance in this book, but when there is, it's steamy. I will say this, Charley gave Alistair a hard time…and I liked her even more because of it. She never made it easy for him. =)
This book was so and so for me. I did like certain things like I stated, but it just didn't enthrall me like I was expecting it too. I plan on reading the next book from Maureen; I got real soon though.
I look forward to seeing what her next book is all about.
One thing before I end the review…I do love the cover to the 2011 published version of "The Jaguar Legacy." If Maureen wouldn't have contacted me, and I saw this book on Goodreads or Amazon…I would've bought it and read it no matter what. =)


I guess I should type a bio here. I'm FranJessca or Fran for short. I'm the owner of Book Lovin' Mamas and main Reviewer. I've been reviewing books since I got out of the Navy in 2011. Now 8 years later, I'm still reviewing, but this time with my youngest sidekick.
When I'm not reading and reviewing, you can find me at my day job during the week and on the weekend taking care of our little farm.

Latest posts by FranJessca (see all)