Review: 'The Right Swipe' by Alisha Rai #Romanceopoly2020
May 18, 2020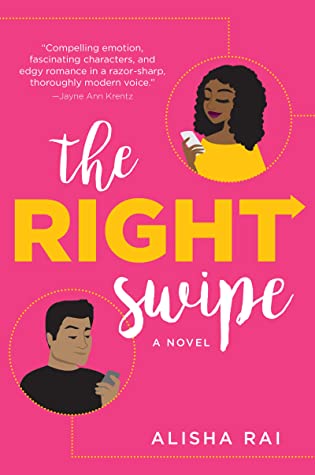 The Right Swipe
by
Alisha Rai
Series:
Modern Love #1
Published by
Avon
on August 6, 2019
Genres:
Contemporary Romance
Format:
eBook
Source:
Purchased
Goodreads
Purchase at
Amazon
|
Barnes & Noble

Alisha Rai returns with the first book in her sizzling new Modern Love series, in which two rival dating app creators find themselves at odds in the boardroom but in sync in the bedroom.
Rhiannon Hunter may have revolutionized romance in the digital world, but in real life she only swipes right on her career—and the occasional hookup. The cynical dating app creator controls her love life with a few key rules:
- Nude pics are by invitation only
- If someone stands you up, block them with extreme prejudice
- Protect your heart
Only there aren't any rules to govern her attraction to her newest match, former pro-football player Samson Lima. The sexy and seemingly sweet hunk woos her one magical night... and disappears.
Rhi thought she'd buried her hurt over Samson ghosting her, until he suddenly surfaces months later, still big, still beautiful—and in league with a business rival. He says he won't fumble their second chance, but she's wary. A temporary physical partnership is one thing, but a merger of hearts? Surely that's too high a risk…
---
I've been in a reading funk for the last two weeks, and I'm not sure why. I needed to get back to reading and picked up The Right Swipe by Alisha Rai for the #Romanceopoly2020 Challenge. It didn't take me long to read the book, and it fulfilled the Drive-In Movie square. I originally had another book that I scheduled to read for that particular square, but The Right Swipe's synopsis caught my attention.
Female Protagonist: Rhiannon Hunter is the successful CEO of the Dating App – Crush. Rhiannon is what I would call a very stubborn but determined person. She is proven to everyone in the dating field that she knows how to revolutionize dating through her application. She has a silent partner that believed in her and helped her with her new company, especially after her old job. She may know all about dating, but she only does hook-ups every once in a while. She doesn't do relationships because of what her ex put her through. Her ex is a douche, and he gets what comes to him in this book. I loved Rhi and determination but didn't like how she handled certain things with Samson Lima. (I'll get into that more in the storyline.) Her past ends up almost ruining her future with a fantastic guy.
Male Protagonist: Samson Lima is a Former Pro Football Player who walked away from football after the league tried to play one of his friends after getting a concussion. He was a successful football player, especially after his father and his uncle also played pro-football. Samson is now helping his Aunt at her company Matchmaker after her partner (his uncle) and her sister (his mother) passed away. Samson is what I consider a caring individual because he takes care of everyone. I loved his character, and he's the reason why I continued reading the story.
Storyline: Rhiannon's dating app is crushing the competition, and now she's determined to buy out another App called Matchmaker. She is determined to have a meeting with one of its creators, but the creator keeps disappearing on her. She ends up going to a conference to have a meeting with the creator but ends up meeting the person that ghosted her a while ago. He promised he would see her again, but never got back with her. Now, Rhi is avoiding him, but she can't for long because he helps his Aunt at Matchmaker. They end up working together, but Rhi wants him to help her with his Aunt, and Samson wants to prove he never meant to ghost her. Readers will find out the truth of what happened between Samson, and if you are like me, you may end up wanting to knock some sense into Rhi. Her past comes to light towards the end of the story on why she has trust issues, and I could understand her character better. Be prepared to meet her ex-boyfriend in the story. He is someone you are going to hate immediately. I loved the storyline of The Right Swipe and loved how everything came together in the end. Some small issues made me give the story only 4-stars. It was due to miscommunication and secrets. Otherwise, this was an enjoyable book.
I look forward to the next book in the series.
Steaminess: Some Steam.
Standalone or Series: It's part of the Modern Love series, but each follows new main characters. Each can be read as a standalone.
Cliffhanger: No
Trope: Brief Romantic Tryst.
HEA: Yes.
Would I recommend this book? Yes. If you are a fan of Alisha Rai's previous books or you are a fan of Contemporary Romance stories. Some readers felt this was more of a Women's Fiction story, instead of contemporary, which I could see why in certain aspects. There were some steamy moments between the characters, but it was not heavily steamy like other books I've read.
Forewarning, there is some sexual harassment triggers and other triggers that could be sensitive to some readers. There are some powerful and supportive characters in this story that help each other through everything. I will say this, Rhi is one kick-butt character.

This post contains affiliate links you can use to purchase the book. If you buy the book using that link, I will receive a small commission from the sale. It will help sponsor future giveaways but costs you nothing extra. You can read the full disclosure underneath the Privacy Policy.
---
---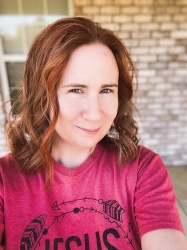 Latest posts by FranJessca
(see all)