Review: 'The Vampire's Hunter' by Kait Ballenger
August 1, 2023
I received a complimentary copy of the book from the author in exchange for an honest review. This does not affect my opinion of the book or the content of my review.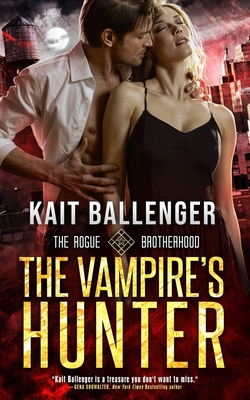 The Vampire's Hunter
by
Kait Ballenger
Published by
Kait Ballenger LLC
on August 1, 2023
Genres:
Paranormal Romance
Format:
eArc
Source:
the author
Goodreads
Purchase at
Amazon

Vampire mafia romance like you've never seen before! For fans of spicy paranormal romance comes Kait Ballenger's action-packed Rogue Brotherhood series, featuring this dark, sexy standalone novella.

When human waitress, Dani Harper, escaped her abusive, supernatural ex, she thought she'd never return to the Cosa della notte syndicate, until a twist of fate sends her running back into their vicious, glittering world, and straight into the arms of a wicked vampire, who once broke her heart?

Vampire mafia boss, Corbin Blackwell, is out for revenge against the monstrous vampire who sired him long ago, and with stunningly beautiful Dani playing the role of his fake mistress on his arm, he may just pull this hit off. Except Corbin doesn't account for the very real feelings he has for Dani, and when push comes to shove, Corbin finds himself forced to choose between the woman he loves, and the plot for revenge which consumes him...
---
I loved Kait's Seven Range Shifters and recognized immediately who the characters were in The Vampire's Hunter since they were in Cowboy Wolf Outlaw. If you have not read that series or her Rogue Brotherhood, you should add them to your TBR since this novella is set in the same universe as those books. Quick Note: You don't have to read that book to enjoy this one because this book can be read as a standalone.
This book does lean into a darker paranormal romance, so I recommend readers check their triggers.
The FMC Dani Harper, who I remembered in Cowboy Wolf Outlaw, and she's a human who knows about the supernatural world because she was in an unhealthy relationship with a vampire that was anything but nice to her. She's working and trying to avoid anything supernatural until her brother stops by her work, asking for her assistance. He knows she is the only one that can help since she's familiar with the Cosa della notte syndicate. Now, she finds herself in the same predicament as before, but the only one who can protect her doesn't want her to return to his world after what happened before to her.
What I loved most about this novella was how Kait Ballenger made the MMC Corbin Blackwell's character true to a mafia boss and how they normally would be portrayed, especially in the movies/tv shows. He's not going to be a likable character at first, which, if you have seen any real-life mafia documentaries and how they were, then you'll understand. (I've watched so many documentaries thanks to my husband, who is obsessed with the mafia, and yes, I've seen almost every mafia-made movie out there, not only because of him but my father too.) That being said, Corbin may agree to protect Dani and give her what she wants, but can she really trust him?
I loved Corbin's character and didn't have any complaints about him. But, I've always been a fan of the alpha a-holes in books (to an extent), but with any character, he has a backstory that makes him the way he is, and it makes sense.
Dani's character wasn't my favorite, but that's okay. She may be some other reader's favorite. I wouldn't say I liked how she agreed to be thrown back into the world she was saved from in Cowboy Wolf Outlaw. I knew she was drawn to the supernatural world and had feelings for Corbin, but she definitely put herself at risk. She wasn't the typical strong heroine I normally read in PNR books, but that's okay because even though I didn't connect with her, other readers may like her.
Dani and Corbin's relationship is rocky initially in the book, but that is because they have known each other for a while. Corbin helped Dani before, and he has every right to be upset at her being back in his world.
I did like the revenge storyline that both characters had against the villain in the book. This villain needed his downfall after what he did to both characters. I also enjoyed Execution Underground (Quinn) being a part of this book and how they played into the syndicate, even though they had to make a deal with Corbin to make things happen.
Overall, it was an action-pack, dark, tense fast-paced read from Kait Ballenger. I need more vampire/mafia romance books after this book. I definitely think readers would enjoy this novella more if they read the other series Kait has written, but that's just me being a Kait fan and wanting everyone to read her other books. You're missing out if you haven't read them.
---
Story Rating: ⭐️ ⭐️ ⭐️ ⭐️
Steam/Spice Rating: 🌶 🌶 🌶
Single/Dual POV: Dual POV
Would I recommend this book? Yes. I recommend this to PNR readers who enjoy a mixture of vampires and mafia in their books.
Genre/SubGenre(s): Romance | Paranormal Romance | Dark Romance
Trope(s)/Element(s): Mafia Romance | Vampire Romance | Fake Relationship | Alpha MMC | Touch Her and I'll Unalive You

This post contains affiliate links you can use to purchase the book. If you buy the book using that link, I will receive a small commission from the sale. It will help sponsor future giveaways but costs you nothing extra. You can read the full disclosure underneath the Privacy Policy.
---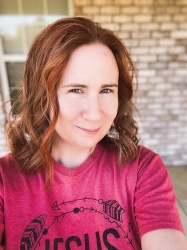 Latest posts by FranJessca
(see all)