Review: 'Throne of Glass' by Sarah J. Maas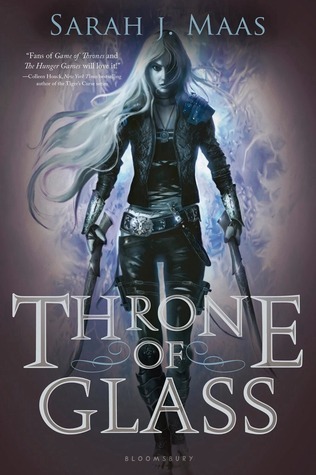 Throne of Glass
by
Sarah J. Maas
Series:
Throne of Glass #1
on August 7th 2012
Genres:
Fantasy
,
Young Adult
Pages:
404
Source:
Library
Amazon Kindle
|
Amazon Paperback
Goodreads

An alternate cover edition can be found here.
After serving out a year of hard labor in the salt mines of Endovier for her crimes, 18-year-old assassin Celaena Sardothien is dragged before the Crown Prince. Prince Dorian offers her her freedom on one condition: she must act as his champion in a competition to find a new royal assassin.
Her opponents are men-thieves and assassins and warriors from across the empire, each sponsored by a member of the king's council. If she beats her opponents in a series of eliminations, she'll serve the kingdom for four years and then be granted her freedom. Celaena finds her training sessions with the captain of the guard, Westfall, challenging and exhilirating. But she's bored stiff by court life. Things get a little more interesting when the prince starts to show interest in her... but it's the gruff Captain Westfall who seems to understand her best.
Then one of the other contestants turns up dead... quickly followed by another. Can Celaena figure out who the killer is before she becomes a victim? As the young assassin investigates, her search leads her to discover a greater destiny than she could possibly have imagined.
My Review
I've been on a YA fantasy kick since September and I found Throne of Glass at my local library. I'm so glad I got my hands on this book because it was one of those books that was hard to put down.
Celaena Sardothien is an 18-year-old assassin who is about to gain her freedom from the salt mines of Endovier, but there is a catch to it. Prince Dorian wants her to be his champion in an important competition. She's forced to go through a competition with other assassins, warriors, and thieves to find the next royal assassin for the King. Unfortunately, most of the other competitors are being killed off and Celaena is afraid she's going to be next. She's a strong female character that knows how to handle herself and what is out there. She ends up becoming friends with a princess in the castle and something else entirely that is trying to help her, which Celaena doesn't think she should trust at first.
Throne of Glass is one YA fantasy that will have continuously turning the pages to find out what will happen next. I thoroughly enjoyed every bit of this book and I loved how Sarah introduced the characters in the stories. Poor Celaena doesn't only have to deal with what is happening the competitors, but she's got Dorian with his interest in her and Dorian's father, the King wanting her gone.
Celaena is my favorite type of character with her kick-butt abilities and her will to help others.  I'm kind of rooting for her to hook up with someone else in the story because he's shown interest in her since a certain scene.  He's always there with her too.  🙂
The King is one ruthless king, who definitely is not my favorite. I'm kind of cautious of what he has planned.  I can't trust a character who goes out and kills without remorse and that is what the King is exactly.
I give this book 4.5 stars and look forward to diving into the second book very soon. If you are a fan YA fantasy, you'll enjoy the first book in this series from Sarah J. Maas. I'm so glad I was intro ducted to Sarah's books because I've found a new author I've placed on my auto-buy list.  🙂


I guess I should type a bio here. I'm FranJessca or Fran for short. I'm the owner of Book Lovin' Mamas and main Reviewer. I've been reviewing books since I got out of the Navy in 2011. Now 8 years later, I'm still reviewing, but this time with my youngest sidekick.
When I'm not reading and reviewing, you can find me at my day job during the week and on the weekend taking care of our little farm.

Latest posts by FranJessca (see all)