Review: 'Torment' by Lauren Kate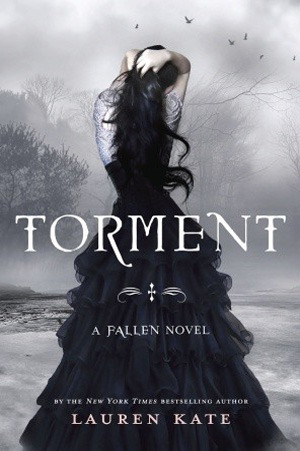 Torment
by
Lauren Kate
Series:
Fallen #2
Published by
Delacorte Press
on September 28th 2010
Pages:
452
Format:
eBook
Source:
Purchased
Amazon Kindle
|
Amazon Paperback
Goodreads

How many lives do you need to live before you find someone worth dying for?
In the aftermath of what happened at Sword & Cross, Luce has been hidden away by her cursed angelic boyfriend, Daniel, in a new school filled with Nephilim, the offspring of fallen angels and humans. Daniel promises she will be safe here, protected from those who would kill her. At the school Luce discovers what the Shadows that have followed her all her life mean – and how to manipulate them to see into her other lives. Yet the more Luce learns about herself, the more she realizes that the past is her only key to unlocking her future . . . and that Daniel hasn't told her everything. What if his version of the past isn't actually the way things happened . . . what if Luce was really meant to be with someone else?
The second novel in the addictive FALLEN series...where love never dies.
My Review
My thoughts on the book were kind of disappointed. Fallen was a little bit more upbeat and had me on the edge of my seat. Torment was just the opposite. I like the cliffhanger at the end though. It has me guessing on what is going to happen next to Luce and Daniel, but I was expecting more out of this book. I was happy to a certain degree though that Luce kept putting her foot down and she wanted to find out the truth from her past. I'm also excited that she made new friends in this book. I'm upset though on that Daniel was hiding stuff from her and that Cam didn't show up much in this book. I must be into the bad boys because I loved Cam in the first book, Fallen. I'm hoping he'll show up more in the next book. I can't say I didn't like the book because I enjoyed reading more about Luce and finding out more about her past lives. I also find it interesting on how strong she has become. I give this book 3 1/2 moons. I love cliffhangers. Makes me anxious for the next book now.
I hope the next book has a little more action though and keeps you guessing. I love Luce, and Daniel together…but give me more Cam too in the next book, and I'll be a beyond happy reader. =)


I guess I should type a bio here. I'm FranJessca or Fran for short. I'm the owner of Book Lovin' Mamas and main Reviewer. I've been reviewing books since I got out of the Navy in 2011. Now 8 years later, I'm still reviewing, but this time with my youngest sidekick.
When I'm not reading and reviewing, you can find me at my day job during the week and on the weekend taking care of our little farm.

Latest posts by FranJessca (see all)