Review: 'Touch of Hate' by C. Hallman & J.L. Beck
February 2, 2023
I received a complimentary copy of the book from the blog tour host in exchange for an honest review. This does not affect my opinion of the book or the content of my review.
This book may be unsuitable for people under 18 years of age due to its use of sexual content, drug and alcohol use, and/or violence.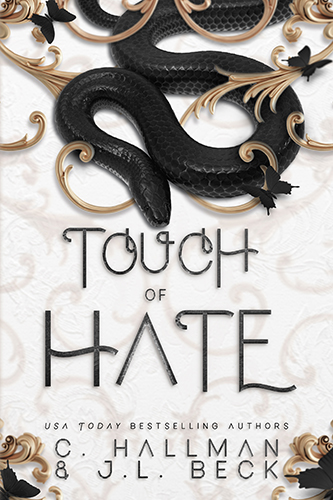 Touch of Hate
by
C. Hallman
,
J.L. Beck
Published by
Bleeding Heart Press
on January 27, 2023
Genres:
Dark Romance
Format:
eArc
Goodreads
Purchase at
Amazon

Betrayal cuts the deepest.I would know better than anyone.They never suspected me to be the villain.That didn't matter anymore, though, because I didn't just want revenge, I needed it.Leaving my old life behind, I knew I could never return, but there was something… no, someone I had left behind.Scarlet.Kind. Innocent. Fragile.She was a light in the darkness of my life.Back then, she was always meant to be mine, even if having her meant breaking every single rule.Now enemies or not, she would still be mine.
---
Touch of Hate by C. Hallman & J.L. Beck is the first book in Ren and Scarlett's Duet. If you read the Corium University books, you will recognize Ren and Scarlett immediately. I'm going to be one to admit I read books one through three but not books four and five. I enjoyed the first three books, but I couldn't finish book four. I ended up DNFing it due to not connecting to the main characters in that one, so I didn't get to read what Ren did in those last two books.
Storyline/My Thoughts: By the first chapter alone, I already knew that Ren was not the same person since I knew him as Quinton's best friend. Not in this book, though. He does something unforgivable to Quinton and runs before being caught. I always knew that Ren, the secondary character in Quinton's books, would be one to keep an eye on because he would have a backstory. A traumatic backstory that affects him in a way that he wants revenge for what happened to him. I don't blame him one bit. He deserves revenge.
The FMC sees him as a hero since he has been there for her several times when she was younger to save her. She falls for Ren hard, even when he is her brother's best friend and older than her. She doesn't care and will secretly have a relationship with him without her family's approval. Poor Scarlett has no idea that Ren is the villain and will even try to warn her when he kidnaps her to win her over to his side.
I did enjoy Touch of Hate and getting Ren and Scarlett's POV. Their story is not for the faint of heart. It's downright dark and twisted. Ren is a character full of mystery and revenge. The guy had some unthinkable things done to him, so he's not over what happened. He loves Scarlett but is so focused on what happened to him and his family that he doesn't realize what he is doing to Scarlett, emotionally and sometimes physically. Some readers may not like his character, especially how he treats Scarlett. I sometimes questioned his character, but then the authors threw a twist here and there, and now I think I understand him better.
Scarlett's character in the book was a hit-and-miss with me. I liked her at times, but other times I didn't connect well. I wanted her to be tougher, especially since she grew up in a mafia household. She's not a damsel in distress by any means, but when Ren kidnaps her, she lets her feelings for him take precedence over her safety. I realize she's had feelings for him for so long, but girl, even I know something is not right because I'm reading his POV.
The storyline kept me reading the story, even if I didn't like Scarlett as much as I wanted. I wish I could've finished reading the fourth book in the Corium University series and read book five because maybe I could understand more about what happened to certain characters. I just couldn't due to the MMCs. Maybe, in the future, I'll try again, but for now, I can't.
Will I read the next book in the duet? The cliffhanger in this one makes me want to read it. C. Hallman & J.L. Beck left me on edge with that twist at the end. I also want to know if Ren will completely get revenge for what happened t him.
I give this book 3.5 stars and will patiently wait for the next book in the duet.
Standalone or Part of Series: It's the first book in a duet and will end on a cliffhanger. Before reading Touch of Hate, I recommend reading the Corium University books/series. This book references things that happened in those five books, and you will be introduced to Ren and Scarlett in them, too.
Steam/Spice: 🌶 🌶
Genre(s)/Trope(s)/Element(s): Dark Romance. Romantic Suspense. Brother's Ex-Best friend. Friends to Lovers. Touch Her and I'll Unalive You. Kidnapping. AntiHero. Secret Relationship.
Trigger(s)/Element(s): Violence. Attempted Murder. Murder. Death. (Check the author's website for possible additional triggers. These were the ones I noticed when reading.)
Would I recommend this book? Yes. I recommend this book if you are a fan of J.L. Beck and C. Hallman's books. This is a dark romance book, so it will have elements that may bother some readers.

This post contains affiliate links you can use to purchase the book. If you buy the book using that link, I will receive a small commission from the sale. It will help sponsor future giveaways but costs you nothing extra. You can read the full disclosure underneath the Privacy Policy.
---
---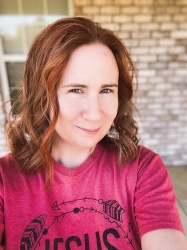 Latest posts by FranJessca
(see all)