Review: 'Tragic Bonds' by J. Bree
November 4, 2022
This book may be unsuitable for people under 18 years of age due to its use of sexual content, drug and alcohol use, and/or violence.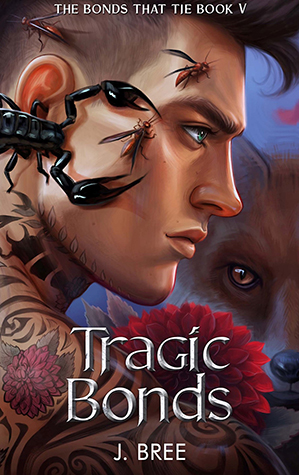 Tragic Bonds
by
J. Bree
Series:
The Bonds That Tie #5
Published by
Self-Published
on June 28, 2022
Genres:
Dark Paranormal Reverse Harem Romance
,
New Adult Paranormal Romance
,
Reverse Harem
Format:
eBook
Source:
Kindle Unlimited
Goodreads
Purchase at
Amazon
|
Barnes & Noble

Nothing will ever be the same again.
Our Bonded Group has been torn apart, and the monsters are now the prey.But we're not going to just wait around for our enemy to strike; the blood on his hands is unforgivable, and the god living inside of me wants her revenge paid in blood.
And a thousand souls.
We have been pushed to the limit, tested in ways that have devastating outcomes, and paid the ultimate price. Can we recover from such losses? Is the promise of a world without our enemy worth the sacrifices we've made?
Can we prove to everyone, and ourselves, that together our bonds are unbroken?
*Tragic Bonds is a full-length reverse harem PNR novel with material that may be difficult for some readers. This book will end on a cliffhanger. It's recommended for 18+ due to language and sexual situations.
---
I have officially fallen for Nox Draven after I finished reading Tragic Bonds. I knew I would eventually like his character, especially when J. Bree started to tell me about his past. I understand his character more, and I respect him. I also respect how Oli handled finding out about Nox's traumatic past. If I were her, though, I would have gone berserk after realizing what had happened to him. I would have gone on a war path for him, but I know Nox Draven can handle himself. He does have those killer shadows that are menacing and scary to everyone else but his Bonded. No wonder why his brother, North, was very protective of Nox, and he understood what happened to him.
Storyline/My Thoughts: After reading the cliffhanger at the end of the fourth book, while crying, mind you, I immediately picked up the fifth book because I hoped that what happened was not the end of a certain someone. Thank goodness, J. Bree redeemed herself with her next twist regarding Oli and her powers. I'm telling you, if someone had not returned, I would have rioted. My heart was hurting at the end of the fourth book, and it hurt more reading what all the characters went through after they realized what happened.
May I say a scene in this book between Oli and Nox will be rent-free in my head for the rest of my life? That man and the way he does things in the bedroom. He is like his brother when it comes to the shadows and using them to his advantage, but he also knows how to do other things. I enjoyed Oli and Nox's special time together and how he has changed with her. He knows she's strong and will encourage her to do things, but he's also very protective of her. Don't mess with his Bonded.
Now, Nox still isn't like Gryphon, though. Gryphon is still my number one regarding all of Oli's bonds. Gryphon is a dirty talker and knows what he is doing regarding specific skills in the bedroom/bathroom or wherever he can have Oli. He uses his power to knock out the other bonded to have quality time with Oli, and it's hot as sin. This man is definitely a book boyfriend and is being added to my long list of boyfriends. (Don't tell the husband.)
This book was all about recovery after what happened in the last book. Poor Oli used much of her power to do what she did for a specific character. With all the power she already has, you would think she couldn't get any more kick-butt, but J.Bree throws in extra when it comes to Oli and her powers. I love her character and how she cares for every one of her men. She feels she's not spending much time with each as she should, and those men of hers remind her that they can share her. When they get time with her, they make it worth the wait, and Oli feels loved and appreciated. They have grown so much together since book one that I'm happy for them. Not only are Oli and her bonds growing together, but the bonds are becoming friends. Nox and Atlas agree on specific points in this book that is brought up regarding Oli. (I thought that day would never come since they both didn't like each other. They still don't, but they are learning to trust because of Oli.) Then, there's Gabe and Atlas's friendship. I love these two when they are together and especially with Oli.
Something is happening to Oli's men, and she's starting to notice things scaring her. Nox knows something is up to, and being academic of the group. He cracks open his books to research what is happening in their group, especially after Gabe's bond changes into a friggin' mythical creature from the last book. Something else happens in this book when it comes to Atlas. Here he was worried; he couldn't get any stronger; well, he proved that wrong when the Resistance came too close to his bonded and what they did to his family. No one touches Oli without dealing with her men.
Further things are unveiled in this book from the Resistance and what they have planned. It's up to Oli and her group to prevent what they are doing from happening. Take them all out, no questions asked. Unfortunately, the Resistance is always two steps ahead of them.
This book's ending will end on another cliffhanger, and I was beyond shocked by it. J. Bree, seriously, you are a queen in writing stories that suck me into the world, but I'm telling you I can't handle the cliffhangers you write. You are making my heart hurt too much. I look forward to reading the last book in the series, but I'm sad too. I don't want this to end. I've become invested in Oli and her men. I adore each of them. Oli is my Girl Crush, and I'm going to miss her. Her men have a piece of my heart, too. Gryphon has my heart the most, though. I'll leave you with the reasons below:
"I can keep them asleep. Come here, Bonded. Get that wet pussy on my face. I want your cum running down my chin."
"We could wake them all up and amen them watch me fuck you. Would you like that, Bonded? Do you want them to watch this gushing pussy get filled up? Or do you want more, Bonded? Do you want all of your Bonded filling your greedy holes up?"
Overall, I give this book five stars, and I can't believe I'm moving on to the last book now. I'm so glad I found this series when I did because this series has become an instant favorite.
Standalone or Part of Series: It's part of The Bonds that Tie series and I highly recommend reading in order.
Steam/Spice: 🌶 🌶 🌶 🌶
Trope(s)/Element(s): Reverse Harem/Why Choose. Fated Mates. Touch Her and I'll Unalive You. Touch Him and I'll Unalive You. Found Family.
Trigger(s)/Content Warning(s): Violence. Death.
Would I recommend this book/series? Yes. I recommend this book to readers that enjoy a New Adult PNR Reverse Harem where the FMC has several love interests. The FMC is kick-butt with her godlike powers, and the MMCs have their unique powers, making them a mighty bond group.

This post contains affiliate links you can use to purchase the book. If you buy the book using that link, I will receive a small commission from the sale. It will help sponsor future giveaways but costs you nothing extra. You can read the full disclosure underneath the Privacy Policy.
---
---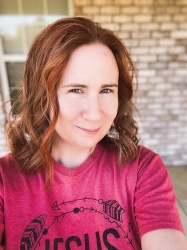 Latest posts by FranJessca
(see all)