Review: 'Until November' by Aurora Rose Reynolds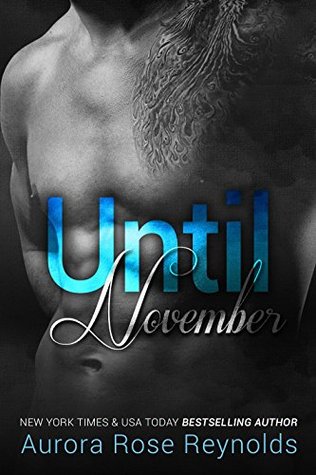 Until November
by Aurora Rose Reynolds
Series: Until #1
Published by Self-Published on September 19, 2013
Genres: New Adult
Pages: 291
Format: eBook
Source: Blog Tour Host
Amazon Kindle
Goodreads


November is looking forward to getting to know her father and the safety of a small town. After leaving the big apple and her bad memories for Tennessee, November starts working for her dad at his strip club doing the books. The one time she's allowed there during club hours she runs into Asher Mayson. He's perfect until he opens his mouth and makes assumptions. November wants nothing to do with Asher but too bad for November fate has other plans. Asher Mayson has never had a problem getting a woman that is until November. Now all he can think about is making November his and keeping her safe.
*Recommended for mature audiences 17+ due to strong language and sexual content.*
My Review
Until November is the debut novel in Aurora Rose Reynolds Until Series and it is one heart-wrenching story full of tension and lots of steamy romance. One character, November, who is running from her past and what happened to her New York to make a new life with her father and help with his books at his strip club. Her old life is trying to come back and hurt her again, and someone is stalking her and trying to harm her again. She ends up meeting Asher Mayson at her father's job. He mistakes her from being one of the strippers and gets to put in his place. Asher falls for November the minute he sees her next to her father and wants to get to know her. He is starting to think the Mayson curse is real and how the men in the family fall for the one person they are meant to be hard. He is determined to win her over, but he is the biggest alpha male ever, and November is not used to it.
Two characters, who were meant to meet and they will be forced into circumstances that will put them to the test. November is trying not to have what happened to her effect what she has with Asher and Asher is trying to keep November safe.
Aurora gives us a dominant male character, which gives off the dominant alpha male type that will make some readers cringe or others fall for his head over heels. I was one that cringed at first, but then he grew on me. I could tell how much he worshipped November, but it took me a while to build on me because he did tend to me way OVER-alpha.
November has so much going on; I do not know how she could deal with it all. She has people to support her though, which makes her seem to grow even further as a character and stay strong.
The ending and the truth of what happened to her left me even in shock. Poor November, she was not expecting what happened to happen to her and from someone, who is supposed to be family.
The book did tend to move fast at certain points and left me a little confused, but it did keep my interest. I think it is because I was sucked into the story of November and Asher's love for her.
I give this book 4 full moons and recommend it to New Adult readers out there. This has become one of my new fave genres, and I definitely cannot wait to read the second book in this series. More of Mayson brothers…falling in love. =)


I guess I should type a bio here. I'm FranJessca or Fran for short. I'm the owner of Book Lovin' Mamas and main Reviewer. I've been reviewing books since I got out of the Navy in 2011. Now 8 years later, I'm still reviewing, but this time with my youngest sidekick.
When I'm not reading and reviewing, you can find me at my day job during the week and on the weekend taking care of our little farm.

Latest posts by FranJessca (see all)