Review: 'Villains are Made' by Alta Hensley
January 17, 2023
I received a complimentary copy of the book from the blog tour host in exchange for an honest review. This does not affect my opinion of the book or the content of my review.
This book may be unsuitable for people under 18 years of age due to its use of sexual content, drug and alcohol use, and/or violence.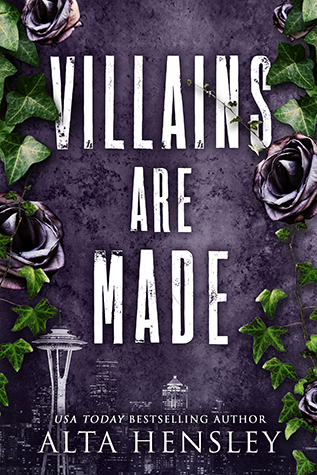 Villains Are Made
by
Alta Hensley
Series:
Gods Among Men #1
Published by
Self-Published
on January 17, 2023
Genres:
Dark Romance
,
Dark Romantic Suspense
Format:
eArc
Goodreads
Purchase at
Amazon

I know how villains are made.I've watched their secrets rise from the ashes and emerge from the shadows.As part of a family tree with roots so twisted, I'm strangled by their vine.Imprisoned in a world of decadence and sin, I've seen Gods among men.And he is one of them.
He is the villain.He is the enemy who demands to be the lover.He is the monster who has shown me pleasure but gives so much pain.But something has changed…He's different.Darker.Wildly possessive as his obsession with me grows to an inferno that can't be controlled.
Yes… he is the villain. And he is the end of my beginning.
---
Villains Are Made the first book in Alta Hensley's Gods Among Men series. I was excited to read a book where the villains get their love stories. I was a fan of villains before they became popular. Thanks to some of the tv shows and movies I watched as a kid, I always thought the villains were just misunderstood. I also was excited to read a Dark Romance story inspired by Greek Mythology, hence the characters named after Greek gods, goddesses, etc. I'm a sucker for Greek/Roman Mythology, so I dived into Alta Hensley's latest release full ahead.
Storyline/My Thoughts: I liked the idea of the storyline that Alta Hensley was going for in the first book of Gods Among Men. Identical twins Apollo and Ares are very protective of each other. They have to be since they are Godwin's. The Godwin family is powerful, and everyone knows they are not to be messed with since one of the twins is a trained hitman. The issue is that one of the twins is now facing prison for what the other twin did, and the twin who actually committed the crime doesn't want his brother to take the downfall for him. The unthinkable happens, and now one of them is no longer with the family, which devastates the Godwins.
The FMC, Daphne, who grew up in a different world, having not much of anything, marries into the Godwin family. As soon as she marries the twin she falls in love with, her life starts falling apart, and now they are in a loveless marriage. She wants out, but there is no divorcing a Godwin. After the death of her husband's brother, though, her world gets turned up down even more full circle when the family finds out the truth about what she did to them. If there is one thing you don't do to the Godwins, try to betray them.
Now, the family wants her unalive, but her husband has other plans, and Daphne notices a change in him. She doesn't know what it is, but her husband wants her to submit herself to him fully, and he'll do whatever it takes to make it happen. Can she trust him, though, since he's not a hero, he's the villain in the story?
Readers, be prepared because this book will get spicy and involve such things as impact play, having the FMC dress up as a bunny, and other things that may be uncomfortable to readers. Check your triggers before diving into this Dark Romance book that Alta has written.
I was enjoying the book. I loved where Alta was taking me as far as the storyline goes and how she introduced the world of the Godwin family, even if some of the Godwin family came off as cold-hearted and to the extreme. They are not good guys, that is for sure. I loved the twin brothers and getting to know them in the very beginning, and I may have been a little upset about what happened, but Alta gave us a story of second chances for both main characters in different ways.
Here's the thing, I couldn't connect with Daphne. I should like her character since she was a fighter. She fought tooth and nail to get away when she felt something was off, but then she did a 360 in the book and became a different character. Her betraying the family put a sour taste in my mouth, too, even if she was well aware of the consequences. Even after finding out her backstory and where she came from, I didn't like her. Don't even get me started with how she handled finding out the truth at the very end of the book. She didn't take it well.
Some readers may not just be bothered by what happens to the FMC when it comes to how her husband treats her sometimes in the book, but they may be bothered by certain things that come to light at the end of this book. The MMC was only protecting her from his family, and I could understand why he did what he did, but not everyone would want this ending, especially since there was no choice. This a reminder this is a villain's story, and the MMC and his family were never good guys. Villains are misunderstood, though; I felt it when reading this book.
I'm glad that Alta Hensley made this book dual POV because if it had been one POV like I stated above, I would have DNF'd it. I just read a single POV book that drove me crazy, not knowing what the MMC in that book was feeling for the FMC.
Am I interested in the next book? Yes, because it's Ani's book, Daphne's sister. I will say this; Daphne is very protective of her sister. I at least could agree with her regarding wanting to take care of her sister, especially her predicament at the time.
After reading the first book in Gods Among Men, I'm invested and want to read the other books. Villains are Made may have only gotten three stars from me, but that doesn't mean other readers may not enjoy it more than I did.
Standalone or Part of Series: It's part of the Gods Among Men series.
Steam/Spice: 🌶 🌶 🌶 🌶
Genre(s)/Trope(s)/Element(s): Dark Romance. Contemporary Romance. Romantic Suspense. Gothic Romance. Enemies to Lovers. Family Saga. Billionaire Romance. Amnesia. Mistaken Identity. Antihero. Alpha MMC. Billionaire MMC. Punishment/Discipline.
Trigger(s)/Content Warning(s): Explicit Content. Violence. Death. Murder/Unaliving.
Would I recommend this book? Yes. I may have some issues with this book, but that doesn't mean others will have the same issues. Someone else will love this book. I recommend this book to readers who enjoy the tropes of Mistaken Identity, Amnesia, and Enemies to Lovers. Also, to readers who enjoy stories where the villains get their stories, too.

---
---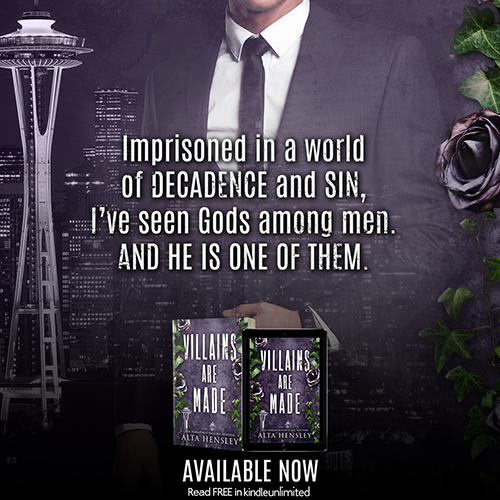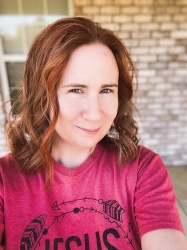 Latest posts by FranJessca
(see all)