Review: 'Wild' by Micalea Smeltzer
January 26, 2023
I received a complimentary copy of the book from in exchange for an honest review. This does not affect my opinion of the book or the content of my review.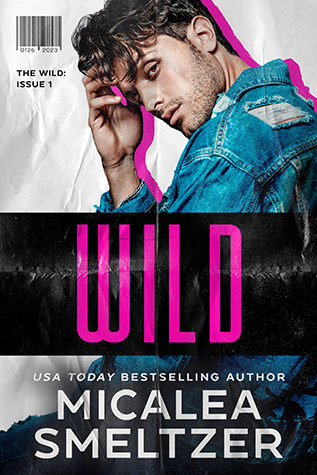 Wild
by
Micalea Smeltzer
Series:
The Wild: Disc #1
Published by
Self-Published
on January 26, 2023
Genres:
New Adult and College Romance
Format:
eArc
Goodreads
Purchase at
Amazon

My band, The Wild, has finally had its big break. It's what we've always wanted—what we have always dreamed of—and nothing will stand in the way of achieving success.
Except maybe me.
As soon as we sign with our new record label, our producer gives us one rule; stay away from his daughter.
I thought it would be easy to resist her, but Mia Hayes is under my skin. She is everything I never knew I wanted or needed.But falling for Mia might cost us everything we've worked so hard for.
Do I sacrifice my band member's dreams and chase her, or will Mia be the one thing that is more important than any stage I have ever dreamed of?
---
I must be on a Rockstar Romance kick right now since I've read several this month already. Every time I read one, I find myself listening to the music I used to listen to as a teenager; Nirvana, Korn, P.O.D., Disturbed, and Nine Inch Nails. That's revealing my age a bit, so let's focus on the fact I read my first Micalea Smeltzer book. I've been meaning to read her books for a while now. I was intrigued by her first book, Wild, the first book in The Wild series. Now that I've read my first book by Micalea Smeltzer, I will be checking out all her others.
Storyline/My Thoughts: The Wild consists of four rockstar members, Hollis (singer), Cannon (bass player), Rush (drummer), and Fox (guitarist). They went viral on social media and are now recording their first album with a well-known rockstar god, Joshua Hayes, a guitarist for the band Willow Creek. I have yet to read the Willow Creek series, which I will rectify since I want to learn about Josh Hayes and his other bandmates, HEA. (They were all in this book, and I love when authors feature previous characters from other books they've written in later books/series.)
Readers will get Hollis's story first, and this boy won me over immediately, even if he came off as a typical rockstar at first in the story. Hollis is known by his bandmates for being the guy that does not have relationships with the women he hooks up with while partying. Only when he meets Mia, who happens to be his boss's daughter, will he consider changing his ways. Mia, though, is not easily persuaded by the pretty boy singer of The Wild because she grew up in a rockstar's home and even worked at her dad's studio as an intern. She knows how rockstars are and is not interested in being one of Hollis's many hookups.
I loved Hollis's character and usually can't stand the guys that sleep around, but with him, it was different. Yes, he's the sexy singer of the new rock band, and every girl will want to be with him, but this young man only has eyes for one girl. He will do anything to prove it to her. He's also HOT in the bedroom. One of my favorite scenes involves restraints. Yes, this young man is kinky in the bedroom and has a way with words. Full-on you will be melting when he talks dirty to the FMC.
I did like Mia's character, but sometimes, not always; she drove me crazy. I loved her will, though, of not giving in to Hollis. I understood why she was hesitant to be with Hollis, but when she does hook up with him, it's all about keeping it secret. The back-and-forth between the main characters and how they felt toward each other, but one of them wanted to keep it a secret, got repetitive at times. I got bored with it and was tired of the characters constantly bringing it up. The ending was an issue with me, too, but not in a way where I was upset with the results; it just felt rushed and predictable. I did enjoy how the characters came around in the end.
I'm really interested in the other bandmates, and I loved getting to know them. Each seems to have a unique personality, and I can't wait to read who they end up with regarding their HEA, so Micalea Smeltzer has me patiently waiting for their books.
Overall, I give the first book 3.5 stars and found it entertaining and spicy when reading it. When I mean entertaining, there were some funny moments between the primary and secondary characters. I laughed out loud whenever Rush, the drummer, was mentioned. In the prologue alone, he is getting into trouble. I can't wait for his book. When I mean by spicy, I will refer back to my paragraph that mentions Hollis being a dirty talker and using things in the bedroom to keep the FMC where he wants her. I will never forget Hollis. =)
Standalone or Part of Series: It's part of The Wild series, and each follows a new couple.
Steam/Spice: 🌶 🌶 🌶
Genre(s)/Trope(s)/Element(s): New Adult Romance. Contemporary Romance. Rockstar Romance. Boss's Daughter Romance. Forbidden Romance. Instant Love/Attraction. MMC Fell First. College Student FMC. Musician/Singer MMC. Reformed Manwhore MMC. Dirty talker MMC.
Would I recommend this book? Yes. I recommend this book to readers who enjoy New Adult/Contemporary Romance stories with rock star gods and the women that end up falling in love with them. In the case of Hollis and Mia, he fell first.
Favorite Quote(s): For once, I'm at a loss of words, because I know without a doubt while my heart beats inside my chest, giving life to my body, it doesn't belong to me anymore. It's hers. It's always been hers, it was only waiting for me to find her.

---
---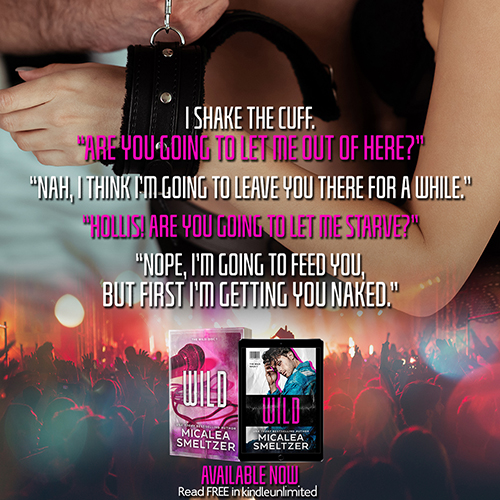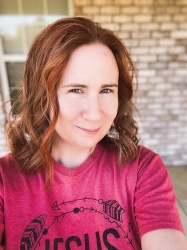 Latest posts by FranJessca
(see all)