I received a complimentary copy of the book from the publisher in exchange for an honest review. This does not affect my opinion of the book or the content of my review.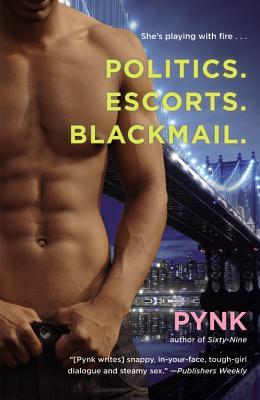 Politics. Escorts. Blackmail.
by
Pynk
Published by
Grand Central Publishing
on December 11, 2012
Genres:
Erotic Romance
Format:
ARC
Goodreads
Purchase at
Amazon

POLITICS.ESCORTS.BLACKMAIL follows the life of Madam Money Watts and explores the call-girl industry as it spills over into the world of politics in New York City. Money's exclusive, top escort service operates under the name, Lip Service, and Midori Moody, Leilani Sutton and male escort Kemba Price are her high-end contractors who make a hefty living out of sex for money.
Among her clients are two New York senators who are the very officials voters have elected to make decisions for others to abide by, yet these politicians play by a different set of rules, secretly paying top dollar for the forbidden girlfriend experience. But when a freaky client takes it too far; a pimp wants in on some of the action; and an escort gets greedy, the world of Money Watts is brought to a head.
My Review