ARC Review: 'A Demon Does It Better' by Linda Wisdom
December 31, 2011
I received a complimentary copy of the book from the publisher in exchange for an honest review. This does not affect my opinion of the book or the content of my review.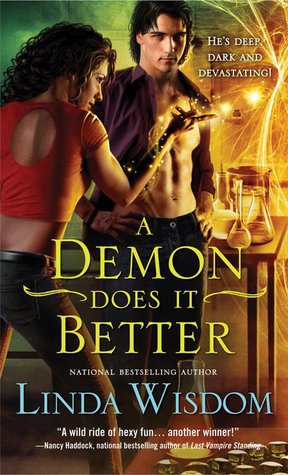 A Demon Does It Better
by
Linda Wisdom
Series:
Hex #6
Published by
Sourcebooks Casablanca
on January 1, 2012
Genres:
Paranormal Romance
Format:
eArc
Source:
the publisher
Goodreads
Purchase at
Amazon
|
Apple
Bestselling author Linda Wisdom, with 13 million category romances sold, is working to build her single title audience with the hottest new area of the romance category– sexy demon heroes.
Lovely witch Lili Carter takes a job at a paranormal hospital where patients have been disappearing. There she encounters Jared, a dangerously sexy demon on a mission that gets Lili into a world of trouble. Lili can't avoid Jared for long and soon they find themselves creating a whole new kind of magick...
My Review
If you're looking for a Paranormal Romance book with some Humor in it, you definitely should read this book. Linda Wisdom has done it again with her "Demons Series." "A Demon Does it Better" will capture the hearts of any reader who enjoys some humor, some romance and a great storyline.
Lili Carter is a 700-year-old witch who goes back to Crying Souls to work as a Doctor. She's on a mission though to find her Witch friend, Sera who went missing while working there. She is to work with Dr. Mortimer down in the depths of the hospital in the Asylum where their our creatures who are supposedly crazy and can never be healed. Lili is a healing witch. She's one of the best in her field, and she's determined to heal the patients in the Asylum. When she comes across Jared or who Dr. Mortimer calls Patient 1172…she finds it a mission to find out what is precise makes him dangerous and she eventually wants him out of there.
Jared is a Demon who can leave the confines of his cell by using the shadows. He comes across Lili when she first came to town. Lili didn't know until later that he was Patient 1172.
Lili is thrown into chaos at the hospital. She becomes friends with a Were-Leopard who helps her out a lot during her duties at the hospital and outside of work.
It's Cleo Lili's familiar (well actually to Cleo she isn't). Cleo makes the book's humor come to life and adore her. Cleo is short for Cleopatra. She is Cleopatra from the Egyptian times. She tends to be a high-maintenance cat that gets Lili riled up. She can go to the hospital to help tend to the children who are sick. She makes them forget about their illness.
From the minute I started reading this book on my Kindle, I had a hard time putting it down. Unfortunately, with the Holidays, I had to stop for a bit…but once Christmas was over with, I was determined to find out what happened next to the characters. I loved when Linda Wisdom brought Maggie and Elle into this story. =) My favorite characters of 2011. Yay! If you haven't read Demons are a Girl's Best Friend you need to.
I fell in love with Jared and felt terrible for him. He was going through hell in this book. Lili was perfect for him, and I'm glad for the ending between them.
I can't wait until the next book in the series. I hope the characters from the first two books show up in the 3rd book too. I love finding out what is happening to previous characters.
Linda Wisdom had become one of my favorite authors in 2011. I recommend this book to any lover of paranormal romance. You will enjoy it from beginning to end. =)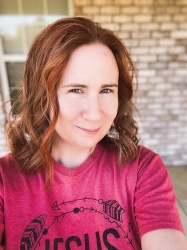 Latest posts by FranJessca
(see all)