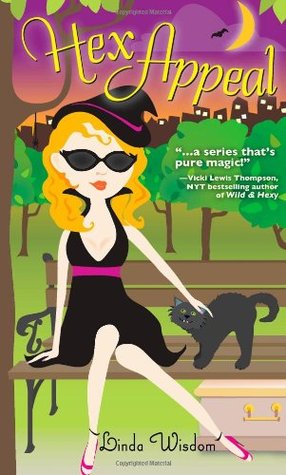 Hex Appeal
by
Linda Wisdom
Series:
Hex #2
Published by
Sourcebooks Inc
on November 1st 2008
Genres:
Paranormal Romance
Pages:
354
Format:
Paperback
Source:
Purchased
Amazon Kindle
|
Amazon Paperback
Goodreads

The second book in the Hex series features feisty witch Jazz and her drop-dead gorgeous vampire cop boyfriend in a new installment. On again, off again for over 300 years, Jazz and Nick are finally back together, but then Jazz thinks Nick has bitten her. Separated again, upset and angry, the two of them start having violent, recurring dreams in which each one figures in disturbing and menacing ways. They can't sleep, they can't eat, and they finally figure out they'd better get together and discover who's poisoning their dreams-and their relationship. Full of the fantastic secondary characters that Linda Wisdom's fans know and love, including Jazz's sister witches and a cast of delectable supernatural male characters, Hex Appeal is fun and funny paranormal romance at its best. "Filled with loads of sass and sensuality, plenty of laughs and a host of oddball characters who'll leave you in stitches and asking for more."-Book Loons "With a rollicking cast of supporting characters, biting wit and sensual scenes, 50 Ways to Hex Your Lover is 'a high-power keg of excitement!'"-Coffee Time Romance 4 Star Review-Romantic Times: "Longtime series author Wisdom makes a wickedly fun jump into the supernatural realm. Offbeat characters...offer insight into this highly intriguing new heroine. The balance of danger, adventure and the supernatural is excellent. With characters as rich and challenging as these, let's hope we haven't seen the last of them." "Wisdom, no stranger to romance fans, delivers a striking opening salvo in her new paranormal series... a zany, hot read." -Booklist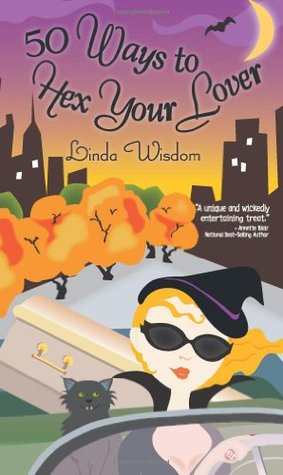 50 Ways to Hex Your Lover
by
Linda Wisdom
Series:
Hex #1
Published by
Sourcebooks Inc
on March 1st 2008
Genres:
Paranormal Romance
Pages:
364
Format:
eBook
Amazon Kindle
|
Amazon Paperback
Goodreads

Jazz can't decide whether to scorch him with a fireball or jump into bed with him.
Jasmine Tremaine, a witch who can't stay out of trouble.
Nikolai Gregorivich, a drop-dead gorgeous vampire cop on the trail of a serial killer.
The sizzling love affair between Jazz and Nick has been off-again, on-again-for about 300 years. Mostly off, lately. But now Nick needs Jazz's help, and while Jazz and Nick try to figure out their own hearts and resist their ever-increasing attraction, they must steer clear of a maniacal killer with super-supernatural powers. They are surrounded by a hilarious cast of oddball paranormal characters, including Irma, the chain-smoking ghost who haunts Jazz's sports car, Dweezil, her ghoul of a boss, and Fluff and Puff, a pair of bunny slippers with sharp teeth and short tempers (watch your ankles)!
I received a complimentary copy of the book from the publisher in exchange for an honest review. This does not affect my opinion of the book or the content of my review.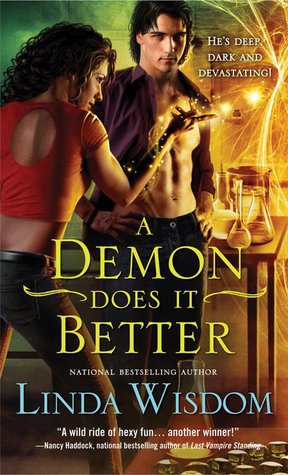 A Demon Does It Better
by
Linda Wisdom
Series:
Hex #6
Published by
Sourcebooks Casablanca
on January 1, 2012
Genres:
Paranormal Romance
Pages:
343
Format:
eArc
Amazon Kindle
|
Amazon Paperback
Goodreads
Bestselling author Linda Wisdom, with 13 million category romances sold, is working to build her single title audience with the hottest new area of the romance category– sexy demon heroes.
Lovely witch Lili Carter takes a job at a paranormal hospital where patients have been disappearing. There she encounters Jared, a dangerously sexy demon on a mission that gets Lili into a world of trouble. Lili can't avoid Jared for long and soon they find themselves creating a whole new kind of magick...
My Review Continue reading →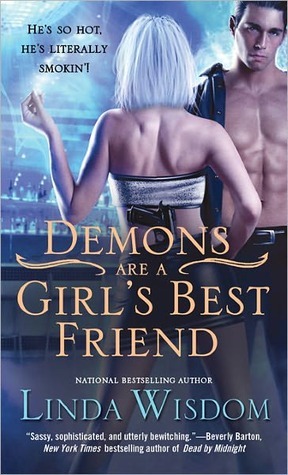 Demons Are a Girl's Best Friend
by
Linda Wisdom
Series:
Hex #5
Published by
Sourcebooks Casablanca
on April 5, 2011
Genres:
Paranormal Romance
Pages:
354
Format:
eBook
Source:
Purchased
Amazon Kindle
|
Amazon Paperback
Goodreads

Feisty witch Maggie enjoys her work as a paranormal law enforcement officer—that is, until she's assigned to protect a teenager with major attitude and a sleazy boyfriend. A group of satanic Mayan priests has decided Courtney has a drop of divine blood in her—making her just the virgin sacrifice they need to release their God and rule the world.
To prevent this catastrophe, Maggie must team up with half fire demon Declan, the proprietor of Damnation Alley, an underground club and busy demon portal. Declan will be damned if he'll allow his demon race to be blamed for the malicious acts of some evil Mayans. So he decides to seduce the sexy witch in an effort to discover what the law enforcement agency knows about the Mayan's plans, but then things get more than a little hot, and Declan finds himself seriously entangled with the sexiest woman he's ever met…
My Review Continue reading →