Review: 'Demons are a Girl's Best Friend' by Linda Wisdom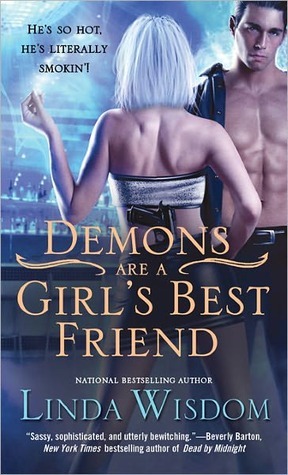 Demons Are a Girl's Best Friend
by
Linda Wisdom
Series:
Hex #5
Published by
Sourcebooks Casablanca
on April 5, 2011
Genres:
Paranormal Romance
Pages:
354
Format:
eBook
Source:
Purchased
Amazon Kindle
|
Amazon Paperback
Goodreads

Feisty witch Maggie enjoys her work as a paranormal law enforcement officer—that is, until she's assigned to protect a teenager with major attitude and a sleazy boyfriend. A group of satanic Mayan priests has decided Courtney has a drop of divine blood in her—making her just the virgin sacrifice they need to release their God and rule the world.
To prevent this catastrophe, Maggie must team up with half fire demon Declan, the proprietor of Damnation Alley, an underground club and busy demon portal. Declan will be damned if he'll allow his demon race to be blamed for the malicious acts of some evil Mayans. So he decides to seduce the sexy witch in an effort to discover what the law enforcement agency knows about the Mayan's plans, but then things get more than a little hot, and Declan finds himself seriously entangled with the sexiest woman he's ever met…
My Review
From the beginning to the end I was hooked to this book. Linda Wisdom creates a Sexy, Dark Paranormal World. The characters were KICK-ASS!! I couldn't get enough of Declan and Maggie. The chemistry between them was unbreakable. Although they captured my heart from the beginning, Courtney is the one who had been falling out of my chair with her teenage tactics and what Maggie put her through in life.
I loved the plot of the story, and that is what had me hooked. You got to hear from both Declan's point of view and Maggie's. Declan would let you into his Demon World, and what he was dealing with and Maggie would bring you into the world of Paranormal Law Enforcement.
My favorite parts in the book that had me laughing were when Maggie had to make Courtney not give away the paranormal world. She put a spell on her that made her, not say any magic or paranormal words instead, Courtney would sound silly. It made Courtney really upset and had me laughing into tears. Poor girl.
I also adored Elegance, aka Elle…Maggie's Spider who attaches to her literally. She's a diamond-encrusted spider tattooed on her. Who wouldn't want that? I know I wouldn't mind Elle being tattooed on me. She does her damage to bad guys or just guys period. She brings humor also to the story.
This was the first book I read by Linda Wisdom, and it won't be my last. I adore this series so far, and I look forward to the next book and reading her other books when I get the chance.
I recommend this book to anyone who likes paranormal humor ROMANCE. Don't expect too many erotic sex scenes in this book. It's more of a Humorous, action-packed Paranormal Romance. It does get steamy a bit with Declan and Maggie but not like other authors that I've read.
It was great to read something different though. I always love a good laugh. I also love kick-ass heroines, sexy heroes….and even pain in the ass teenagers…(reminds me of myself a bit…LOL).
This book deserves 5 stars or maybe 10. =)


I guess I should type a bio here. I'm FranJessca or Fran for short. I'm the owner of Book Lovin' Mamas and main Reviewer. I've been reviewing books since I got out of the Navy in 2011. Now 8 years later, I'm still reviewing, but this time with my youngest sidekick.
When I'm not reading and reviewing, you can find me at my day job during the week and on the weekend taking care of our little farm.

Latest posts by FranJessca (see all)