ARC Review: 'At Wolf Ranch' by Jennifer Ryan
February 22, 2015
I received a complimentary copy of the book from the publisher in exchange for an honest review. This does not affect my opinion of the book or the content of my review.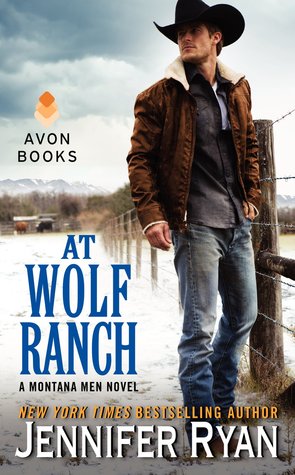 At Wolf Ranch
by
Jennifer Ryan
Series:
Montana Men #1
Published by
Avon
on February 24th 2015
Genres:
Contemporary Romance
Format:
eArc
Goodreads
Purchase at
Amazon
|
Apple

Everything's bigger in Big Sky country, including the hearts of the Montana Men...
After years on the rodeo circuit, Gabe Bowden wants nothing more than land of his own and a woman who will claim his heart for more than one night. When he has the chance to buy the enormous Wolf Ranch spread, he snaps up the incredible deal. Everything is set, until Gabe rescues a woman on the deserted, snowy road leading to the property, and the half-frozen beauty changes everything.
Ella Wolf rushes to her family's abandoned Montana ranch after her twin sister is murdered. She knows she's next . . . unless she can uncover a secret hidden somewhere at Wolf Ranch. The last thing Ella expects is to be rescued by a rugged rancher with his own agenda. A man who almost makes her forget how dangerous love can be.
As an unlikely partnership sparks into something so much more, and a killer closes in, can Ella and Gabe learn to trust one another before it's too late?
My Review:
***NOTE*** This Review was supposed to be posted yesterday, but work has been kicking my butt lately. I tend to come home from work: eat, relax for a bit, exercise (PiYo), shower, read for 10-20 minutes, and then head to bed. Read until my eyes get heavy and I end up falling asleep within 10-20 minutes.
I officially finished At Wolf Ranch yesterday evening and finally got a chance to sit down to type up my review this evening. (I have been shopping ALL day with a 9 year old who can't find anything to wear…It's been an exhausting day)
Thanks to Bookslapped for introducing Jennifer Ryan's books to me because I love finding authors I've never read from yet.  Jennifer Ryan is now an author I need to follow up with because I really enjoyed At Wolf Ranch. It may not be getting 5 full stars from me, but that doesn't mean I didn't enjoy the book. There were just some aspects that didn't click with me while reading, but others that definitely kept me reading the story because of the suspense and romance of it.
(This review is a little different because I'm not giving a summary of the book. I want readers to want to read it without me giving away any of the story. I don't like spoilers)
First off, let me go over some of the parts I really enjoyed about At Wolf Ranch.
-I am in LOVE with GABE. From the moment he was introduced I fell head over heels in love with him. (Shhh! Don't tell the hubby. He already says my Book Boyfriend list is way TOO long) Gabe is the guy who had his heartbroken before, and he really wants to find that one woman to spend the rest of his life with. He's the man that loves to make a woman happy in any way he can. (Seriously…Gabe knows how to make a woman happy) The minute he meets Ella Wolf, he knows he's in trouble because he can't stop thinking about having a future with her. The scene of him meeting Ella Wolf should prove how much of a caring gentleman he is. He takes care of a complete stranger. (Brownie points for this sexy man).
– I loved the storyline that Jennifer Ryan wrote in At Wolf Ranch. I loved being on the edge of my seat trying to figure out what is going to be uncovered next. Even though, Jennifer put the characters through a lot, especially when Gabe figured out what happened to him. The worst of it is what happened to poor Ella. She has LOST a lot and I wanted to hug her. (Even if she's fictional I still want to hug her.)
-The secondary characters. I really enjoyed Gabe's brothers and his mother. His brothers were a riot meeting Ella.  =)
-Ella's revenge at the end of the story. How she handles everything. Jennifer…you did an amazing job ending the story with a HEA, even though you made me cry at the beginning. Poor Ella!
Here are some things that bothered me, but didn't stop me from reading:
-Repetition through the story with Ella constantly going over certain things that happened. I skipped over whenever she became repetitive.
-Taking too long at certain parts of the story. For example, Ella taking forever to figure out what her twin sister, Lela wanted her to figure out.
-This didn't really bug me to the point that I hated it, but it was creepy. The ending with a certain Ella's family member. The truth…it was creepy. (I felt for poor Ella again.)
-Can I hate and love the villain? Love because the villain kept the story engaged, but hatred because of how the villain went out about certain things. The villain deserved so much MORE than what happened in the end.
Overall, this a very enjoyable read for my first book from Jennifer Ryan. I look forward to reading the next book in the series and finding out more about these Montana Men. =) This book literally makes me want to move to Montana….but only during the summertime. This Book Lovin' Mama doesn't do the cold. Brrrrr!
I give this book 3.5 stars, and recommend it to Contemporary Romance readers out there that are looking for a book full of family drama, sexual tension, and LOTS of romance elements.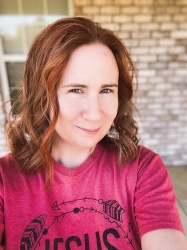 Latest posts by FranJessca
(see all)