ARC Review: 'Bet on Ecstasy' by Stacey Kennedy
September 22, 2013
I received a complimentary copy of the book from the author in exchange for an honest review. This does not affect my opinion of the book or the content of my review.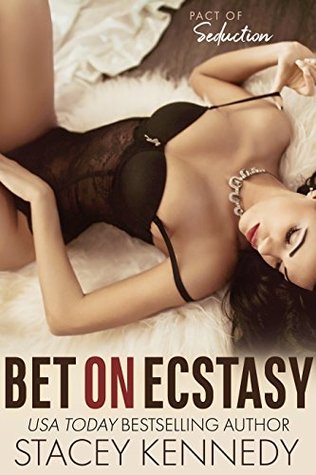 Bet on Ecstasy
by
Stacey Kennedy
Series:
Pact of Seduction #3
Published by
Self-Published
on September 23, 2013
Genres:
Erotic Romance
Format:
eArc
Source:
the author
Goodreads
Purchase at
Amazon

Business partners, Smith and Brock share their fortune, success, and they share their women. A healthy competitive streak built MDR Software into a multi-million-dollar enterprise, and their on-going bets continuously raise the stakes. The current proposition: an arranged ménage encounter through the sex club, Castle Dolce Vita. The prize: a sexy kitten, Kyra.
While the two wealthy, powerful men are enough to pique Kyra's interests to fulfill the Pact of Seduction and live out her ultimate fantasy, a bet forged between the men comes with an intriguing promise. Her pleasure is now part of their wager.
Soon, Kyra fights against her desire for the men as she struggles through the complications of a ménage relationship. Of course, the men take their bets seriously and are determined to show Kyra that in this game of seduction no one loses.
My Review
Oh MY Goodness…this was one HOT book to read. I have been patiently waiting for the next Pact of Seduction book from Stacey Kennedy and this time it had two SEXY, WEALTHY, POWERFUL men. Excuse me, while I get jealous over Kyra after reading this book. She is one lucky woman to not only have one man wanting her but two.
The Pact of Seduction is between women, who are best friends wanting to conquer their sexual fantasies, and in Bet on Ecstasy, it's Kyra's turn to have her fantasy come true. She has always wanted to do a menage trois, and she is set up to be with the sexy two men of Castle Dolce Vita, Brock and Smith. Kyra wants it to be a one-night thing, but the men have other plans. In the beginning, they set up a bet to see, who could make Kyra climax more and Kyra is not going to make it easy for either one of them.
Bring on the very heated sexual scenes between Brock, Kyra, and Smith and you definitely will need a cold shower after this book.
Stacey Kennedy did a fantastic job on the third book in the Pact of Seduction series, not only because of the erotic scenes between the characters but because I loved every bit of Kyra and her two sexy men. Stacey even manages to make me feel emotional towards the characters, especially with what they have gone through and how they are perfect together.
(One of my FAVORITE scenes…was the intervention Kyra's friends did to her at the end to trick her oh yes, she needed that. Smith and Brock won me over during that scene even more.)
From the first page to the last page, I was captured into the erotic story of these three characters. I look forward to the next Pact of Seduction book. =)
I give this book 5 full moons and highly recommend it to erotica readers out there and fans of Stacey Kennedy. I suggest you read the first two books because believe me; you will want to know about the other women and the men they end up hooking up with from Castle Dolce Vita.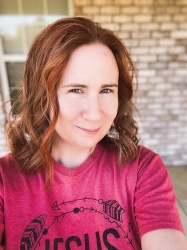 Latest posts by FranJessca
(see all)