ARC Review: 'Bite Me, Your Grace' by Brooklyn Ann
April 11, 2013
I received a complimentary copy of the book from Netgalley, the publisher in exchange for an honest review. This does not affect my opinion of the book or the content of my review.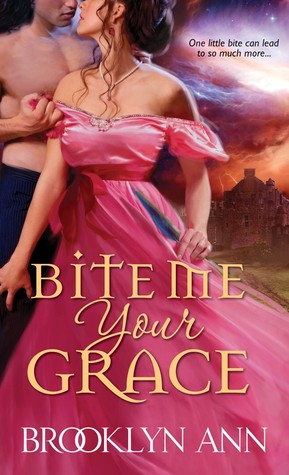 Bite Me, Your Grace
by
Brooklyn Ann
Series:
Scandals with Bite #1
Published by
Sourcebooks Casablanca
on April 2, 2013
Genres:
Historical Romance
,
Paranormal Romance
Format:
eArc
Source:
Netgalley, the publisher
Goodreads
Purchase at
Amazon
|
Apple

England's "vampire craze" causes much vexation for the Lord Vampire of London, Ian Ashton. To save his reputation, Ian enlists aspiring authoress Angelica Winthrop without realizing she has hidden plans of her own.
Angelica Winthrop's life goal is to ruin her reputation, avoid marriage, and become a gothic authoress like her idol, Mary Shelley. To find inspiration for her new story, she breaks into the home of Ian Ashton, Duke of Burnrath, not knowing she will be coming up against the Lord Vampire of London. Romance sparks and reputations are at stake. But who knows the real difference between fact and fiction?
My Review
The first thing that drew me to this book was the beautiful cover and then the synopsis of the book saying it was a historical and paranormal romance mix. Two genres I adore written together…I had to read this book.
Unfortunately, the book tended to be a little dry and confusing at first and then it would get interesting and then again dry. Although I did adore the characters, I just was not interested in some parts of the storyline because it just got confusing a little bit.
I loved Angelica in the story because she was one strong-willed, determined character who wanted nothing to do with marriage and wanted to pursue her writing career. Until, she meets her match, and he happens to be a vampire. She's not scared of him of course, she's more intrigued and wanting to know more about him and his kind.
I also loved Ian, the Duke of Burnrath, at times…other times he tended to be a jerk. He was not intrigued with Angelica at first until he finally got to talk with her and find out how she is. There were times in the story where I wanted to hit him on the top of his head for the way he treated Angelica.
There were so many storylines going that what was making the book confusing. You had Angelica and Ian…then you had the Vampire Hunter, plus the writer, John and another vampire who loved him, Rosetta. The most confusing part was when Ian was trying to track down John, but then he gave up after a while, but Rosetta and John thought he had not and it came controversy.
Do not get me wrong; I liked "Bite Me, Your Grace," I did not love it. I plan on reading the next book though because I like how Brooklyn put together two genres and I want to know who will be the following characters to get their book. I want to know more about Ian's second in command and the other Lord Vampire.
All I can say is the female character was a lot stronger lead in this book then Ian. Maybe because she took care of herself and she made the book so much better for me.
I give this book 3.5 full moons and recommend it to readers who love the historical and paranormal romance genres. Brooklyn Ann is one author who tells the story of a vampire who has never fallen in love before until he meets the one mortal who changes his world and she does not make it easy for him.
I received a complimentary copy of the book from NetGalley (from the publisher) in exchange for an honest review.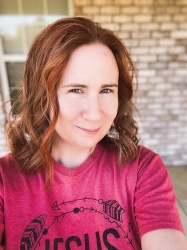 Latest posts by FranJessca
(see all)