ARC Review: 'Claimed' by Stacey Kennedy
August 2, 2013
I received a complimentary copy of the book from Netgalley, the publisher in exchange for an honest review. This does not affect my opinion of the book or the content of my review.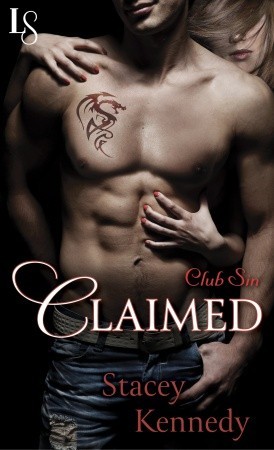 Claimed
by
Stacey Kennedy
Series:
Club Sin #1
Published by
Random House Loveswept
on August 5, 2013
Genres:
Contemporary Romance
,
Erotic Romance
Format:
eArc
Source:
Netgalley, the publisher
Goodreads
Purchase at
Amazon

A novel of erotic discovery and forbidden desire that goes beyond Fifty Shades of Grey.
Presley Flynn is ripe to experience her secret fantasies . . . and Dmitri Pratt wants nothing more than to fulfill them. Once inside the elite Club Sin in Las Vegas, Presley is nervous but excited—and determined to surrender to her every desire. Dmitri is her Master, and his touch is like fire. With each careful, calculated caress, he unleashes her wildest inhibitions, giving her unimagined pleasure.
Presley is different than the other submissives Dmitri has mastered. The BDSM lifestyle is new to her, and so are the games they play at Club Sin. From the start, Presley stirs emotions in Dmitri far beyond the raw purity between a dom and the perfect sub. For the ecstasy they share goes beyond the dungeon, igniting a passion that claims the very depths of the heart.
Claimed is an erotic romance intended for mature audiences.
My Review
Let me admit to this first before I go into my review. I had to put down my Kindle after every scene between Presley and Master Dimitri because I always got overheated and needed to cool down with some cold water. Wowza! The scenes in the dungeon, bathroom, and bedroom between Presley and Master Dimitri were scorching hot. I literally would not mind being CLAIMED by Master Dimitri.
Stacey Kennedy always manages to make me fall head over heels over one of her male characters and this time it is Master Dimitri and his sexy commanding ways that won me over. I always have fallen for a dominant male and Master Dimitri is a perfect dominant and Presley was the ideal submissive even when she had never played sub before. Her help of dom/sub relationships came with reading BDSM novels. (which I got a kick out of)
Stacey's writing style has always sucked me into the story due to her way of describing what is happening between the characters and feeling the emotions of the story. The drama that continuously is happening in Claimed keeps me wanting to turn the pages on my Kindle. Poor Presley is dealing with her past experience with her ex-boyfriend still and Master Dimitri is going to do anything to help her realize how much potential she has. He wants to fix her and Presley also intends to fix Master Dimitri.
Sparks fly between Master Dimitri and Presley the minute they first meet each other. The sexual tension between the two is obvious in the beginning and who would not want to jump Dimitri the minute Stacey introduces him the story and even describes him. I was intrigued the minute he showed off his powerful ways toward Presley. He did not hold back with her. He did follow her soft and hard limits, which I was amazed at the whole of the story.
I enjoyed every minute of Claimed, and I am looking forward to the next Club Sin book. I need to know more about Master Aidan and Master Kyler.
I give this book 5 full moons and highly recommend it to erotica readers and people who enjoy reading novels with BDSM elements in it.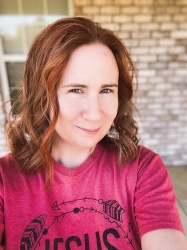 Latest posts by FranJessca
(see all)