ARC Review: 'Cold Blooded' by Amanda Carlson
October 19, 2013
I received a complimentary copy of the book from Netgalley, the publisher in exchange for an honest review. This does not affect my opinion of the book or the content of my review.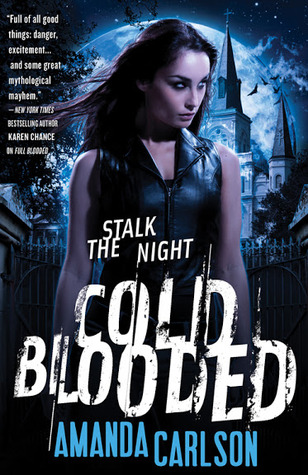 Cold Blooded
by
Amanda Carlson
Series:
Jessica McClain #3
Published by
Orbit
on October 8, 2013
Genres:
Urban Fantasy
Format:
eArc
Source:
Netgalley, the publisher
Goodreads
Purchase at
Amazon
|
Apple

Jessica arrives back in town to find her best friend missing and the most powerful witch in the country is blaming her for it. But before they can move to save her, the group is attacked.
On the run, Jessica and Rourke head to the mountains. Several surprises await them, but in order to save her father they are forced to leave for New Orleans early. Arriving on the Vampire Queen's doorstep unexpectedly, and bringing trouble on their heels, the Sects are thrown into an all out war. The vicious skirmish ends up forcing the vamps and Jessica to fight on the same team.
The Vamp Queen ends up owing Jessica, but what Jessica doesn't realize is just how soon she'll have to cash it in...
My Review
Is it possible to give a book 10+++ stars because I want to do it with this book? I wanted to give the first two books just as many stars too. I am addicted to this series, and I'm so happy that more books are coming. (fireworks going off)
The Jessica McClain series is making me want to want to dive back into the Urban Fantasy genre. I love when a book has a lot of action to it and lots of magic and mayhem to it. Amanda Carlson gives you all that, plus more. She even finally provides us with some romance action between Jessica and Rourke. (pure HOTNESS and STEAMINESS) Those two fought so hard not to crawl onto and into each other the moment they knew they were mates and it was even worst in this book when Amanda Carlson had Cold Blooded pick up from when Hot Blooded left off at the end of the book. When it finally happens between Rourke and Jessica, let's say…sparks were flying between the two and I think my hands felt the sparks, when I was holding my Kindle. =)
In Cold Blooded, we are dealing with the demons wanting Jessica due to the supposed crimes she has done against them and now she has the sorcerers coming after her and she has to find her friend, Marcy, who was taken by them. She has no idea why, but she is starting to figure out in this book what she is destined to do. She is forced to make deals with the Vampire Queen ahead of schedule, and all heck is about to break loose when she is with the Vampires. The truth is about to reveal to why the Vampire Queen wants Jessica so much and why all the other craziness is happening.
We are going to find out, which supernaturals are going to back up Jessica McClain and, who is going to be against her in Cold Blooded This had a lot going on this book, but Amanda Carlson keeps you turning the pages due to wanting to know what is going to happen next. Plus, the ending is a cliffhanger, and it's a doozy one too. (Ahhhh!!! Must find out what happens next)
***On to one more critical thing what can I say about Rourke…well…the truth will come out on what he is, and he is ONE SEXY CAT!!! He's not your typical feline though. Let's say, he has some ancient power to him and he definitely could protect me any day. LOVE him!!!
I highly recommend reading these books in order, and I recommend this series to Urban Fantasy readers out there. Jessica McClain is one kick-ass female werewolf, who can take care of herself and everyone around her. She has become a FAVE female character of mine. =)
If you are looking for a high-action packed book with werewolves, vampires, witches, sorcerers, demons, and lots more then this series is definitely for you.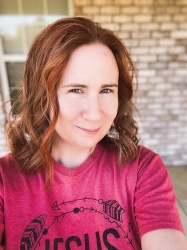 Latest posts by FranJessca
(see all)