ARC Review: 'Cowboy in Wolf's Clothing' by Kait Ballenger
June 25, 2019
I received a complimentary copy of the book from the publisher in exchange for an honest review. This does not affect my opinion of the book or the content of my review.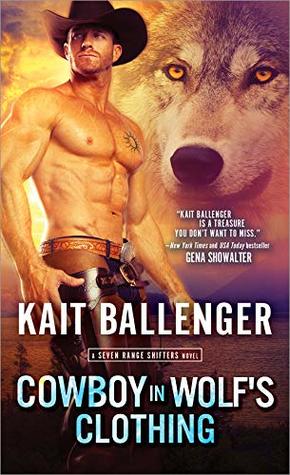 Cowboy in Wolf's Clothing
by
Kait Ballenger
Series:
Seven Range Shifters #2
Published by
Sourcebooks Casablanca
on June 25, 2019
Genres:
Paranormal Romance
Format:
eArc
Goodreads
Purchase at
Amazon
|
Apple
|
Kobo

"Kait Ballenger is a treasure you don't want to miss." —Gena Showalter, New York Times bestselling author

Born a cowboy and bred a warrior...

High Commander Colt Cavanaugh has spent his life defending his pack and its sprawling ranchlands. But the hardened Grey Wolf soldier has a dark secret that could destroy his life forever.
Belle Beaumont is a wanted woman, on the run from the wolf pack that kidnapped her. When fate brings her face-to-face with the Grey Wolf High Commander himself, rivalry becomes passion, and suddenly more than just her freedom is at stake.
Colt will fight to the death for the healing Belle brings to his battle—worn heart—and for this cowboy wolf, all's fair in love and war...
Seven Range Shifters Series: Cowboy Wolf Trouble (book 1)Cowboy in Wolf's Clothing (book 2)
What People Are Saying About Kait Ballenger: "Paranormal fans have a new voice to check out...intense and riveting."—RT Book Reviews for Twilight Hunter, 4 Stars"An extremely promising high-voltage start..."—Publishers Weekly STARRED review for Twilight Hunter, a PW Top 10 Romance Pick
Cowboy in Wolf's Clothing is the second book in Kait Ballenger's Seven Range Shifters series, and this one was full of surprises. I enjoyed the second book compared to the first because of everything that happened in this book. Kait Ballenger had me in shock several times in this book due to where the book was going and how it ended.
This book is all about the sexy High Commander Colt Cavanaugh and beautiful Rogue wolf Belle Beaumont. These two together will have a lot of tension and drama. They may look and act as they come from two different packs, but they have a lot more in common than they genuinely know from each other. Oh boy, do they have a lot in common and are stubborn.
Belle Beaumont is a wanted woman due to her connections with the Wild Eight Pack of wolves. She thought she was going to be a part of the family/pack finally. Unfortunately, she finds out who the Wild Eight is and now she's on the run. Unfortunately, she gets caught by the Grey Wolves but manages to escape from them. She ends up running into the High Commander himself, and now she's in more significant trouble with the sexy control freak. Colt knows Belle is wanted by his pack, but for some reason, he wants to help her. It could be that he has quite a bit in common with the Rogue Wolf. Belle ends up having to save Colt from an attack with a certain vampire in the book who has his agenda with Colt and the Grey Wolves. Both Belle and Colt end up in the crossfires of what is going on with the vampires. It's up to Colt to let the Grey Wolves pack master Maverick know and the Seven Range Shifters.
This book deals with Belle being a Rogue Wolf and only wanting to go back to her original life, but she ends up falling head over heels for the High Commander. Colt also has feelings for the Rogue Wolf, but he can't be with her. He tells her from the start he doesn't do relationships. He's known as Commander Casanova, but Belle makes him want to change. He's being stubborn though.
There were times I wanted to throttle Colt for how he was treating Belle in the book. He wasn't as bad as Wes in the first book though of the series. Colt is a bossy wolf who is used to getting his way. He meets his match with Belle. Belle is an intelligent, beautiful wolf who has been a loner for a while. She's wanted a pack but tried to hide her feelings about it. I adored her character even when she had to decide on telling Colt something that happened.
This book has some big shockers in it, especially with the main characters and their backgrounds. The ending is what had me in complete shock. There also were certain other characters that were in the light of this story that I want to find out more about because of their personalities. I want to know about a particular wolf that was with Maeve (Maverick's sister) that helped her and Belle. I also want to know more about Blaze, Austin, Sierra, and also Maverick (the pack leader). I could go on and on about the other characters. I can't wait to see where Kait takes readers in this series. If you are looking for a paranormal romance that has Wolves as Cowboys, then I recommend this series. I love how Kait mixes paranormal with western elements in these stories and can't wait to read the next book in the series.
---
Story Rating: 4.5 stars
Steaminess Rating: 3.5 stars
Standalone or part of series: Part of series, but a different couple for each book.
Do I recommend this book? Yes.
Will I read other books from the author? Yes.
Tropes/Elements: Fated Mates; Vampires/Shifters
Hero: Commander of Grey Wolves Pack; Control Freak; Bossy; Alpha
Heroine: Doctor/Surgeon; Rogue Wolf

This post contains affiliate links you can use to purchase the book. If you buy the book using that link, I will receive a small commission from the sale. It will help sponsor future giveaways but costs you nothing extra. You can read the full disclosure underneath the Privacy Policy.
---
---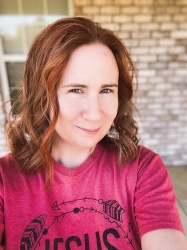 Latest posts by FranJessca
(see all)