ARC Review: 'Crazy Stupid Bromance' by Lyssa Kay Adams
October 27, 2020
I received a complimentary copy of the book from Netgalley in exchange for an honest review. This does not affect my opinion of the book or the content of my review.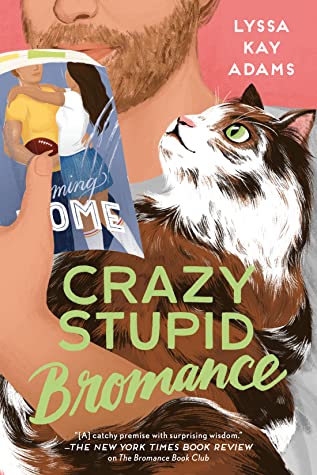 Crazy Stupid Bromance
by
Lyssa Kay Adams
Series:
Bromance Book Club #3
Published by
Berkley
on October 27, 2020
Genres:
Contemporary Romance
Format:
eArc
Source:
Netgalley
Goodreads
Purchase at
Amazon
|
Barnes & Noble

Alexis Carlisle and her cat café, ToeBeans, have shot to fame after she came forward as a victim of a celebrity chef's sexual harassment. When a new customer approaches to confide in her, the last thing Alexis expects is for the woman to claim they're sisters. Unsure what to do, Alexis turns to the only man she trusts—her best friend, Noah Logan.
Computer genius Noah left his rebellious teenage hacker past behind to become a computer security expert. Now he only uses his old skills for the right cause. But Noah's got a secret: He's madly in love with Alexis. When she asks for his help, he wonders if the timing will ever be right to confess his crush.
Noah's pals in The Bromance Book Club are more than willing to share their beloved "manuals" to help him go from bud to boyfriend. But he must decide if telling the truth is worth risking the best friendship he's ever had.
A hacktivist and a cat café owner decode the friend zone in this romantic comedy from the author of Undercover Bromance.
---
Crazy Stupid Bromance is the third book in the Lyssa Kay Adams Bromance Book Club series. This book is a perfect addition to the series due to the sweet, funny, and steamy moments. It's a Friends to Lovers Romance. Warning: Be prepare yourself ahead of time before you dive into this book. You will be laughing and crying at certain scenes. I laughed quite a bit with the Bromance Book Club members. I couldn't help it, though, because these guys can't stop with their craziness together.
Female Protagonist: Alexis Carlisle owns a cat cafe, which also hosts yoga for survivors of sexual harassment/assault. If you read the second book in the series, you would've been introduced to Alexis already. No worries, though, Lyssa Kay Adams reiterates what happened in the second book to this book. Alexis was one character I loved one minute and couldn't stand the next. I think it's due to how she handled certain situations in this book. She's one character that has been through a lot and is trying to live her life. She needs and deserves a happily ever after, though.
Male Protagonist: Noah Logan is a former hacker/hacktivist who nows uses his old skills for the right cause in his business. He's the guy you go to whenever you end up doing something you're not supposed to on your computer/website, etc. (For instance, opening a phishing email, which downloads malware to your computer. That's a big No-No!) He's a sweet, lovable guy who I couldn't get enough of in this book. He was my favorite character in this book. I loved getting to know him (past and present).
Storyline: Alexis Carlisle and Noah Logan are best friends. They became friends after Alexis came forward about her sexual assault/harassment against her former boss, and Noah and she hit it off. They enjoyed the same things together. What happens most of the time (not all the time) when a girl and guy become best friends? One of them or both of them fall in love with each other. Noah, in this case, is secretly in love with Alexis but is scared to tell her. I love these types of books, which is the trope friends to lovers. Alexis has to deal with something in her life that she never expected to happen. She has a young woman come forward, stating that she is her sister. Should she believe her? She goes to Noah for help. Alexis's world is about to turn upside down when her sister tells her why she's there to see her. Noah will be there for her along the way. This book touches on family drama issues on both character sides. It's going to be a whirlwind of drama, crying, and craziness.
Standalone or Part of Series: Part of series, but each follows new characters.
Steaminess: Some steam.
HEA: Yes.
Trope: Friends to Lovers
Would I recommend this book? Yes. I would recommend this book and series to readers of Contemporary Romance. I started reading this series because of the idea of men forming a Romance Book Club and talking together about the books they read. These guys are down to earth and love romance books. They always have me laughing too. This book, in particular, has me falling head over heels for the male protagonist. I loved Noah Logan.
I don't want to give away any details about this book. If you have this book on your TBR, then I recommend you read this book. Make sure to read the previous books because you'll miss out on the other characters who have gotten their HEA.
Favorite scene(s)/moment(s):
1. The guys were getting to spend the day at a Spa for Mack's Bachelor Party. They were clueless about what to do.
2. There were also the scenes with Noah and Alexis's cat Beefcake. (Too funny)
3. Oh, Colton and the Russian meeting Beefcake for the first time. (This particular scene had me laughing like crazy.)

This post contains affiliate links you can use to purchase the book. If you buy the book using that link, I will receive a small commission from the sale. It will help sponsor future giveaways but costs you nothing extra. You can read the full disclosure underneath the Privacy Policy.
---
---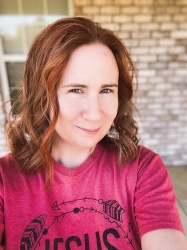 Latest posts by FranJessca
(see all)