ARC Review: 'Dare' by Karin Tabke
July 6, 2013
I received a complimentary copy of the book from the author in exchange for an honest review. This does not affect my opinion of the book or the content of my review.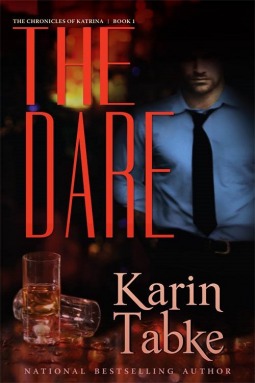 The Dare
by
Karin Tabke
Series:
The Chronicles of Katrina #1
Published by
Season Publishing
on July 3, 2013
Genres:
Contemporary Romance
,
Erotic Romance
Format:
eArc
Source:
the author
Goodreads

I dare you…
Dr. Katrina Winslow has always known who she is; an elite scientist, a certifiable genius and ultra-reserved when it comes to love and relationships. So when a simple game of truth or dare offers the cool doctor the opportunity to shed her lab coat and glasses and put on a pair of sexy stilettos, she accepts the dare. But will shedding her inhibitions fulfill her every desire and help her discover if she can be truly daring or will it cost her everything?
Two men, one a sexy stranger, and a night of no holds barred passion…
What would you dare to do?
***Author's Note: This is book one of a four part series.***
My Review
Karin Tabke has blown me away once again when it comes to sucking me into the story and leaving me hanging at the very end. I am still in shock at that ending, and I'm itching for the next book already. I need some more of the sexy copy named Simon. Please, can I have some more of him? He can handcuff me any day.
If you have never read of Karin Tabke's books, shame on you, the woman is brilliant when it comes to writing romance books. She throws in a fantastic storyline with two characters (even when The Dare is a shorter length book then I am used to from Karin) and also throws in some freaking hot sex scenes between those characters. (I still cannot stop thinking about those scenes…) Although, be prepared for some kinky stuff in The Dare. A threesome…maybe…and maybe even more kinky stuff that will make you want to slap around the dirtbag that the female character, Katrina was with at first…and then you may want to slap her around at the very end BECAUSE how in the heck did she just do that at the very end with a specific character…I have no clue.
The Dare is such a short book, I will not spoil anything about this book because I do not want to give anything away. I will say this…I highly recommend this book for contemporary romance and erotica readers out there. You will not be disappointed. You may be angry by the cliffhanger, but you will begging for more after you read the last sentence in the book. I am intrigued after that previous sentence. =)
This book involves a very intellectual, brilliant, and beautiful female character named Katrina, who is about to write off men completely until that one scene between a specific character, who carries a gun and a badge. He did things to her and she did things with him, she never would have done.
I give this book 5 full moons and here is hoping Karin Tabke brings out the next installment soon. I need some more of Simon and Katrina. Katrina deserves some happiness, and I believe Simon can change her mind about men. =)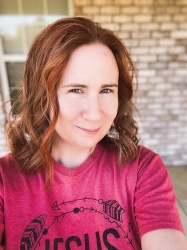 Latest posts by FranJessca
(see all)