ARC Review: 'Desolation Road' by Christine Feehan
July 7, 2020
I received a complimentary copy of the book from the publisher in exchange for an honest review. This does not affect my opinion of the book or the content of my review.
This book may be unsuitable for people under 18 years of age due to its use of sexual content, drug and alcohol use, and/or violence.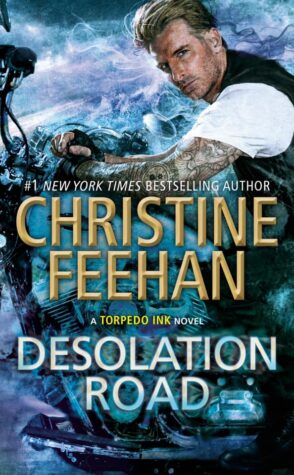 Desolation Road
by
Christine Feehan
Series:
Torpedo Ink #4
Published by
Berkley
on July 7, 2020
Genres:
Paranormal Romance
Format:
eArc
Goodreads
Purchase at
Amazon
|
Apple
|
Google Play
|
Kobo

Take the ride of your life with the Torpedo Ink motorcycle club in this thrilling romance novel from #1 New York Times bestselling author Christine Feehan. Torpedo Ink is Aleksei "Absinthe" Solokov's whole life. They're his brothers, his family—his everything. But that doesn't stop him from wanting something that only belongs to him. That's why the tough biker has spent the last six weeks at the library, reading every book he can get his hands on and watching the prim and proper librarian who makes his blood rush. For the past six weeks, Scarlet Foley has been fantasizing about the handsome, tattooed man whose eyes follow her every move. She senses he's dangerous. She wants him to get close enough to touch. She wishes she could let him know the real woman, not the one she pretends to be. But Scarlet has a plan to carry out, and she can't afford any distractions. Absinthe is well aware that Scarlet is hiding something. She's a puzzle he intends to solve, piece by intoxicating piece….
---
Desolation Road is the fourth book to Christine Feehan's Torpedo Ink series. This series happened to be the first book I read from Christine Feehan. Now I've dived into other series she has written, and I've found she likes to write alpha males and sometimes damsel in distresses in her books. Although she changed it up in this book a bit, she wrote a kick-butt heroine who didn't need saving. I love kick-butt heroines in stories, so I was looking forward to reading this book.
Female Protagonist: Scarlet Foley is the main heroine in the story, and she doesn't need anyone looking out for her, especially after what happened to her in the past. She's had her revenge for the people that have made her life horrible since she was younger. She lost her family because of those awful people. Now there's a bounty out on her due to what she has done to those people that thought they could getaway. She's not a timid character, so be prepared for a heroine fighting back, and she does it very well. She was trained by the best after what she went through. She deserved revenge. She never expected to find someone like Absinthe, but she does when he walks into her library. I enjoyed her character.
Male Protagonist: I've been fascinated with Aleksei "Absinthe" Solokov since he was first introduced in the series. You shouldn't let him touch you, and you definitely shouldn't listen to his voice because he can influence you. He's dangerous, but he was made that way. He has a horrible past that readers will find out more about in this book. I felt for his character after finding out more about him. Although he has some strange way of showing affection and love in this book, each person is different.
Storyline: I'll try to keep this short and sweet since I don't want to give anything away. The fourth book involves Absinthe finding the one person that he can love, and she happens to work at a library. Scarlet, though is not a sweet young, innocent woman. She has skeletons in her closet, but that's due to her past. She has every right to be wary of people. She never expected to find someone like Absinthe, and now he has let Torpedo Ink members know about her, and they will protect her at any cost. There will be some severe dark and twisted issues in this book in regards to Absinthe's past and even Savage's history. There's also some bizarre kink play in this book that involves 'kitty play.' It's different from the other couples that have received their books already, but readers will find out why Absinthe has that kind of play over others. Christine tended to write chapters of kink play that I skimmed over a lot. I wanted to find out if Scarlett would ever get her full revenge in the story. (Not telling what happens, so you'll have to read the book.)
Steaminess: There is some very steamy and very strange kinkiness.
Standalone or Series: Series. I would recommend reading in order.
HEA: Yes.
Would I recommend this book? Overall, this book receives 3.5-stars from me. I've yet to have a favorite from this series, but I won't give up. I'm determined to find out who wins over Savage and all the other Torpedo Ink members. They all deserve a HEA after everything they went through.
There was a slight issue of the author being repetitive in the story, which drove me crazy. She went over things that she had already gone over with the characters. It was a constant reminder, which is not needed. I wanted to get to the right parts. I also felt that the ending of the book was rushed a bit. I needed some more action. I felt there were a lot of moments between Absinthe and Scarlet in the book, but they didn't connect well as a couple. I needed more and not just the kinky play. This book may not have gotten a high rating for me, but doesn't mean I wouldn't recommend it to readers that enjoy PNR and suspense. If you also are a fan of MC books, then this series is for you.

This post contains affiliate links you can use to purchase the book. If you buy the book using that link, I will receive a small commission from the sale. It will help sponsor future giveaways but costs you nothing extra. You can read the full disclosure underneath the Privacy Policy.
---
---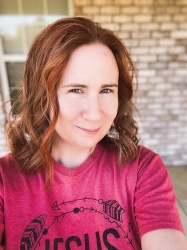 Latest posts by FranJessca
(see all)