ARC Review: 'Dirty Pucking Player' by Gwyn McNamee
September 14, 2023
I received a complimentary copy of the book from the author in exchange for an honest review. This does not affect my opinion of the book or the content of my review.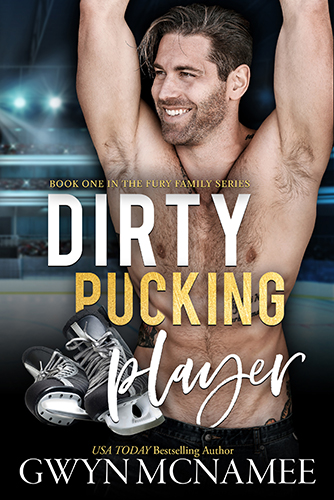 Dirty Pucking Player
by
Gwyn McNamee
Series:
The Fury Family #1
Published by
Self-Published
on September 14, 2023
Genres:
Contemporary Romance
Format:
eArc
Source:
the author
Goodreads
Purchase at
Amazon
|
Barnes & Noble
|
Kobo

Only one word can describe Sebastian "Bash" Fury...DIRTY!He's dirty hot. A dirty talker. And a dirty player.On the ice, he truly earns his nickname.He bashes opponents without regard for the rules or safety.Which is precisely why I can't have him on my team.As the first female head coach in the NHL, all eyes are on me, waiting for me to fail.A man like Bash Fury is a liability who could ruin my career.Even worse, he'll destroy my willpower.I should despise that cocky bastard.But something about his swagger and quick smile make him irresistibly charming.Despite my best efforts, things are heating up and the ice around my heart is starting to melt....All because of this dirty player.
Dirty Pucking Player is the first book in The Fury Family Series from USA Today Bestselling Author Gwyn Mcnamee. Grab this steamy, forbidden, enemies to lovers hockey romance about a hard-hitting, cocky player and the female coach who hates to love him.
---
I've been living a rock, it seems, because this is my first time reading a Gwyn McNamee book. How is that even possible when her books have been on my TBR? I'm glad I made time and finished reading her Dirty Pucking Player. This book is about a Forbidden Hockey Romance between a Hockey Player and his Coach that he can't seem to keep away from, even though, in the beginning, they tend to butt heads.
Greer Waterson is the first female coach on an NHL team who, in college, played on the Olympic hockey team. She is determined to take her NHL team, the Scorpions, to the Stanley Cup, and she won't let any hotheaded, cocky hockey player who just got traded to her team get in her way of that achievement. One thing I loved about Greer in this book was how tough she was because she didn't let any hockey player, not even Bash, walk all over her.
Sebastian 'Bash' Fury is one hockey player who can't seem to rile in his temper on the ice, which causes him to get suspended and traded. He'll meet his match when he's traded to the Scorpions, and he'll have to face the wrath of Coach Greer, who won't tolerate his behavior. He and Greer face off constantly in the beginning with one another with power trips on and off the ice, mostly off the ice, especially since both feel attraction to one another. They know they shouldn't give in to what they feel for one another, but Bash is all about bringing down Greer's defenses and showing her he's not always hotheaded, especially in the bedroom.
I loved the back-and-forth banter between Greer and Bash and how they eventually gave in to their desires, even though they knew they had to be careful. There is a power dynamic shift with the characters off the ice that I loved reading. Greer has a different side from when she's not coaching, and Bash brings it out when he's with her. Yes, the spice was hot between these two characters, and I was all for it, even though I knew it was forbidden.
I loved Greer's character because of her determination and strength in working with an all-male NHL hockey team, especially when dealing with someone like Bash. She was one tough Coach, and I would have been scared to work with her because she meant business. It took me some time to like Bash because his personality was all over the place. Obviously, he was in love with Greer, but he wasn't a relationship kind of guy. He was giving me whiplash with him not communicating with Greer, but eventually, he redeems himself. He had to work on some things before he admitted how he felt for Greer.
The ending had me in all my feelings because Gwyn McNamee gave me an actual ending between the characters that felt real, especially since, you know, eventually, the characters will be caught. Don't worry, it's a HEA, and it works for both characters in their favor. This is where Bash redeemed himself the most, and I friggin' loved him.
Another thing I enjoyed, while reading my first Gwyn McNamee book was that she wrote scenes with Bash playing hockey and Greer coaching. These scenes made me ache for hockey season to be here already. I'm ready to watch hockey again in person and on TV.
Overall, I enjoyed the first book in Gwyn McNamee's Fury Family series and can't wait to continue this series, especially since the other Fury family members were introduced or mentioned in this book. Gwyn McNamee found herself a new fan after reading this book. =)
---
Story Rating: ⭐️ ⭐️ ⭐️ ⭐️
Steam/Spice Rating: 🌶🌶
Standalone or Part of Series: It's part of the Fury Family Series.
Would I recommend this book? Yes. I recommend this book to readers in their Hockey Romance Era and are looking for a Forbidden Romance between a female Hockey Coach who knows how to deal with a tempered Hockey Player on and off the ice.
Genre/SubGenre(s): Romance | Contemporary Romance
Trope(s)/Element(s): Enemies to Lovers | Sports/Hockey Romance | Forbidden Romance | Workplace Romance | Coach vs. Hockey Player
Favorite Quote(s): "Come on, Bash" –my words come out breathy and heavy with need–"now you're just playing dirty." He pulls back and flashes a grin, my arousal glistening on his lips. "Baby, I always play dirty, and you haven't seen anything yet."
Bash Fury isn't crack. He's ten times worse. He's heroin. One hit is all you need to become addicted. And I sure as hell am. To his touch. To his kiss. To everything about him, even his damn arrogant grin.

This post contains affiliate links you can use to purchase the book. If you buy the book using that link, I will receive a small commission from the sale. It will help sponsor future giveaways but costs you nothing extra. You can read the full disclosure underneath the Privacy Policy.
---
---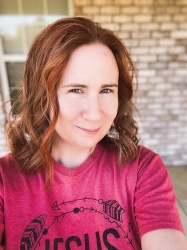 Latest posts by FranJessca
(see all)