ARC Review: 'Double Pucked' by Lauren Blakely
June 5, 2023
I received a complimentary copy of the book from the author in exchange for an honest review. This does not affect my opinion of the book or the content of my review.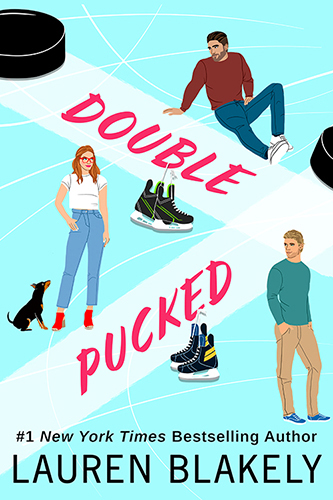 Double Pucked
by
Lauren Blakely
Published by
Self-Published
on June 5, 2023
Genres:
MFM Romance
,
Contemporary Romance
Format:
eArc
Source:
the author
Goodreads
Purchase at
Amazon
|
Barnes & Noble

A jilted book nerd, a plan for sweet revenge, and the two hockey stars who volunteer as her tributes...
When I discover my boyfriend is cheating on me, I move out right away taking what I love most – my dog. As I fly out the door, I make sure to swipe the thing my ex loves best. The VIP tickets he won to a hockey game, complete with the chance to spend an evening with the city's two biggest NHL stars. I can't wait to snap selfies with my ex's idols and rub it in his face. Except, when I head out with the two hockey studs, they have something else in mind besides sweet revenge. Would I like to spend the night…with both of them? Talk about the VIP experience. That's what I get for one knee-weakening, sheet-grabbing night. In the morning, I plan to return to my bestie's house to crash on her couch with my dog. But when they learn what happened with my awful ex, they ask me to be their temporary roomie for the week. Oh, and one of them needs my help with his grumpy reputation. The other? Well, he wants me to be his fake date at an upcoming wedding. Looks like I'm about to get double pucked. Again.Double Pucked is a roomies to lovers, fake dating, image makeover, super spicy hockey rom com with a guaranteed why-choose style HEA! No swords cross. The two guys are all about HER all throughout! This story is perfect for fans of Lily Gold and Emily Rath!
---
I may have squealed the second Lauren Blakely announced she was writing an MFM Hockey Romance. I'm in my Hockey Romance Era, and what's one more, especially from one of your favorite contemporary romance authors? Not only a Hockey Romance but a menage (MFM). I'm all for romance books where the FMC doesn't have to choose between her lovers.
Storyline/My Thoughts: Lauren Blakely knocked it out of the ice rink with her first MFM and hockey romance book. I started reading this book when I was at a book convention and made time to read it in between events because I needed to know what happened next, especially when the FMC, Trina, was cheated on by her ex-boyfriend. Don't worry; Trina gets her revenge by taking his VIP tickets to see two of his favorite hockey players and ends up having a night with those players indulging in some fantasies.
Trina is one FMC I really liked because she has my dream job of working at a bookstore, and she also enjoys reading romance books. She was relatable with just those traits, and I loved how she handled her douche of an ex-boyfriend. She doesn't cry over him, she gets revenge in the best way, and she finds two guys that will worship the ground she walks on and show her how men should treat her. (These two hockey players are perfect book boyfriends.) It's all due to her dog, Nacho, and how he helped her find out her ex was cheating. Nacho reminded me of my Papillon dog I had years ago because Lady, my Papillon, had the same bad habit as Nacho in this book. I love how Lauren incorporated him into the story, and he stole the show a few times in the book.
Now onto the hunky hockey players that are rivals on the ice but have been friends for years, Chase and Ryker. These two guys have different personalities. Chase is the one who loves to come up with solutions to problems and is a big-time flirt, while Ryker is the grumpy, tattooed, secretive nerd. I loved how Lauren wrote men with two different personalities who grew up together and looked out for one another. They didn't want a woman coming between them, especially with what happened in the past, and they talked it out. They never expected to hook up with Trina during the VIP experience, especially since both are not looking for a relationship, but they couldn't pass up the opportunity to help her with her revenge for what her ex-boyfriend did to her.
I really enjoyed Lauren's first MFM Hockey romance book and the storyline she wrote for these characters. Trina, Chase, and Ryker's romance story will be difficult, especially since they must keep it secretive for different reasons. There is also an expiration date; eventually, they will go their separate ways, but that can be a problem when Trina falls for the two guys. The dooming expiration date doesn't stop these three from learning things about each other in and out of the bedroom. I loved not only the steamy moments between them but the times they spent doing everyday things, such as making breakfast, walking the dog, going shopping, and even attending a wedding where they were at risk of people finding out the truth.
The ending was perfect for these three, and I loved how things came together, so there was a HEA. It took some time, and one of the characters did tick me off. You'll have to read the book to find out, so no spoilers from me. Overall, I give this book 4.5 stars, and I hope Lauren writes more books like this one. These types of my books are my jam, and I will never get enough of them. I will read anything Lauren writes, though, and I can't wait for more hockey romance books from her. =)
***There is no sword-crossing in this book. The MMCs worship the heck out of the FMC only.***
Standalone or Part of Series: Standalone.
Steam/Spice: 🌶 🌶 🌶.5
Genre/SubGenre(s)/Trope(s)/Element(s): Contemporary Romance | Romantic Comedy | MFM Romance | Polyamorous Romance | Hockey/Sports Romance | Roommates to Lovers | Fake Dating | Bookstore Owner/Romance Reader FMC | Hockey Players MMC | Grumpy MMC | Flirty MMC | Tattooed MMC | Adorable and Lovable Dog who steals the show in the book
Would I recommend this book? Yes. I recommend this book to readers in their Hockey Romance era who enjoy reading MFM Romances.
Favorite Quote(s): "You haven't come enough tonight for that. If you want to play with our cocks, you're gonna need to earn it with a couple more orgasms."
"Get down on your knees like a good girl."
"I'm starving. You better sit on my face now, and hold onto the headboard."

This post contains affiliate links you can use to purchase the book. If you buy the book using that link, I will receive a small commission from the sale. It will help sponsor future giveaways but costs you nothing extra. You can read the full disclosure underneath the Privacy Policy.
---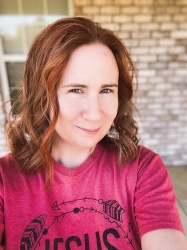 Latest posts by FranJessca
(see all)