ARC Review: 'Electric Idol' by Katee Robert
January 21, 2022
I received a complimentary copy of the book from in exchange for an honest review. This does not affect my opinion of the book or the content of my review.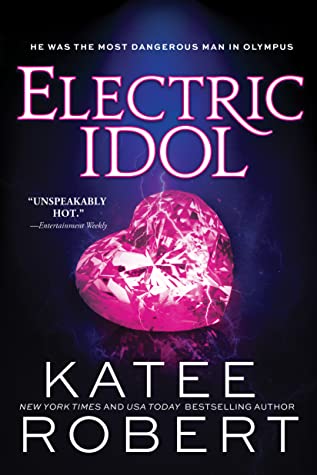 Electric Idol
by
Katee Robert
Series:
Dark Olympus #2
Published by
Sourcebooks Casablanca
on January 18, 2022
Genres:
Dark Romance
,
Erotic Romance
,
Fantasy Erotic Romance
Format:
eArc
Goodreads
Purchase at
Amazon
|
Barnes & Noble
|
Kobo

He was the most beautiful man alive.And if I wasn't careful, he was going to be my death.
*A scorchingly hot modern retelling of Psyche and Eros that's as sinful as it is sweet.*
In the ultra-modern city of Olympus, there's always a price to pay. Psyche knew she'd have to face Aphrodite's ire eventually, but she never expected her literal heart to be at stake...or for Aphrodite's gorgeous son to be the one ordered to strike the killing blow.
Eros has no problem shedding blood. But when it comes time to take out his latest target, he can't do it. Confused by his reaction to Psyche, he does the only thing he can think of to keep her safe: he marries her. Psyche vows to make Eros's life a living hell until they find a way out of this mess. But as lines blur and loyalties shift, she realizes he might take her heart after all...and she's not sure she can survive the loss.
---
I enjoyed the first book in Katee Robert's Dark Olympus series, and I couldn't wait to read Electric Idol. I was looking forward to reading the retelling of Eros and Psyche's story. 
Storyline/My Thoughts: Electric Idol was not like the first book. The male protagonist Eros is his mama's errands boy. He does things that involve harming others, sending them away, or even killing them. His mother, Aphrodite, is one of the Thirteen, and she always gets what she wants, even if it involves murder. (No, they are not gods/goddesses in this story, but the Thirteen are 'titles' only, but those titles come with power.) She wants her son to kill Psyche. Psyche is one of Demeter's daughters, and Demeter has a plan for Psyche. That plan actually interferes with Aphrodite's plan. Eros doesn't want to harm Psyche, so he gives Psyche a decision that will shock her and him at the same time. It will also surprise others. It may even make Aphrodite angrier. Let the drama begin. =) 
What I liked about this book:
I liked the world-building in this book and getting more into what the Thirteen did in this world that Katee Robert created. It's not a fun world to be a part of at times since they have it out for each other, and some like Demeter and Aphrodite are always looking for different ways for power and control.
I felt for Eros's character because he always did what he was told without asking questions until it involved Psyche. He thought of himself as a monster, and he tended to be at times, but he was changing thanks to Psyche.
I liked Psyche's character because she knew how to handle the people who judged her for how she looked and acted. She details what everyone thinks about her being plus-sized (curvy). Even Aphrodite said some disgusting things to her, which made me want to go through the book and have some words with her (I'm trying not to be violent in my reviews since review sites don't like it, even though it's over a fictional character.)
Now let's get into what bothered me:
I really did like this story but felt it was slow-paced in certain areas of the book. I think it's due to the relationship of Eros and Psyche taking a while since there were trust issues. Only one of them had trust issues, and the other felt like they had an instant attraction but didn't want to admit it. I liked Hades and Persephone's relationship more than Eros and Psyche's.
Now, I felt for Eros's character, but for some reason, he bothered me. I'm trying to put my finger on it. It may be due to how he handled his mother. Now, don't even get me started with that woman and her weird relationship with her son and how she treated him.
Overall, I give this book 3.5-stars, and I will be reading the next book in the series. I want to find out more about this world and its characters. The ending of this book has been intrigued me on what is next for these characters.
Standalone or Part of Series: It's part of the Dark Olympus series, but each can be read as a standalone.
Steaminess: ⭐️ ⭐️ ⭐️ 💫
Trope(s): Marriage of Convenience; Forbidden Romance; I Hate Everyone But You
Would I recommend this book? Yes. I would recommend this book to fans of Katee Robert's books. I also would recommend if you love reading books with mythology retellings.

This post contains affiliate links you can use to purchase the book. If you buy the book using that link, I will receive a small commission from the sale. It will help sponsor future giveaways but costs you nothing extra. You can read the full disclosure underneath the Privacy Policy.
---
---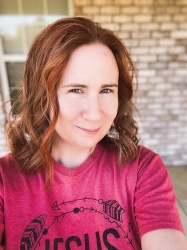 Latest posts by FranJessca
(see all)