ARC Review: 'Hard to Come By' by Laura Kaye
November 22, 2014
I received a complimentary copy of the book from the publisher in exchange for an honest review. This does not affect my opinion of the book or the content of my review.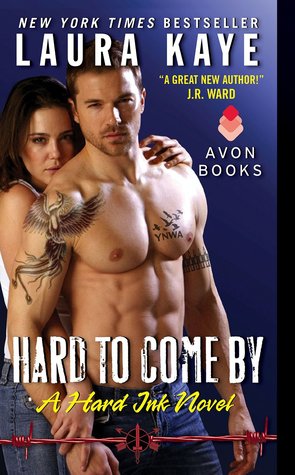 Hard to Come By
by
Laura Kaye
Series:
Hard Ink #3
Published by
Avon
on November 25, 2014
Genres:
Romantic Suspense
Format:
eArc
Goodreads
Purchase at
Amazon
|
Apple
|
Google Play

Caught between desire and loyalty…
Derek DiMarzio would do anything for the members of his disgraced Special Forces team—sacrifice his body, help a former teammate with a covert operation to restore their honor, and even go behind enemy lines. He just never expected to want the beautiful woman he found there.
When a sexy stranger asks questions about her brother, Emilie Garza is torn between loyalty to the brother she once idolized and fear of the war-changed man he's become. Derek's easy smile and quiet strength tempt Emilie to open up, igniting the desire between them and leading Derek to crave a woman he shouldn't trust.
As the team's investigation reveals how powerful their enemies are, Derek and Emilie must prove where their loyalties lie before hearts are broken and lives are lost. Because love is too hard to come by to let slip away…
My Review

Hard to Come By is the third book in Laura Kaye's Hard Ink series, and it hooked me just like the other books did in the series.
I was one of the readers that was anxious to read Derek DiMarzio's (aka Marz's) book because of reading the previous books, so I wanted to know who Laura was matching Derek with. Laura does an amazing job with finding the perfect female characters to fit the handsome, sexy SF guys that reside in Hard Ink.
Derek is the sweet, sexy, funny guy in the Special Forces team that is supposed to be finding out where a certain person is, so they can ask him questions and find out the truth on what happened during his team's last SF mission together. Instead he's falling for a key person who can get him close to the person he wants to question. That key person is Emilie Garza and she has no clue what her brother is into, but she knows he has gotten worst since he returned home after serving in the Army. She wants to get him help, but she knows it will sever their relationship even further. Emilie is about to meet Derek and he's going to literally going to flip her world upside down ( good and bad ways )
I could go on and on about the story, but don't want to spoil it for anyone. I will say this Laura Kaye has the biggest issue in the Hard Ink series continue on in this book. The SF team is trying to get to the bottom of why they were shamed and kicked out of the Special Forces and something is going to come forward that is going to shed some light on what truly happened. Laura definitely is making the main storyline flow throughout the books and having questions being answered. I loved how she connects everything. =)
I loved Emilie and Derek's chemistry and how they both helped each other in the book. Although, Derek did the unthinkable with Emilie that made her almost not trust him. I don't blame her at all, but Emilie is clueless to what is really going on and there were times she got herself in sticky situations that could have been avoided. Derek was there to help every time, though. His way of taking care of people, is what makes me adore him.
The best part of this series is how Laura Kaye has each book pick up from the previous book with different characters getting the limelight. If a reader was to stubble across this book and didn't get a chance to read the others, you will not be lost at all. Laura Kaye makes sure to reiterate what has happened in previous books in the Hard Ink series. Although, I highly recommend reading these books in order because you will want to know who Nick, Shane, and Easy hooked up with in their books. You'll also want to follow along with learning more about the SF team that readers have fallen in love with.
I give this book 4.5 moons and highly recommend it to romantic suspense readers out there.
Now…I'm going to patiently wait for Jeremy's book next. I swear he is the one that always has me laughing due to his crazy shirts he wears. The best part in this book though was when Charlie was wearing Jeremy's shirts. You'll have to read Hard to Come By to find out why and what the shirts he wore said.. =)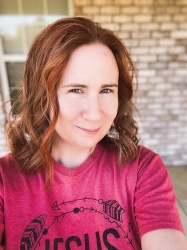 Latest posts by FranJessca
(see all)