ARC Review: 'In Rides Trouble' by Julie Ann Walker
I received a complimentary copy of the book from the Netgalley, publisher in exchange for an honest review. This does not affect my opinion of the book or the content of my review.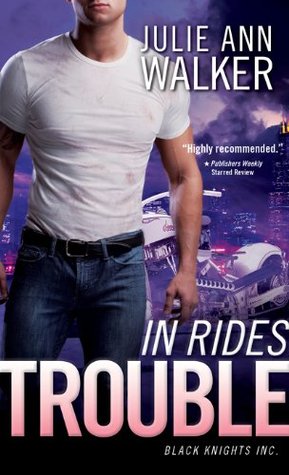 In Rides Trouble
by
Julie Ann Walker
Series:
Black Knights Inc. #2
Published by
Sourcebooks Casablanca
on September 4th 2012
Genres:
Romantic Suspense
Pages:
311
Format:
eArc
Source:
Netgalley, publisher
Amazon Kindle
|
Amazon Paperback
Goodreads

Rebel with a Cause
Becky "Rebel" Reichert never actually goes looking for trouble. It just has a tendency to find her. Like the day Frank Knight showed up at her door, wanting to use her motorcycle shop as a cover for his elite special ops team. But Becky prides herself on being able to hang with the big boys-she can weld, drive, and shoot just as well as any of them.
Man with a Mission
Munitions, missiles, and mayhem are Frank's way of life. The last thing the ex-SEAL wants is for one brash blonde to come within fifty feet of anything that goes boom. Yet it's just his rotten luck when she ends up in a hostage situation at sea. Come hell or high water, he will get her back-whether she says she needs him or not.
My Review
Squeee…sorry…a girlie moment there. =)
Can I say from the beginning that I loved Becky and Frank in the first book "Hell on Wheels" and was anxious to read "In Rides Trouble" because it was about them. Oh yes!!
This book picks up from where "Hell on Wheels" left off with Becky Reichert aka Rebel out on vacation with her best friend Eve. Instead of enjoying a vacation from her job, she's now being kept hostage by pirates who want her to do something for them. She just wanted to get her mind off of one man who would not give her the time of day…instead she's now going to have to get rescued by him.
Frank who has also been introduced in "Hell on Wheels" is the Boss of the Black Knights. He has his reasons not to get involved with Becky. She's too young; he's too old, he's supposed to be her boss…blah…blah. (All I could read was excuses from this man…LOL)
He gets word that Becky has been held hostage and now he has to save her with some of his black knights' crew which includes Becky's brother. In the meantime, he has to keep his feelings about Becky contained while rescuing her.
Oh, I do not want to give away any good parts…so that is all I'm telling. Sorry, keeping my mouth zipped with this one.
I fell in love with both characters in the first book, not only because Becky can take care of herself and Frank is one sexy ex-Seal…but because Becky and Frank's relationship is somewhat like my relationship with my hubby when we first met. (of course not including the motorcycles…because my hubby wishes he owned one) My hubby is 15 years older than me, and I would not have it any other way. So when Frank was complaining about the age difference, I was about to go through the book and kick his butt.
Just a note I had a favorite scene between Frank and Becky that I read…and I adored Becky even more. (You go girl show him who's boss) (Sorry can't tell, will give away the good parts) =)
Julie Ann Walker knows how to keep a reader's emotions going haywire. I do not know how many times I felt myself smiling, giggling, or crying over certain scenes in this book. I love the Black Knights, and I cannot wait to read the next one. =)
I highly recommend this romantic suspense readers out there. It is a must though that you read the first book because you will want to find out about Frank and Becky beforehand. Those two will have you cracking up. The best part is how Becky can handle Frank.
So far Becky and Frank are my FAVE couple, but that could change in the next book or next books I should say. =)


I guess I should type a bio here. I'm FranJessca or Fran for short. I'm the owner of Book Lovin' Mamas and main Reviewer. I've been reviewing books since I got out of the Navy in 2011. Now 8 years later, I'm still reviewing, but this time with my youngest sidekick.
When I'm not reading and reviewing, you can find me at my day job during the week and on the weekend taking care of our little farm.

Latest posts by FranJessca (see all)