ARC Review: 'Jaguar Fever' by Terry Spear
August 21, 2013
I received a complimentary copy of the book from Netgalley in exchange for an honest review. This does not affect my opinion of the book or the content of my review.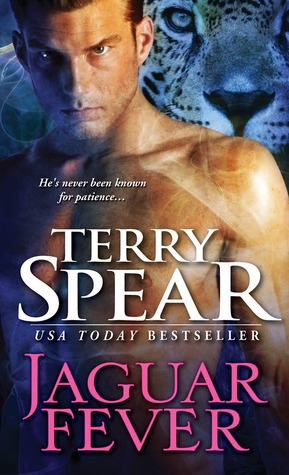 Jaguar Fever
by
Terry Spear
Series:
Heart of the Jaguar #2
Published by
Sourcebooks Casablanca
on August 6, 2013
Genres:
Paranormal Romance
Format:
eArc
Source:
Netgalley
Goodreads
Purchase at
Amazon
|
Barnes & Noble

Jaguar shifter Maya Anderson learns about a secret jaguar society through undergournd social networking sites. She wanted to discover others like her, but now she's got more trouble than she bargained for—including one hot jaguar shifter who's set his sights on her. Wade Patterson has learned that Maya is a shifter—and available. But how does he get to know her when he left such a bad first impresssion? When he learns Maya has gone to a watering hole for jaguar shifters to meet up, he quickly follows after, hoping she is wily enough to hold her own...
---
I am a HUGE fan of Terry Spear's Heart of the Wolf series; ever since I came across the first three books in the series at a used book store, I have been obsessed with her shifter stories. When she announced she was going to write a Jaguar shifter series, I was excited. I had never read a Jaguar shifter series before and now was my chance to redeem not reading that kind of series.
Jaguar Fever is the second book in the Heart of the Jaguar series. This time it is with Maya Anderson from Savage Hunger and Wade Patterson, who happens to have saved her family before. He is in Anderson's neck of the woods to find the hunters that are hunting down Jaguars. He is about a Special Forces group of Jaguar Shifters that keep other shifters from going crazy, keeping them safe, and making sure their secret never is known by the humans. Maya is not looking for a relationship, but the minute Wade is there trying to gain her attention, she's going to have a hard time keeping her feelings at bay. Maya, her brother, and his wife are about to catch up in the crossfire between the hunters and the Special Forces. When they find out, who is behind it all on hunting down Jaguars, they will want to help Wade and his team out as much as they can.
I loved that Maya finally got her mate in Jaguar Fever and Connor; her brother finally let go of the reigns on her (kind of) when Maya did branch out. He was not ready for it, but thank goodness for Kat, who reassured him. Kat also reassured Maya that not every man was like her father was. She should give Wade a chance.
Terry Spear has a way with her wolves, and I can tell after reading the second book in the Jaguar shifter books that she knows her jaguars too. She does her research, which makes the Jaguars like they are in the wild or in the zoo, which is one of many reasons why I adore her writing style.
I love Terry's wolves, but the Jaguars shifters in this book did not grasp me like her wolves do all the time. Don't get me wrong, I liked Maya, but she tended to be stubborn and not trusting males due to what her father did to her mother, and it made me question why her father did what he did. Wade was just not my favorite male character, but that is because he tended to be trying to get in trouble with Connor, Maya's brother. Don't mess with the brother.
I also felt some parts of Jaguar Fever were rushed when reading it, especially when it came to the ending, but other than that, the book was a delightful read. I finished it in less than one day. I did like the twist at the end with the other jaguar because I was not expecting that at all. I was more intrigued by David when he was introduced. David is Wade's brother, and well, let's say there is something about him that makes me want to read his book. He was able to push Wade into finally realizing what he wanted from Maya. He also liked to push Wade when it came to making him jealous. He was my favorite in the story.
I give this book four full moons and recommend it to paranormal romance readers, especially readers who have a thing for steamy, hot Jaguar shifters.
I look forward to reading the next book in the Heart of the Jaguar series, and here's hoping it is David. =)

This post contains affiliate links you can use to purchase the book. If you buy the book using that link, I will receive a small commission from the sale. It will help sponsor future giveaways but costs you nothing extra. You can read the full disclosure underneath the Privacy Policy.
---
---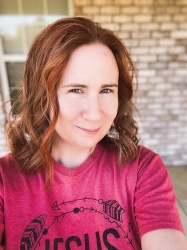 Latest posts by FranJessca
(see all)