ARC Review: 'My Last Duchess' by Eloisa James
October 28, 2020
I received a complimentary copy of the book from the publisher in exchange for an honest review. This does not affect my opinion of the book or the content of my review.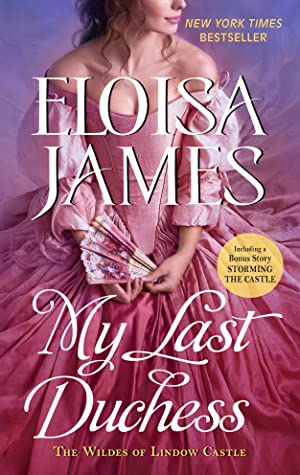 My Last Duchess
by
Eloisa James
Series:
The Wildes of Lindow Castle #0.5
Published by
Avon
on October 27, 2020
Genres:
Historical Romance
Format:
eArc
Goodreads
Purchase at
Amazon
|
Apple
|
Google Play
|
Kobo

New York Times bestselling author Eloisa James returns to the Wildes series with a prequel about the Wilde children's parents, Hugo, Duke of Lindow, and Ophelia, Lady Astley.
Every Duke needs a Duchess...
Hugo Wilde, the Duke of Lindow, has a drafty castle, eight naughty children—and no wife. Ophelia, Lady Astley, has a fine house, one well-behaved daughter—and no husband.
Hugo takes one look at Ophelia and loses his heart, but she doesn't want more children or a castle. She takes one look at him and heads for her carriage.
Desperate to find a duchess, Hugo identifies an appropriate lady to woo. Yet when he meets Ophelia again, the duke realizes that he will marry her, or no one.
Now he faces the greatest challenge of his life.
He must convince Ophelia that their blazing sensuality, his exquisite castle, and his eight charming children add up to a match made in heaven.

When duke finds his duchess, can he win her heart?

A Wildes series prequel about the Wilde children's parents, Hugo, Duke of Lindow, and Ophelia, Lady Astley.
---
My Last Duchess is the prequel to Eloisa James The Wilde of Lindow Castle series. Other readers (unlike myself) have probably already been introduced to this prequel's main characters after reading the first five books in the series. I'm glad, though, I started with the prequel in this series. This was the first book I read from Eloisa, but it won't be my last. I enjoyed the story with Ophelia and Hugo. It was fast-paced, and it didn't take me long to read. I haven't read the other books in the series, but I'm going to add them now to my TBR.
Female Protagonist: Ophelia, Lady Astley, is a Widower with a little girl. She's one woman that will not be persuaded by a handsome Duke, and I adored her character because of how she handled herself with the Duke. There were times she drove me crazy about how she saw herself. The way the male protagonist described her, she was beautiful.
Male Protagonist: Hugo Wilde, the Duke of Lindow, is one man that is determined to win over the Female Protagonist in the story. He is one male that has had it rough after losing his first wife and then having his second leaving for someone else. I felt for him because I didn't think someone would want to marry him, especially after finding out how many children he has in his household. I loved his character in the story and can't wait to read more of him in the full-length novels.
Storyline: Hugo Wilde is the Duke of Lindow, and he's on the look out for a third wife because he needs a mother for his eight children. His twin sister persists that he finds a Duchess that can handle his family. Hugo ends up falling head over heels in love with a woman that runs away from him. She even turns him down when he asks her to marry him. Ophelia is not someone that will be won over easily by a handsome Duke. She loves her life as a single mother to her daughter. She lost her husband and just now went back out to society, and she runs into a Duke that wants to marry her right away. Nope. It's not going to happen. The Duke, though, is very persistent. The chemistry and the constant banter between these two were what kept me turning the pages. I loved getting to know these two characters.
Steaminess: Some Steam, especially towards the end of the book.
Standalone or Series: It is the prequel to The Wildes of Lindow Castles series. It could be read as a standalone. Readers who have read Books 1 – 5 have already been introduced to this prequel's main characters.
HEA: Yes
Trope: Instant-Love
Would I recommend this book? If you enjoy Instant Love in a historical romance, then this prequel is for you. I give this prequel 4.5-stars and recommend it to readers that love Historical Romance and have read Eloisa James books before. I'm kicking myself in the butt that I'm just now reading one of Eloisa's books. Now I cannot wait to find out who Hugo and Ophelia's children will end up within their books.
***I try each time to type up a short review, but it never happens. I love sharing, but I promise not to spoil.***

This post contains affiliate links you can use to purchase the book. If you buy the book using that link, I will receive a small commission from the sale. It will help sponsor future giveaways but costs you nothing extra. You can read the full disclosure underneath the Privacy Policy.
---
---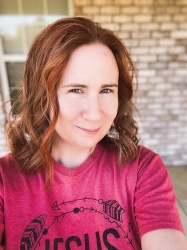 Latest posts by FranJessca
(see all)