ARC Review: 'Night of Pleasure' by Delilah Marvelle
March 12, 2014
I received a complimentary copy of the book from Netgalley in exchange for an honest review. This does not affect my opinion of the book or the content of my review.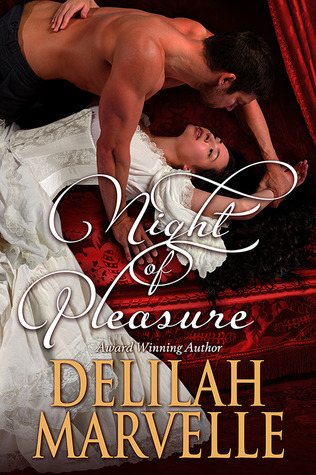 Night of Pleasure
by
Delilah Marvelle
Series:
School of Gallantry #4
Published by
LLC
on March 18, 2014
Genres:
Historical Romance
Format:
eArc
Source:
Netgalley
Goodreads
Purchase at
Amazon

An arranged marriage is daunting, but not as daunting as seducing a spouse whose passions you do not understand...
Derek Charles Holbrook, Viscount Banfield, knew his fate since he was seventeen when his father announced his union to the beautiful but mysterious American girl by the name of Miss Grey. To protect the troubled estate, Derek submits to his father's wishes, not realizing he's about to entangle himself in a hell of a lot more than marriage.
Miss Clementine Henrietta Grey may be worth millions, but not a single coin has ever bought her a smidge of happiness. When she marries the charasmatic and dashing Viscount Banfield, whose only strife in life appears to be the uneven seams in his coat, she finds that siring the heir he wants requires far more than her heart is prepared to give.
Unable to seduce his overly-serious and reluctant wife, Derek realizes his dreams of creating a loving family has turned into a nightmare. But with the unexpected assistance of a retired courtesan and her outrageous school, Derek and Clementine discover that passion is a language spoken not just from the body, but from the mind, heart and soul.
WARNING: This book is Rated Double S (Sweaty & Sinful) and contains strong language and sexual content which may cause respectable people to swoon.
This quirky, sexy and scandalous Regency/Victorian Historical Romance is part of a series.THE SCHOOL OF GALLANTRY SERIES:Book 1, Mistress of PleasureBook 2, Lord of PleasureBook 3, Lady of PleasureBook 3.5, Romancing Lady StoneBook 4, Night of PleasureBook 5, Master of Pleasure
My Review
Every once in a while I find myself wanting to read a historical romance, and I know Delilah Marvelle is one author I enjoy reading from this genre.  One of the reasons why I love reading this genre is that it takes me back to the past.  Being a history freak, I enjoy having Authors that can describe what it would be like during a historical period I loved learning about as a child, and putting this period into a romantic setting with fictional characters.  To me the historical genre makes me fall in love with what it was like back then, and I love how Delilah has a passion for this genre.  You can tell immediately from her writing style she has done her research on not only the period but what the characters would be like back then and what they went through.
In Night of Pleasure, Delilah Marvelle does a marvelous job taking me back during a time, where women wore those beautiful gowns and men tried to sweep those women off their feet.  In the case of Derek (Viscount Banfield) and Miss Clementine Grey, Derek has no idea he is supposed to marry Clementine until he meets her for the first time, while his father is ill.   He makes a horrible impression at first with her, and she doesn't want anything to do with the arranged marriage to Derek.  Derek has to wait until Clementine is at age and he tries everything to get himself ready for her when they do get married.
Delilah has both characters that have no experience at all when it comes to love and sex.  I don't think I've ever read a book where both characters have no experience, but Delilah does a fantastic job on bringing forth the School of Gallantry that comes into the mix.  The School of Gallantry is to teach men on what they need to do.  Derek though stumbles on to this school due to situations that arise between his future wife.  Clementine is stubborn in the book, and at times she drove me crazy.  She didn't want to try at all to be with Derek. (I do not want to give the storyline away at all, so I won't go into detail on what causes both of them to fight always.)
I loved how Delilah had two characters manage to get through everything, but she never made it easy for them.  Poor Derek was in love with Clementine from the moment he meets her and, he tries his hardest to win her over.  He does it in the wrong way though.  I could describe him as being the horny young guy who wants to jump her at every turn he can get.  He also can be considered alpha like due to his jealousy and protective statue he has of her.  I adored his character and felt connected to him because he was willing to give it a go and also give up getting married to make her happy.  I could go on and on about this book, but I do not want to spoil for anyone who wants to read it.
I give this book 4.5 moons and recommend it to readers out there that love historical romance.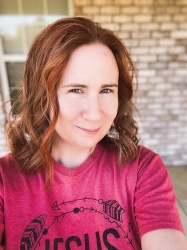 Latest posts by FranJessca
(see all)