ARC Review: 'On Her Father's Grave' by Kendra Elliot
October 24, 2014
I received a complimentary copy of the book from the publisher in exchange for an honest review. This does not affect my opinion of the book or the content of my review.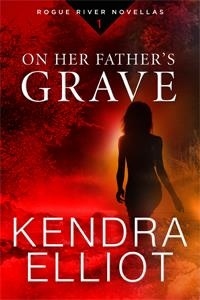 On Her Father's Grave
by
Kendra Elliot
Series:
Rogue River #1
Published by
Montlake Romance
on October 7, 2014
Genres:
Romantic Suspense
Format:
eArc
Goodreads
Purchase at
Amazon
|
Apple

In a small town like Solitude, Oregon, keeping a secret can be murder.
Stevie Taylor had left her sleepy Oregon hometown for a more exciting life. But after her police chief father passes away, the LAPD cop returns to Solitude and signs on as a patrol officer, hoping to heal from her loss…and from the horrific things she's seen in the city.
In Solitude, everyone knows everyone else's business—and, to Stevie's dismay, local gossip soon ties her to the new police chief and a man from her past. Tragedy then shakes up the small town when a teenager dies after taking a strange new drug. Now, the seasoned LA cop must hunt down the dealer while investigating the most important case of her life, one that could divide her tranquil town.
The first of four thrilling Rogue River novellas, On Her Father's Grave launches a new romantic suspense series from Kendra Elliot and Melinda Leigh.

I was ecstatic to find out two of my favorite romantic suspense authors were teaming up to write a series together. On Her Father's Grave is the first novella to Kendra Elliot's and Melinda's Leigh's Rogue River series and it's full of action and suspense just like their other novels. The first and third book in the series will be written by Kendra Elliot, while books two and four will be written by Melinda Leigh.
In the first novella of the Rogue series, On Her Father's Grave, Kendra Elliot writes about Stevie Tayler who returns to the small town of Solitude, Oregon to work on the police force there. It will be slow pace compared to her usual police work in the LAPD, but that may not be true after a popular high school student unexpectedly dies. Stevie believes he may have taken a drug, so she's determined to find out what it is and where he got it from initially. She receives help from her boss, Zane Duncan becomes the police chief unexpectedly. Roy the first police chief decides to quit for some reason, and now it's up to Zane to take over. Zane is filling big shoes, especially since Stevie's father used to be the police chief.
On Her Father's Grave is a quick romantic suspense novella that can be read in one day. It has all the elements of romantic suspense but fast-paced. Kendra Elliot does a fantastic job of keeping the reader engaged in the story with the characters. To the beginning to the end, I was anxious to find out what was happening in the town of Solitude, Oregon. I also wanted to know what was going to happen in the romance department in the book. Yes, there is romance involved in the story. =)
I give this book 5 full moons and highly recommend this novella to romantic suspense readers out there. If you are a fan of Kendra Elliot and Melinda Leigh's previous books, you will enjoy reading this novella series they have created together. I look forward to diving into the second book in the series by Melinda Leigh.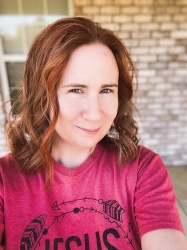 Latest posts by FranJessca
(see all)