ARC Review: 'Rebecca's Lost Journals, Volume 2: The Contract' by Lisa Renee Jones
I received a complimentary copy of the book from the Author in exchange for an honest review. This does not affect my opinion of the book or the content of my review.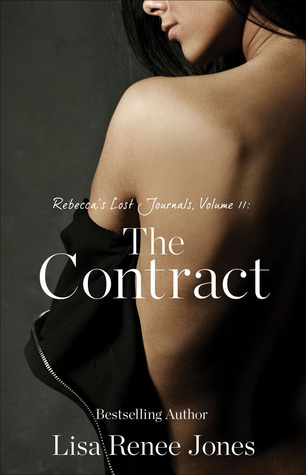 Rebecca's Lost Journals, Volume 2: The Contract
by
Lisa Renee Jones
Series:
Inside Out #1.2
Published by
Simon and Schuster
on February 18, 2013
Genres:
Contemporary Romance
,
Erotic Romance
Pages:
40
Format:
eArc
Goodreads

An Inside Out novella...
The secret life of Rebecca and the men who have seduced her. These are the journals Sara never sees, but you the reader, will!
The Inside Out Trilogy includes IF I WERE YOU, BEING ME, and REVEALING US
In part one of Rebecca's Lost Journals, The Seduction, Rebecca meets the rich, darkly alluring man who will draw her into a passionate, intense affair and tempt her into erotic experiences she never thought she would dare.
**
My Review
In this short novella that is only 40 pages long, we find that Rebecca is presented with a contract from the "Master".  She is having a hard time dealing with what is in the contract and becoming submissive.  She'll have to give over control to the person who wants her.  She also is concerned that there may be other sub-missives that the Master has as well.  She does not know if she wants to share him with others.  So many questions go through her head, she's having difficulty accepting what the "Master" wants from her.
We get subtle hints on who could be the Master in this novella, but of course, Lisa Renee Jones still leaves us on the edge of our seat.
We will not be able to find out who he is until "Being Me".
If you have read "If I Were You", you definitely need to read these novellas of Rebecca's Lost Journals.  You'll find hints for what is happening in "If I Were You" and what is up next in "Being Me".
This short novella definitely has you asking even more questions and wanting more answers to the Inside Out Trilogy.
I look forward to the next Lost Journals of Rebecca's.  =)
Lisa Renee Jones does an amazing job of keeping us guessing until the next release comes out.


I guess I should type a bio here. I'm FranJessca or Fran for short. I'm the owner of Book Lovin' Mamas and main Reviewer. I've been reviewing books since I got out of the Navy in 2011. Now 8 years later, I'm still reviewing, but this time with my youngest sidekick.
When I'm not reading and reviewing, you can find me at my day job during the week and on the weekend taking care of our little farm.

Latest posts by FranJessca (see all)