ARC Review: 'Ruthless' by Gena Showalter
August 9, 2022
I received a complimentary copy of the book from the author in exchange for an honest review. This does not affect my opinion of the book or the content of my review.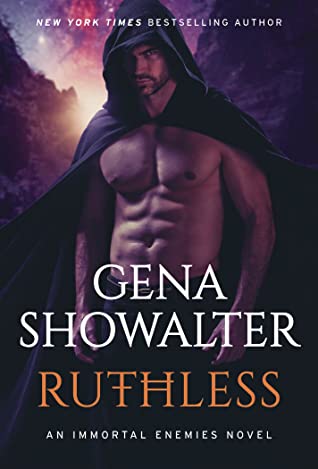 Ruthless
by
Gena Showalter
Published by
HQN Books
on August 9, 2022
Genres:
Paranormal Romance
Format:
eArc
Goodreads
Purchase at
Amazon
|
Barnes & Noble
|
Kobo

"One of the premier authors of paranormal romance. Gena Showalter delivers an utterly spellbinding story!"—Kresley Cole, #1 New York Times bestselling author

Don't miss the second book in New York Times bestselling author Gena Showalter's captivating and unforgettable Immortal Enemies series…

Forbidden. Powerful. Ruthless.
Micah the Unwilling, fae King of the Forgotten, can tame even the most violent of beasts. Forged on the battlefield, this iron-willed warrior considers his soldiers his family, and he will stop at nothing to reclaim their dispossessed land. Gearing for war with a sadistic enemy, he is disciplined and focused—until a feral beauty he encountered long ago wanders into his camp.
Viori de Aoibheall wields a terrifying ability to sing monsters to life. Having spent her childhood in a forest, raising herself and her frightening creations—the only friends she's ever known—she's ill prepared for the scarred royal and his fearsome brutality. Not to mention the ferocity of their connection and the carnality of his touch. But the real problem? Her brother is Micah's greatest foe. And though the sensual king makes her burn, she must stop him, whatever the cost.
Immortal Enemies
Book 1: HeartlessBook 2: Ruthless
---
I finished reading Ruthless by Gena Showalter a while ago, and I'm finally getting a chance to review it. First, let me mention right away that if Gena Showalter writes and publishes a book, I'm automatically buying it without even reading the blurb. She's been one of my auto-buy authors since the 2008/2009 timeframe. I love her PNR and YA books. I was excited to read her latest book Ruthless because I needed to find out what happened to Kaysar's sister from the first book in the series (prologue) and how she would handle being with Micah, the Unwilling.
Storyline/My Thoughts: If you have not read the first book, Heartless, I recommend reading it before reading Ruthless. You will miss out on reading Kaysar (Viori's brother's story) and his mate, Cookie, who I loved in Heartless.
The Enemies to Lovers trope has always been my favorite in the romance genre, and I love that Gena Showalter has the Immortal Enemies series based on that trope alone. Gena knows the way to her readers' hearts. =) At least mine. Give me characters who are enemies that turned into lovers any day, and I will be the happiest reader ever.
Another plus with Gena Showalter is that she does a fantastic job of writing characters who are enemies. Not only are the main characters enemies of each other, but they are enemies with other characters, too. For instance, Micah the Unwilling wants the land taken from him by two sadistic rulers, Kaysar and Cookie. (They were introduced in Heartless). He will do anything to get rid of them. Unfortunately, Viori stumbles into his camp, which he met many years ago, and wants to stop him from hurting Kaysar. She has her reasons. Kaysar is her brother, who has been looking for his little sister for years, wondering what happened to her. She is determined to reunite with her brother and will try to convince Micah the Unwilling not to unalive her brother, otherwise face her wrath, which includes creatures she has created throughout the years with her singing.
Now, I will admit this book wasn't my favorite out of the series, but that doesn't mean I didn't enjoy it. Micah the Unwilling was already an intriguing character from the first book because he was determined to take on Kaysar and Cookie, who are sadistic. (I love those two, though). For a character like him to take on those two crazy rulers, he has guts, and I will give it to him. The only issue I had with him was how he handled finding out the truth about Viori. Not only with the creatures, she creates but the truth about her being Kaysar's sister. Other than that, I liked his character but didn't love him.
Now for Viori's character. I was excited to read about her character because I wanted to know if she was like her brother, unhinged and not real stable, too, and she was. The creatures she creates are not friendly. They will take you out in a heartbeat, especially if you hurt Viori. She has no real control over them, which causes issues with Micah and his people.
I love the banter between her and Micah in the book. Viori and her intelligent, sassy self confused Micah at times. I also loved how Viori would put other people in their place.
My favorite scenes in the book involve Cookie and Viori meeting and then when Kaysar and Viori are reunited. It was a long-awaited reunion between the two. I felt sorry for Micah when Kaysar found out about him and Viori. Yup…big brother wasn't going to have it.
Now, there is betrayal in this book. Not only between the main characters but the secondary characters. I suspected there would be discord in Micah's camp from people he was supposed to trust.
Overall, I give this book four stars, and I hope that Gena Showalter writes more books in the series. Some secondary characters need their books. I will say this Gena unalived quite a few characters in these two books that I thought would get stories, but nope. I had to look at the cover a few times to remind myself that I'm reading a Gena Showalter book, not the author of the Game of the Thrones series. I <3 you, Gena! I loved how she made this series darker than her others, which is why I need more of this series.
Standalone or Part of Series: It's part of the Immortal Enemies series, and I recommend reading in order.
Steam/Spice: ⭐️ ⭐️
Trope(s): Enemies to Lovers
Would I recommend this book? Yes, if you enjoy reading the Paranormal Romance sub-genre and the Enemies to Lovers Trope. I recommend it if you are a fan of Gena Showalter's other books/series. =) She's one of my auto-buy authors, and I own every one of her books in paperback/hardcover, audiobook, and even the ebook version. (If I'm in the mood for a Gena Showalter book, I have them in different versions.)
Favorite Quote(s): "Maybe I'll keep you chained to my bed for the rest of eternity," he rasped, tracing his thumb along her jugular. With a throaty voice, she replied, "Maybe I'll enjoy it."

This post contains affiliate links you can use to purchase the book. If you buy the book using that link, I will receive a small commission from the sale. It will help sponsor future giveaways but costs you nothing extra. You can read the full disclosure underneath the Privacy Policy.
---
---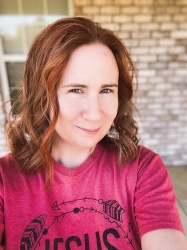 Latest posts by FranJessca
(see all)