ARC Review: 'Savage Hunger' by Terry Spear
October 3, 2012
I received a complimentary copy of the book from Netgalley in exchange for an honest review. This does not affect my opinion of the book or the content of my review.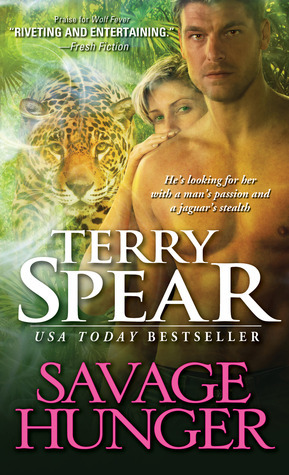 Savage Hunger
by
Terry Spear
Series:
Heart of the Jaguar #1
Published by
Sourcebooks Casablanca
on October 2nd 2012
Genres:
Paranormal Romance
Format:
eArc
Source:
Netgalley
Goodreads
Purchase at
Amazon
|
Barnes & Noble

As a jaguar he is graceful and gorgeous. Speedy and stealthy. Fierce, independent and wild. As a man he is passionate and powerful, wilful and wonderful.
And he'll stop at nothing to protect what's his...
In the heat of the jungle, jaguars are clawed, dangerous, and hungry for love. With hopes of overcoming night terrors and thanking the man who saved her life, Kathleen McKnight returns to the Amazon.
A jaguar at heart, Connor Anderson doesn't just protect her, but wants to claim her for his own.
---
I'm a big fan of Terry Spear and her books. When I found out she was writing a series on jaguar shifters, I was beyond excited. I happened to come across Terry Spear's Heart of the Wolf Series books at a used bookstore back a few years ago, and ever since, I've been addicted to her shifter stories. She is one author who knows how to write a wolf shifter series, so I did not doubt that her jaguar shifters would intrigue me as well.
Connor and his sister May are jaguar shifters, and they're on their usual vacation trip in the Amazon to roam free as jaguars since they really can't be themselves in Texas. One night though, Connor finds himself saving the beautiful Army Captain, Kat, when she was captured by the drug cartel lords and all the rest of her men were killed. Now, Connor cannot get over Kat. The minute he saves her, he is intrigued by her.
For over a year, Connor cannot stop thinking about that night he saved Kat and how much he would love to run into her again. Of course, he never expected to run into her back in the Amazon jungle a year later when she is searching him out. He ends up having to save her again, but this time, he has to do it while in his other form. Maya, Connor's sister, knows that Connor has had feelings for Kat, so she plans that she hopes her brother and Kat will forgive her for everything. All she wants is for her brother to be happy and for her to have a sister.
Terry Spear throws you on a ride through the Amazon Jungle, where drug cartels are taking people for ransom, and the natives think of the Jaguars as gods. It's one heck of a ride, and I loved every minute of reading "Savage Hunger" and getting a taste of the Jaguar shifters that Terry has created. Connor is not your typical feline shifter where he strays to several women. He wants to find that one mate he will love and adore for the rest of his life. He's sexy, protective, and dangerous all in one package. (He won my heart)
Kat is one female character who could whoop butt when needed and also was not afraid of what happened to her in the end. Maya, what can I say about the fabulous Maya. I really cannot wait to read more about her. The storyline had me fascinated from the beginning. I love reading books that have military operations involved. (I was in the Navy for ten years)
Terry Spear has created another exciting shifter series that I will be keeping up with now.  Her writing style has been a favorite of mine since book one of the Heart of the Wolf series.
I look forward to the second book in the Heart of the Jaguar series. I hope Maya gets her mate, and I'm hoping Connor is not too hard on her future mate because you know how brothers can be with their sisters.
I recommend this book to paranormal romance readers, fans of Terry Spear's Heart of the Wolf series, and everyone out there who loves an excellent jaguar shifter story. You'll fall in love with the shifters, Terry writes. =)

This post contains affiliate links you can use to purchase the book. If you buy the book using that link, I will receive a small commission from the sale. It will help sponsor future giveaways but costs you nothing extra. You can read the full disclosure underneath the Privacy Policy.
---
---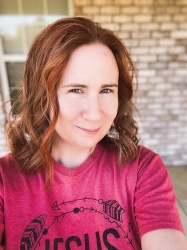 Latest posts by FranJessca
(see all)