ARC Review: 'She Can Hide' by Melinda Leigh
March 15, 2014
I received a complimentary copy of the book from the author in exchange for an honest review. This does not affect my opinion of the book or the content of my review.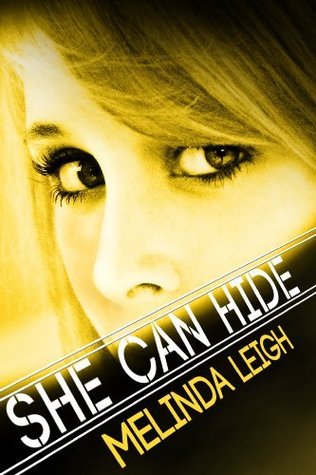 She Can Hide
by
Melinda Leigh
Published by
Montlake Romance
on March 18, 2014
Genres:
Romantic Suspense
Format:
ARC
Source:
the author
Goodreads
Purchase at
Amazon

"This is one to read with the light on." —Publishers Weekly on She Can Scream
Abby Foster just wants a quiet, normal life. The high school teacher left everything about her past behind when she moved to the mountains of Pennsylvania, but only three years after surviving a brutal attack, Abby awakes in an icy river, facing death once again. This time, though, she doesn't have to face it alone—if she can manage to trust the sexy cop who just risked his life to save her.
Officer Ethan Hale's gut tells him there's more to Abby's "accident" than meets the eye. When his investigation uncovers a fresh string of murders tied to her old case, he's driven to do anything to keep Abby safe. But Abby's former assailant is in prison, so who else wants her dead?
As a killer shows no sign of stopping, Abby has no choice but to trust Ethan with the truth about her past…and any hope she has for a future.
My Review
She Can Hide is the fourth book in Melinda Leigh's She Can… series and this one had me on the edge of my seat just like the others did.   Melinda describes into great detail what the characters are going through, and she makes their situations intense and extremely nerve-wracking.  One of the main reasons why I will leave the light on and snuggle with the husband while reading Melinda's books.
In every book in the series, I have yet to figure out who exactly the bad guy is until Melinda reveals who it is at the end.  She's one writer that can keep me guessing and still leave me in shock no matter what.  Every time I think I figured out who was behind everything in She Can Hide, Melinda surprises me with a twist and leaves me going back into the book looking for any clues.  I should have figured out who was exactly behind everything, but Melinda does a fantastic job on keeping her plot twist hidden.  I love this about her writing style.
We have two characters that come together in She Can Hide unexpectedly.  Ethan ends up finding a car submerged in an icy lake, and coming across Abby who is fighting for her life due to the car going into the water.  Abby has no clue what happened though, and she doesn't know if she should trust Ethan. Ethan though is determined to find out what happened to Abby, and why she would forget such a big accident like the one she was in the past.  Abby has been hiding from certain people and has had a past that still affects her life.  She doesn't want to open up to Ethan until something else happens that makes things come to light.
Melinda gives us these two characters who end up helping each other in different ways.  Ethan was such a sweetie in the story, and I adored how he was determined to get Abby to open up.  Abby was secretive for a reason in the story, and I didn't blame her for not trusting anyone.  Everything she went through in the past and present in the book will make any reader feel for her.
We even have secondary characters in the story that end up going through their issues that pertain to the main characters.  I loved how Melinda weaved them all together and in the end had it all come together.  I enjoyed every bit of She Can Hide even when it had my adrenaline going and heart pumping trying to figure out what was going on.
I give this book 5 full moons and highly recommend it to romantic suspense readers out there.  If you enjoy a book that keeps you guessing this is the book for you.  Be prepared for some very hair-raising situations though.  You could read this book as a standalone, but for me, I would recommend reading the other books first.
Oh…and may I say, I LOVED that Melinda wrote Zeus in the story.  Zeus is Abby's dog, and he's a mastiff.  He plays a significant role in the story, well to me he did.  I loved him the most out of the story and not only because I have a mastiff myself, but because Melinda detailed mastiffs personalities very well.  Zeus reminded me of my handsome mastiff, Rambo and how he is very protective of his owner.  Don't ever mess with his Mama.  =)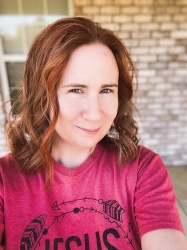 Latest posts by FranJessca
(see all)