ARC Review: 'Tall, Dark, and Vampire' by Sara Humphreys
August 5, 2013
I received a complimentary copy of the book from Netgalley, the publisher in exchange for an honest review. This does not affect my opinion of the book or the content of my review.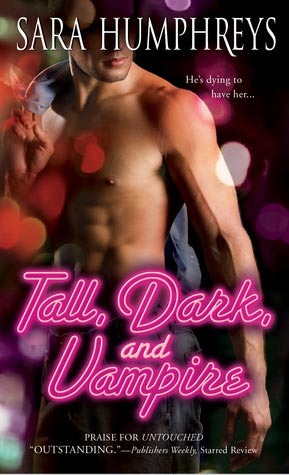 Tall, Dark, and Vampire
by
Sara Humphreys
Series:
Dead in the City #1
Published by
Sourcebooks Casablanca
on August 6, 2013
Genres:
Paranormal Romance
Format:
eArc
Source:
Netgalley, the publisher
Goodreads
Purchase at
Amazon
|
Apple

He's dying to have her...
She always knew Fate was cruel...
The last person Olivia Hollingsworth expected to see at her Greenwich Village vampire club was her one true love, Doug Paxton—whom she believed to be dead for centuries. Olivia thought she had moved on, but when Doug reappears, her heart knows she'd rather die than lose him again.
But this is beyond the pale...
Ever since Doug can remember, a red-haired siren has haunted his dreams. He never thought she could be real until he goes to investigate a murder at Olivia's night club. However, as the bodies keep piling up at her feet, he must fight to prove her innocence—even if it costs him his life...
My Review
Tall, Dark, and Vampire has now become my favorite book from Sara Humphreys (of course knowing Sara, I will end up loving the next book even more…I have a hard time deciding since her books always manage to capture my interest the minute I read the first page). This debut book into her new series, Dead in the City, was speculator from beginning to end. I had already loved the character Olivia from Undone, and I was intrigued to find out more about her in Tall, Dark, and Vampire and who she ended up with.
Olivia is my favorite lead female vampire in a while. She is not to be messed with in the story. She had a hard transition into the vampire life, but she was able to deal with it in the end. She ended up losing the love of her life, but life is about to change for her, when life throws her the one person, she has been missing.
Doug is a detective, and he's trying to solve the killings that are happening in the city, and when he meets the person of his dreams literally, he cannot get her out of his head.
I loved the passion and tension between Olivia and Doug. Doug did have his moments where I wanted to smack him, but in the end, he came around. He just had it rough after what happened to him, but once Olivia explained everything, it all came together. I loved how Sara threw in the twists and turns in the story. The killings that were going on and the rogue vampires, she threw me off at the end on, who was doing everything. I was not expecting it at all.
Sara Humphreys does a fantastic job in the shapeshifter world with her Amoveo Legend novels, and now her new series that branches out to her vampires are fierce, sexy, and dangerous. I want more of her vampires after reading Tall, Dark, and Vampire.
I give this book 5 full moons and highly recommend it to paranormal romance readers out there and readers who love reading vampire romances.
One of the main reasons why I say this book has become a fave from Sara Humphreys is how I cried at the end. Seriously, was not expecting that ending and I'm so glad it happened. Olivia and Doug needed that ending. Everything they went through that had to be the BEST ending ever.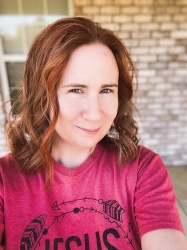 Latest posts by FranJessca
(see all)