ARC Review: 'Undone' by Sara Humphreys
April 16, 2013
I received a complimentary copy of the book from Netgalley, the publisher in exchange for an honest review. This does not affect my opinion of the book or the content of my review.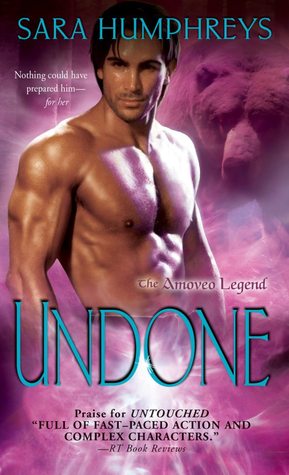 Undone
by
Sara Humphreys
Series:
The Amoveo Legend #4
Published by
Sourcebooks Casablanca
on May 7, 2013
Genres:
Paranormal Romance
Format:
eArc
Source:
Netgalley, the publisher
Goodreads
Purchase at
Amazon
|
Apple

Party girl Marianna Coltari is an unmated pureblood Amoveo who wants nothing to do with the ongoing war that took her father's life and continues to consume her brother, Dante's. But when she is targeted by one of the clans, she has little choice but to run and hide in a cabin with Pete Castro, a retired cop from her brother's security firm. There, Pete and Marianna explore an intensifying attraction between them until danger is at the door and there's no escape.

Sara Humphreys knows how to keep a reader turning the pages or actually in my case, swiping the screen on my Kindle Fire so I can find out what happens next.
Sara picks up from the last book and introduces you to Dante's fraternal twin, Marianna who is different from her brother. She's demanding and very stubborn, but Dante hires his friend, Pete to watch over her. She does not make it easy for Pete. She was difficult for me to like at first, but after a while, she grew on me. She just wanted the truth, and I could not blame her. I would want the truth as well.
Pete Castro had to be the main reason why I loved "Undone" due to his charm, over-protectiveness and well…his way in the bedroom (or lack of bedroom). He knew how to handle Marianna, even when her fraternal twin could not. I was curious about what Pete was from the very beginning and when Sara finally revealed what he was, I was intrigued. He's much different from any of the other male characters in the previous books.
The Purists played a part in this story even more in this story. If you have read the other books, you will learn more about what the Purists are up to in this book. It's not for the faint of heart either. I cannot stand the main guy, Artimus. I wanted to go through the book and rip him apart. He has issues. Don't even get me started on his son, Hayden, either. I hate the Purists even more after reading this book.
Sara does another phenomenal job on the fourth installment to her Amoveo Legend Series. I went through so many emotions with this one and let me tell you after you read this book, you will never look at a snowmobile in the same way. =)
Yes, this book tops all the others when it comes to most nail-biting, gut-wrenching, and heart failing moments ever. Sara even gives you the hottest scenes between two characters who will steal your heart away and have you either running to the shower to cool down or grabbing some cold water to drink. (I still cannot get over that snowmobile scene)
Seriously, if you have not read this series yet, you need to. I highly recommend it to paranormal romance readers out there and fans of shapeshifters. Sara takes you into a world of shifters who will capture your heart, and all you want is for them to have a happily ever after without the Purists trying to ruin it for them.
I look forward to the next installment and now the new series coming out from Sara at the end of this summer.
This book will give you not only the shapeshifters, but also demons, hellhounds, and vampires. I bet that got your attention now. =)
I received a complimentary copy of the book from the publisher via NetGalley in exchange for an honest review.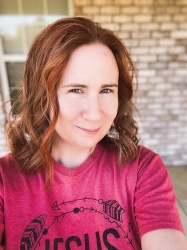 Latest posts by FranJessca
(see all)