ARC Review: 'Vampire Trouble' Sara Humphreys
June 28, 2014
I received a complimentary copy of the book from the publisher in exchange for an honest review. This does not affect my opinion of the book or the content of my review.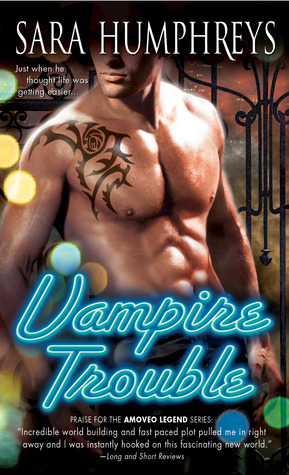 Vampire Trouble
by
Sara Humphreys
Series:
Dead in the City #2
Published by
Sourcebooks Casablanca
on July 1, 2014
Genres:
Paranormal Romance
Format:
eArc
Goodreads
Purchase at
Amazon
|
Apple

Shane Quesada, a four-century old vampire sentry, is known for cold, unemotional precision when hunting rogue vampires.
Maya Robertson is a youngling vampire who will not be controlled—and to prove it, she rejects Shane's protection—only to find herself in over her head with an alpha werewolf.
Soon, a war between the coven and the werewolf clan ignites, and Maya and Shane flee to Louisiana, where their passion for each other grows—as does Maya's power. When she finds herself at the center of the conflict, will she finally trust Shane with her life—and her heart?
My Review
Vampire Trouble is the second book to Sara Humphreys Dead in the City series and it was full of action, romance, and mystery. Be prepared for a page turner while reading Vampire Trouble.
Imagine sitting in a line for a couple of hours waiting to go into a signing event (Book Bash) and wanting something to do in the mean time to make the time pass. You ponder if you should just wait to see if your daughter will strike up a conversation with you, but your daughter is in her own world with her iPod playing MineCraft. Just then you realize, I remembered to pack my Kindle in my bag and there is this one book I have been dying to read, but college has made you put it on the back burner. Yup…now was the time to finish it. About 15 minutes before the line started going in for the signing, I managed to finish Vampire Trouble. =) Here's hoping I didn't freak out any of the fellow readers around me once I finished the book though. I tend to get over-excited over the ending because I just devoted time with these characters throughout the book, and I was excited to read their HEA. =) Sara didn't make it easy for them, but she did a darn good job on making the ending PERFECT for Shane and Maya.
Sara Humphreys Vampire Trouble is one book that kept me on the edge of my seat thanks to the characters, Maya and Shane, but the secondary characters as well. I remembered meeting Maya in the first book and was anxious to read about her in Vampire Trouble. Here is when I got to read all about Maya's past and how she really came to be who she is. She is the rebel of the bunch, but I learned why she was a rebel. I also learned how tough she could be when she needed to be. After reading Vampire Trouble, she has became a favorite female character in the Dead in the City series due to her personality and how she handles Shane. =) (She handled Shane very well) Oh…and let's not forget the sexy four-century old sentry who won me over in Vampire Trouble. Gosh darn it…can Shane be real! He knows how to do his job as a sentry, but he also know how to romance Maya. *sigh* (He is complete opposite of Doug from Tall, Dark, and Vampire, and the way Sara wrote him…he was very swoon worthy.)
I won't go into what Vampire Trouble is all about because I definitely don't want to spoil it for anyone. I will say this, if you haven't read the first book, you need to and then immediately read this book. You don't want to miss out on the previous characters that show up in this book. Sara gives us details on what is going on with Olivia and Doug in Vampire Trouble. Sara even throws in additional characters to help Shane and Maya in their dilemma they are dealing with. I LOVED Lottie! She had the best attitude with what was happening, and she made the story really funny at times.
Vampire Trouble is full of humor, action, romance, heartache, and suspense. Sara does an amazing job on keeping a reader turning pages to her stories and Vampire Trouble definitely kept me from going insane in the intense heat of Orlando, FL, while waiting in line.
I give this book 5 full moons and highly recommend it to paranormal romance readers out there.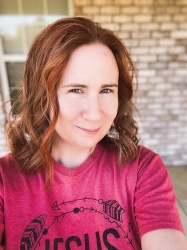 Latest posts by FranJessca
(see all)