Audiobook Review: 'Darkness Awakened' by Katie Reus
October 9, 2014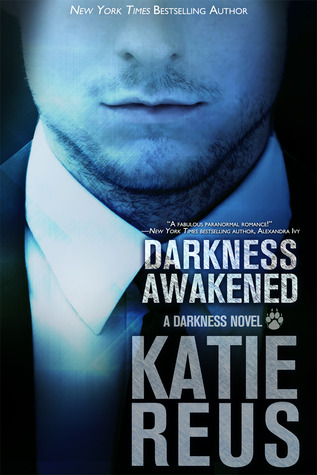 Darkness Awakened
by
Katie Reus
Series:
Darkness #1
Published by
Katie Reus
on November 3, 2013
Genres:
Paranormal Romance
Format:
AudioBook
Source:
Purchased
Goodreads
Purchase at
Amazon
|
Apple
|
Google Play

Years ago he ended things between them to protect her…
As leader of one of the fiercest werewolf packs in the south, Finn Stavros is in full battle mode 24/7. He has no choice—he's one of the few beings strong enough to fight the Akkadian demons, whose mysterious escape from hell threatens the entire world. With the battle turning bloodier by the second, Finn is ready for anything…until his vampire long lost love shows up on his doorstep in desperate need of his help, sending his heart into a tailspin. He agrees to help her, unaware that she carries a shocking secret that will turn his life upside down.
This time, he's not letting her go…
Vampire Lyra Marius curses the day she met Finn. The ruthless werewolf promised to love her forever, but he rejected her instead—before she could share her life altering news. Pregnant, kicked out of her coven, and cast aside by the love of her life, Lyra struggled to raise their rare shifter-vampire daughter Vega alone among humans. When the 16-year-old is kidnapped and used to fulfill a frightening prophecy, Lyra swallows her pride and turns to Finn for help. But how long can she fight her feelings for him and keep him from guessing the truth about who Vega really is? As they race against the clock to save their daughter, they must defeat the lethal threat imposed by demons infiltrating the human world and a hell gate that could not only reveal their existence to mankind, but destroy the world in the process.
My Review
Darkness Awakened is the first book to Katie Reus' Darkness series, which is a Paranormal Romance that involves shifters and vampires. I love when author throws in a mixture of paranormal creatures into the story, especially when some are threatened by each other. Although, in this case we have a reunion of a vampire and werewolf that fell in love many years ago and now they are face to face again.
Vampire Lyra Marius never thought she would have to face Finn again, but circumstances have brought her to face him. Her daughter has been kidnapped and she needs his help to find her. Finn is the leader of the southern werewolf pack and he will do anything for Lyra, especially his heart never gave up on her. Lyra has a HUGE secret she's keeping from Finn and he may end up making him go a little crazy. There's also the issue of the demons infiltrating the human world that Finn has been dealing with and he's determined more than ever to keep the paranormal world out of the limelight from the humans.
I have always adored Katie Reus' books, ever since I started reading her books in 2012. I couldn't wait to dive into Darkness Awakened (or in this case listen to it). I just needed some time to squeeze it in between many review books I need to review. Darn it…I finally found the time and it only took me 4 hours to finish it. Katie had me hooked from the beginning to end with the storyline and the characters. I loved the premise of a vampire and werewolf rekindling their love for each other. I also enjoyed how Finn and Lyra came together through the toughest times and managed to get through it all.
It was a great story and the narrator, Jeffrey Kafer made it ALL come to live for me. He helped me get through cleaning my whole house, going through piles of laundry, and preparing dinner for the family. My husband tried to talk to me, while I was listening to Darkness Awakened a few times, but I couldn't hear him. It's all his fault for buying me wireless headphones. **He should know better by now. If I have my headphones on (a) I'm listening to a GREAT audiobook, so don't even bother (b) I'm listening to music and I really can't hear you at all. (He's learned his lesson)
Jeffrey Kafter did an amazing job telling Katie Reus' story and bringing ALL the characters to life. I'm glad I got a chance to listen to this book and I'm hoping the next book in the series becomes an audiobook too. I'll definitely be grabbing it up, when it does.
I will say this, I couldn't believe how fast I went through this audiobook. It was only 4+ hours long, so it didn't take very long, especially when I was deep cleaning, etc. It was the best 4+ hours of my life because it made the cleaning go by faster, especially with cleaning up after a 2 1/2 year old. =)
I give this audiobook / book 5 full moons and highly recommend it to PNR readers out there and fans of Katie Reus. If you are looking for a quick audiobook I definitely recommend this book. Jeffrey Kafter is definitely getting added to my list of narrators, I'm going to continue to listen to.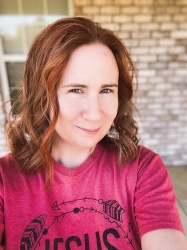 Latest posts by FranJessca
(see all)