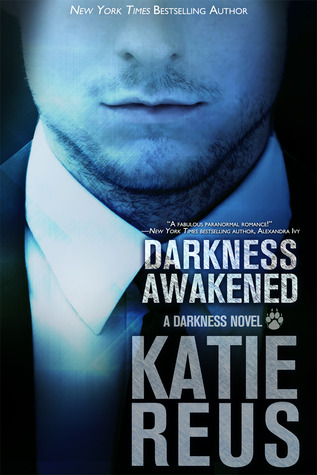 Darkness Awakened
by Katie Reus
Series: Darkness #1
Published by Katie Reus on November 3, 2013
Genres: Paranormal Romance
Pages: 161
Format: AudioBook
Source: Purchased
Amazon Kindle | Amazon Paperback | Audible
Goodreads


Years ago he ended things between them to protect her…
As leader of one of the fiercest werewolf packs in the south, Finn Stavros is in full battle mode 24/7. He has no choice—he's one of the few beings strong enough to fight the Akkadian demons, whose mysterious escape from hell threatens the entire world. With the battle turning bloodier by the second, Finn is ready for anything…until his vampire long lost love shows up on his doorstep in desperate need of his help, sending his heart into a tailspin. He agrees to help her, unaware that she carries a shocking secret that will turn his life upside down.
This time, he's not letting her go…
Vampire Lyra Marius curses the day she met Finn. The ruthless werewolf promised to love her forever, but he rejected her instead—before she could share her life altering news. Pregnant, kicked out of her coven, and cast aside by the love of her life, Lyra struggled to raise their rare shifter-vampire daughter Vega alone among humans. When the 16-year-old is kidnapped and used to fulfill a frightening prophecy, Lyra swallows her pride and turns to Finn for help. But how long can she fight her feelings for him and keep him from guessing the truth about who Vega really is? As they race against the clock to save their daughter, they must defeat the lethal threat imposed by demons infiltrating the human world and a hell gate that could not only reveal their existence to mankind, but destroy the world in the process.
My Review Continue reading →
I received a complimentary copy of the book from the publisher in exchange for an honest review. This does not affect my opinion of the book or the content of my review.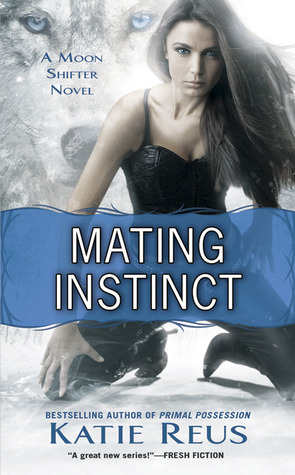 Mating Instinct
by Katie Reus
Series: Moon Shifter #3
Published by Signet Eclipse on March 5th 2013
Genres: Paranormal Romance
Pages: 348
Format: Paperback
Source: publisher
Amazon Kindle | Amazon Paperback
Goodreads


As the beast within struggles to break free, he must learn to be what she needs...
Surviving for centuries, powerful lupine shifter Jayce Kazan managed to stay away from humans until he met Kat Saburova and was consumed by the need to protect her. But while Jayce shared his passion with the human seer, he refused to make her his bondmate—a refusal that caused the end of their relationship.
A year later, an attack that left Kat near death has resulted in another lupine shifter turning her. Furious that he wasn't the one to save her, Jayce is determined to show Kat that he is the one she should rely on. But the newly turned shifter is still traumatized and worried that she'll hurt those she loves, unless she can learn to control her inner wolf.
And as Jayce struggles to protect Kat from her own worst instincts and convince her to rekindle their love, the extremists who almost killed her are looking to finish the job…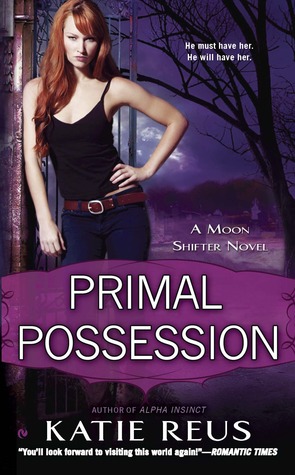 Primal Possession
by Katie Reus
Series: Moon Shifter #2
Published by Signet Eclipse on September 4th 2012
Genres: Paranormal Romance
Pages: 345
Format: Paperback
Source: Purchased
Amazon Kindle | Amazon Paperback
Goodreads


To protect her, he will unleash the beast within… As his pack's second-in-command, lupine shifter Liam Armstrong gives orders and takes what he wants—until he meets red-headed, blue-eyed December McIntyre. Liam knows the human beauty is his intended mate the moment he sees her, but December is far too strong-willed to accept his protection.
December, whose brother is the town sheriff, has every reason to mistrust shifters after one killed her youngest sibling. But the forceful and handsome Liam has gotten under her skin in a way she hadn't thought possible, and the desire she feels for him is almost too much to bear.
When a radical hate group targets all humans known to sympathize with paranormal beings, December is attacked in her bookstore. Reluctantly, she turns to the only one who can help her: Liam. And he is going to take her to places within herself she never knew existed.
 My Review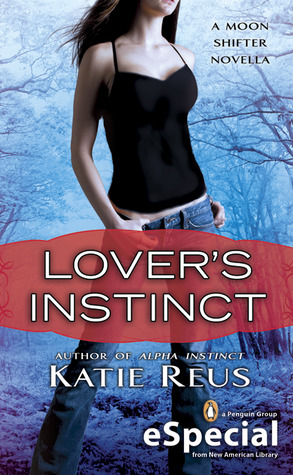 Lover's Instinct
by Katie Reus
Series: Moon Shifter #1.5
Published by Signet on August 7th 2012
Genres: Paranormal Romance
Pages: 105
Format: eBook
Source: Purchased
Amazon Kindle | Amazon Paperback
Goodreads


Lupine shifter Nikan Lawless has it bad for Esperanze Cordona, the sweet and curvy woman who only views him as a friend. But when Nikan is assigned to act as Esperanze's bodyguard during a weekend education conference, he knows it's the perfect opportunity to seduce her off her feet—away from the pack.
To put his plan into motion Nikan cancels one of their hotel rooms, giving them time to get to know one another in a whole different way. But when a man from Esperanze's past shows up in need of help, Nikan must shield her from a group of dangerous rogue shifters, all while trying to prove that they're destined to be mates.
My Review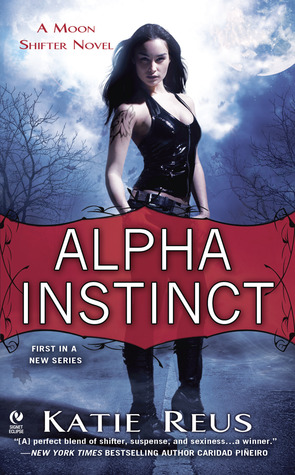 Alpha Instinct
by Katie Reus
Series: Moon Shifter #1
Published by Signet Eclipse on February 7th 2012
Genres: Paranormal Romance
Pages: 341
Format: Paperback
Source: Purchased
Amazon Kindle | Amazon Paperback
Goodreads


Ana Cordona has been a strong leader for the lupine shifters who survived after all the males and most of the females in her pack were mysteriously poisoned. As tough as she is, with no Alpha male, the pack is vulnerable to the devious shifter Sean Taggart, who wants to claim both their ranch and Ana as his own. When Connor Armstrong comes back into her life, promising protection, it's almost enough to make Ana forget how he walked out on her before--and reluctantly accept his offer to mate. The minute Connor sees Ana again, it reawakens a raw hunger. He must have her for his bondmate--his wolf cries out for it. But his human side knows he must proceed with caution because of their complicated past. If he is to truly have her body and soul, he must go beyond his burning desire and win back her heart. Whatever it takes, he is determined not to leave her side again. But Taggart and his rival pack are not their only enemies. A human element in town is targeting shifters. Their plan not only threatens Ana and Connor's future, but the lives of the entire pack...