ARC Review: 'Mating Instinct' by Katie Reus
February 22, 2013
I received a complimentary copy of the book from the publisher in exchange for an honest review. This does not affect my opinion of the book or the content of my review.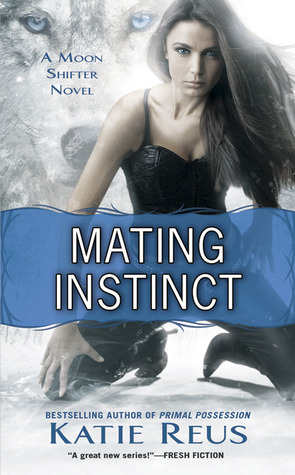 Mating Instinct
by
Katie Reus
Series:
Moon Shifter #3
Published by
Signet Eclipse
on March 5th 2013
Genres:
Paranormal Romance
Format:
Paperback
Goodreads
Purchase at
Amazon
|
Apple

As the beast within struggles to break free, he must learn to be what she needs...
Surviving for centuries, powerful lupine shifter Jayce Kazan managed to stay away from humans until he met Kat Saburova and was consumed by the need to protect her. But while Jayce shared his passion with the human seer, he refused to make her his bondmate—a refusal that caused the end of their relationship.
A year later, an attack that left Kat near death has resulted in another lupine shifter turning her. Furious that he wasn't the one to save her, Jayce is determined to show Kat that he is the one she should rely on. But the newly turned shifter is still traumatized and worried that she'll hurt those she loves, unless she can learn to control her inner wolf.
And as Jayce struggles to protect Kat from her own worst instincts and convince her to rekindle their love, the extremists who almost killed her are looking to finish the job…

"Mating Instinct," the third book the Moon Shifter series has become my FAVE out of the series so far.  I had a hard time putting down this book.  (I seriously gave my hubby the evil eye whenever he interrupted me while I was reading this book…He learned his lesson)  =)
(First off, I highly recommend you read this series in order.  Katie continues each book where it is left off at, but with different characters.)
Kat Saburova is adjusting to her new life as a shifter, and she's trying to get over what happened to her in "Primal Possession," but she's having a difficult time.  She's realizing being a shifter requires following pack laws, but it is going to take time to learn them all.  She also needs someone to teach her the pack laws.  In the meantime though, she has Jayce Kazan to worry about in her life.  He was her past love, and now he is making it known he wants back in her life.  Kat is not making it easy for him.  He is trying to make amends with her and let her know what happened in the past and why he lied to her about the bond, but Kat is more than difficult.
Jayce Kazan is one of the enforcers to the shifters, and he is in town on official business, as well as taking care of Kat…or at least trying to.  He is going to step up and teach her how being shifter is like and take care of her training.
Kat has her goals set on vengeance against the APL, and she'll do everything in her power on making that vengeance come true without the pack.  Unfortunately, the APL has their plans.
Someone is blaming shifters on recent killings in the town, but none of Conner's pack has any involvement in it.  Jayce is trying to figure out another matter, but he is also going to find out who is putting the lousy spotlight on the shifters as well.
"Mating Instinct" is a ride full of sexual tension, suspense, and emotions that will make you keep turning the page.  You'll fall in love with these shifters and will be determined to get rid of the APL just like they are.
Kat and Jayce have to be my fave couple out of this series so far. I clicked with Kat because even after everything she went through in the second book, she has proven she is a strong female character, and she is not to be messed with at all.  She's stubborn at times and a little reckless, but she is such a fantastic match for Jayce.
Jayce is strong-willed as well and very determined to prove to Kat; he loves her.  It just takes him an awful darn long time to say it to her and show it.  Have I mentioned he's powerful, scary, and sexy?  Oh, I haven't…well now you know what I friggin' love him.  =)
This book even made me hungry while reading it.   I was craving chocolate while reading certain scenes.  =)  (*evil smile*)
Let's say Jayce's scent that Kat smells every time he gets worked up is what I'm referring to from the book. (*another evil smile*)I love how Katie continues each book where it was left off at, but of course with different characters to continue the story.  She does continue the story of previous characters in each book, so you know what the characters are up to in the series.  Connor plays a significant role in this book, and Liam shows up as well, who were the lead male characters from the other books.  I love me some Liam and Connor….but for some reason Jayce stole my heart more after reading "Mating Instinct."  Maybe it was the chocolate, or perhaps it was because he came back to Kat.
If you have read the first two books in the series, you'll enjoy this installment.  If you haven't read this series yet, what are you waiting for?  Add it to your TBR to read later or get it when it comes out and start reading.
I am curious about what is going to happen next, especially when it comes to the APL.  Will they ever find out who is running the show…and what about certain characters that I want to find out more about?
I highly recommend this book and give it five full moons.  If you love the paranormal romance genre, love shifters, and love Katie Reus, you need to read this book and series.  =)
I received a complimentary copy of the book from the publisher via Netgalley in exchange for an honest review.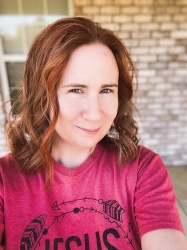 Latest posts by FranJessca
(see all)