Review: 'Primal Possession' by Katie Reus
February 16, 2013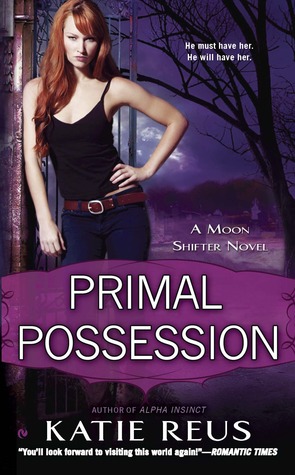 Primal Possession
by
Katie Reus
Series:
Moon Shifter #2
Published by
Signet Eclipse
on September 4th 2012
Genres:
Paranormal Romance
Format:
Paperback
Source:
Purchased
Goodreads
Purchase at
Amazon
|
Apple

To protect her, he will unleash the beast within… As his pack's second-in-command, lupine shifter Liam Armstrong gives orders and takes what he wants—until he meets red-headed, blue-eyed December McIntyre. Liam knows the human beauty is his intended mate the moment he sees her, but December is far too strong-willed to accept his protection.
December, whose brother is the town sheriff, has every reason to mistrust shifters after one killed her youngest sibling. But the forceful and handsome Liam has gotten under her skin in a way she hadn't thought possible, and the desire she feels for him is almost too much to bear.
When a radical hate group targets all humans known to sympathize with paranormal beings, December is attacked in her bookstore. Reluctantly, she turns to the only one who can help her: Liam. And he is going to take her to places within herself she never knew existed.
 My Review
I have been waiting to read Liam and December's story for a while now.  I would have read this book sooner, but other review books took precedence first due to being overloaded.  The book finally tempted me though.  I think because Liam kept teasing me to read his book (if you read Alpha Instinct…you will understand his appeal).  I could not resist his sexiness any longer.  =)
This is one series I love very much.  Katie Reus has a way of sucking you literally into the story.  I love this world of shifters.  The best part of this series is that Katie throws in other paranormal creatures as well.  "Primal Possession" brings in the Fae into the story and it was a different type of Fae I'm used to, and I loved it.  She also throws in seers and a small hint of a vampire storyline as well, but that is at the end of the book.
"Primal Possession" picks up from "Alpha Instinct" left us at in the story.  December is trying to avoid the sexy, alpha male, Liam and Liam are trying everything to protect and win over December.  The APL is still up to their tactics of trying to kill off the shifters or at least try giving them a bad name with the human population.  Unfortunately, December is stuck in the middle of the APL vs. Shifter world due to her being linked to Liam, and she ends up in dangerous situations.  She does not want to hook up with Liam due to what happened in her past with her little brother and her older brother, but Liam is the only one can protect her from what is happening.  Not only is December in danger, but so is her friend, Kat, who is a target as well for the APL.  Kat's ex-boyfriend comes to town, and he's not only a shifter but the Enforcer himself for the shifter world.
It is up to Liam and Kat's ex-boyfriend to keep the women safe.  Although, they end up doing is driving the women further away.
"Primal Possession" definitely kept me intrigued with the storyline and the characters.  I fell in love Liam and December in "Alpha Instinct" and was anxiously waiting to hear what happened to them in this book.  Oh…and the best and worst part of the book is towards the ending.  Liam was such a jerk at times even when he found out some news from December.  I guess he was in shock and did not know what was coming out of his mouth when he found out the news.  I did feel sorry for him though…he was not expecting the dangers of APL to effect December and Kat.
Previous characters are also in this book so that you will get Connor and Ana again.
I enjoyed this book, but the only thing that bothered me was Liam switching his mind about December towards the end and the way he treated her at the end as well.  He lost my respect after that.  December was hard at times, but she had her reasons on why she should not trust a shifter.  Her big brother, Parker who is the sheriff even made me mad as well, but he turned around after awhile.
Big brothers are very protective of their little sisters.  I should know I have one myself.  LOL
If you love the paranormal romance genre, love shifters, and love Katie Reus, you'll enjoy the 2nd book to the Moon Shifter series.
Be prepared for some steamy, hot romance, action-packed scenes, and intense emotional moments in this paranormal world that is trying to exist in a human world.
Looking forward to reading the 3rd book to the series and reading more about Kat and Jayce.
Katie, you have me as a fan for life.  =)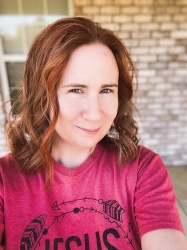 Latest posts by FranJessca
(see all)