Review: 'Lover's Instinct' by Katie Reus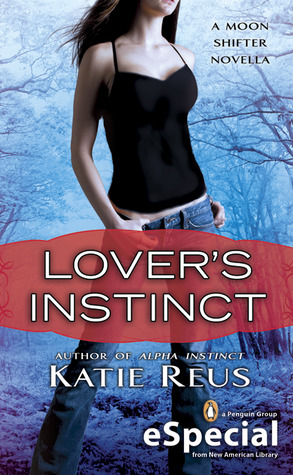 Lover's Instinct
by
Katie Reus
Series:
Moon Shifter #1.5
Published by
Signet
on August 7th 2012
Genres:
Paranormal Romance
Pages:
105
Format:
eBook
Source:
Purchased
Amazon Kindle
|
Amazon Paperback
Goodreads

Lupine shifter Nikan Lawless has it bad for Esperanze Cordona, the sweet and curvy woman who only views him as a friend. But when Nikan is assigned to act as Esperanze's bodyguard during a weekend education conference, he knows it's the perfect opportunity to seduce her off her feet—away from the pack.
To put his plan into motion Nikan cancels one of their hotel rooms, giving them time to get to know one another in a whole different way. But when a man from Esperanze's past shows up in need of help, Nikan must shield her from a group of dangerous rogue shifters, all while trying to prove that they're destined to be mates.
My Review
This was a very short and sweet novella that quenched my lupine love just a bit.
I also got a sneak peek of the first chapter of the next book of the Moon Shifter series that comes out next month, "Primal Possession," which I've been counting down to read. =)
I had not been able to read for a few days now thanks to errands and school work…so I needed something to read in between college assignments that would take me away from American Government (that happens to be boring…ugh).
"Lover's Instinct" definitely helped me get out of my rut that I was in thanks to school.
I love this new series from Katie Reus. =)
This short novella is about Nikan and Esperanze (I love her name). Esperanze is heading to a convention in Washington D.C. She needs to get away from the pack for a bit since what happened in the first book. The pack had suffered a significant loss of loved ones and are still recovering, so Esperanze thought it would be a good idea to get away for a while and get her mind off what happened. Nikan, volunteers to go with her and protect her. Of course, Nikan has other plans in the meantime. He has always been in love with Esperanze, since the moment his pack alpha decided to hook up with Esperanze's pack alpha (who is her cousin). Esperanze has love Nikan also, but she's only a beta, and she swore never to hook up with an alpha a warrior class alpha. It's going to be hard for her though when Nikan becomes very possessive and protective of her when they go to the convention.
Esperanze is there to see her old professor too, and in the meantime, her professor is now a vampire, and now he's in danger. It's up to Esperanze and Nikan to figure out what is going on and save her old professor from being killed. Although, it will be kind of tricky when it involves vampires and shifters which they are supposed to be getting along.
What I loved most about this book was how Nikan was with Esperanze (or Essie for short). She had no clue that he loved her, but when he finally admitted it. Oh boy! =)
I think Essie is more Alpha though instead of Beta because the girl can take care of herself. =)
I loved the storyline to this book too. It was short though but that's because it is a novella. I love reading novellas because it gives you a sneak into the world of other characters.
I loved the idea behind other supernatural creatures that were talked about in this book too. Another shifter was introduced in "Lover's Instinct" and helped out Essie and Nikan during their mission. I want to know more about what is going with the Vampires and Shifters though…and what the bad guys did. You'll understand when you read this short novella. I do not want to give it away. =)
Let me not forget the sex, Ummm, Nikan had me squirming. *sigh*
I'm looking forward to Liam's book next. I loved him in "Alpha Instinct."
I recommend this novella to Katie Reus fans, paranormal romance readers, and shifter lovers. =)
This will keep you happy for next months' release. =)
Let the countdown continue to "Primal Possession." =)


I guess I should type a bio here. I'm FranJessca or Fran for short. I'm the owner of Book Lovin' Mamas and main Reviewer. I've been reviewing books since I got out of the Navy in 2011. Now 8 years later, I'm still reviewing, but this time with my youngest sidekick.
When I'm not reading and reviewing, you can find me at my day job during the week and on the weekend taking care of our little farm.

Latest posts by FranJessca (see all)