Blog Tour: 'One Man' by Lisa Renee Jones (Review)
June 11, 2019
I received a complimentary copy of the book from the author in exchange for an honest review. This does not affect my opinion of the book or the content of my review.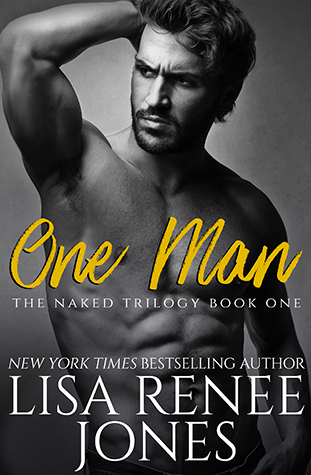 One Man
by
Lisa Renee Jones
Series:
Naked Trilogy #1
Published by
Self-Published
on June 11, 2019
Genres:
Contemporary Romance
Format:
eArc
Goodreads
Purchase at
Amazon
|
Barnes & Noble
|
Kobo

Jax North. He's handsome, brutally so, and wealthy. Our first encounter is intense and sex is my escape. I go with it. I go with him and what a ride it is. And then, I say goodbye. Only you don't say goodbye to a man like Jax if he doesn't want you to. I've challenged him without meaning to. He wants me. I don't want to want him, and yet, I crave him. And he tears me down, my resistance, my walls. But those walls protect me. They seal my secrets inside. And I forget that being alone is safe.
Before long, my secrets begin to be revealed, and I trust him so deeply that I think maybe he can handle them. Maybe I dare to believe that alone isn't better.
Until I discover that Jax was never an accident.
He has secrets.
He knew my secret. He came for me.
One Man is the first book in the dangerously sexy Naked Trilogy by New York Times bestselling author Lisa Renee Jones.
One Man is the first book to Lisa Renee Jones The Naked Trilogy, and it left with a big cliffhanger at the end, so now I'm anxiously waiting for the next book. Now that I've mentioned the cliffhanger be prepared for some mystery in this book. Both main characters have their mysteries to solve.
Jax North is out for revenge, and he has it out for the Knight Family since he believes they are the reason why his brother is dead. The one person that he could get answers from is the daughter, Emma Knight. Unfortunately, she is clueless to what happened to Jax's brother. She's not sure who to trust after finding her father's journal. Her father passed away, and now she is finding out all kinds of secrets from his journal.  When Jax and Emma meet, it's an instant attraction between the two, even though Jax should hate everyone in the Knight Family. The two will end up helping each other in finding answers, although, in the book, there are more secrets than answers. Then there's that crazy cliffhanger at the end that I was not prepared for on how the first book ended. Although Lisa always manages to leave us hanging with her books.
Here is one thing I enjoyed about this book, and that was who are the bad guys/gals in this book. There is a whirlwind of mystery with who could be the villain(s). Another thing I enjoyed was getting past characters in this book. Readers will even get Walk Security in this book, which happens to be Rick Savage (aka Savage). I'm anxiously waiting for Savage's book(s) since I was introduced to him.
Overall this book was an excellent start to the new trilogy. There's a lot of mystery in this book, and I was getting annoyed by certain characters in the book. Emma's brother is one of them because he's being controlled by other characters that have their agenda. I look forward to diving into the second book and getting answers after what happened at the end of this book with the cliffhanger. Fans of Lisa Renee Jones Filthy Duet and Dirty Rich series will enjoy this book.
---
Story Rating: 4 stars
Steaminess Rating: 3 stars
Standalone or part of series: Part of a trilogy and highly recommend reading in order.
Do I recommend this book? Yes.
Will I read other books from the author? Yes.
Tropes/Elements: Enemies-to-Lovers (Kind Of); Millionaires/Billionaires Romance
Hero: Whiskey Business Owner (Family Owned)
Heroine: Heiress to Family Business

---

He holds me fast and pulls me to him, our legs colliding, the hard lines of his body-hugging mine. My gaze jerks to his, the night darkening his blue eyes, the streetlight catching flecks of amber in his intense stare. "Run with me, not away from me."
"I don't even know you."
"Then change that. I'm not asking you to marry me. I'm asking you to get to know me the way I want to know you." Somehow, this statement manages to be the perfect mix of alpha male and vulnerability. "Come with me."
"Where?" I whisper, and I can feel my body swaying toward his.
His hand slides under my hair, a warm strong hand, his thumb stretching to my jaw, tilting my face to his. His blue eyes still catching amber gold in the streetlights, a dominance in their depths that shouldn't arouse me, but there's no fighting my reaction to this man, or to who I am deep down inside. And I am the woman who is drawn to a man like Jax. Perhaps to a man too like York.
"I promised you a castle," he says, "but I'll settle for anywhere where I can do this." His mouth closes down on mine, his tongue pressing past my lips, a quick tease that I still manage to feel in every part of me. Goosebumps lift on my skin and his mouth lingers above mine, a hot breath promising more before he strokes deep. And then, he's kissing me, a wicked, passionate kiss that is pure heat, greedy even, fierce. Alluring. Passionate. Addictive. And then gone, his mouth is gone, and I'm panting as he says, "Say yes and I'll take you anywhere you want to go."
Every warning that York stirred in me earlier fades away with the taste of this man on my lips, every warning is immediately reasoned away. This is one night and then Jax is gone. This is an escape. Death and grief allow me permission to need this. That damn journal gives me permission to need him. I'm going to do this.
"I want off this street corner," I say. "I want to leave. I want to leave with you."
His eyes warm, approval and satisfaction in their depths that somehow isn't arrogant. He laces his fingers with mine and walks backward, guiding me to the door of the SUV. And then he does something unexpected. He steps aside and motions me toward the back doors, a silent invitation to enter or walk away, to make my own decision. I climb inside, letting the soft leather absorb my body, a willing victim, as he'd wanted.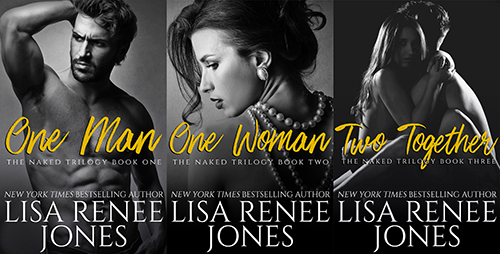 ONE MAN (book one) – Available Now
Apple | Amazon Universal | Nook | Kobo
ONE WOMAN (book two) – September 17th
Apple | Amazon Universal | Nook | Kobo
TWO TOGETHER (book three) – November 19th
Apple | Amazon Universal | Nook | Kobo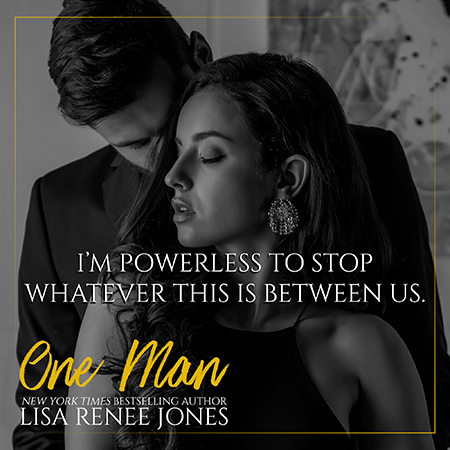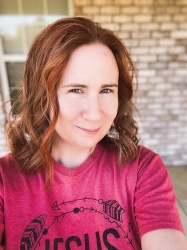 Latest posts by FranJessca
(see all)