Library Book Review: 'The Frozen Crown' by Greta Kelly
November 4, 2021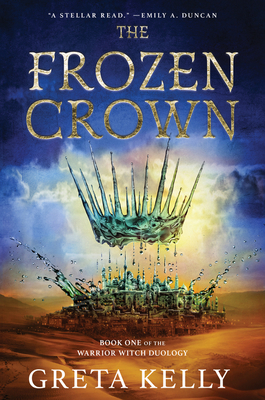 The Frozen Crown
by
Greta Kelly
Series:
Warrior Witch #1
,
The Frozen Crown #1
Published by
Harper Voyager
on January 12, 2021
Genres:
Young Adult Fantasy
Format:
Hardcover
Source:
Library
Goodreads
Purchase at
Amazon
|
Barnes & Noble
|
Kobo

"Propulsive and intricate, Greta Kelly has constructed a world of twisting politics and thrilling magic following a heroine who is both clever and uncompromising, but ultimately, has heart. A stellar read that I thoroughly enjoyed." -- Emily Duncan, New York Times bestselling author of Wicked Saints
A princess with a powerful and dangerous secret must find a way to save her country from ruthless invaders in this exciting debut fantasy, the first novel in a thrilling duology packed with heroism, treachery, magic, and war.
Askia became heir to the Frozen Crown of Seravesh because of her devotion to her people. But her realm is facing a threat she cannot defeat by sheer will alone. The mad emperor of the Roven Empire has unleashed a horde of invading soldiers to enslave her lands. For months, her warriors have waged a valiant, stealth battle, yet they cannot stop the enemy's advancement. Running out of time, she sets sail for sun-drenched Vishir, the neighboring land to the south, to seek help from its ruler, Emperor Armaan.
A young woman raised in army camps, Askia is ill-equipped to navigate Vishir's labyrinthine political games. Her every move sinks her deeper into court intrigues which bewilder and repel her, leaving her vulnerable not only to enemies gathering at Vishir's gates, but to those behind the palace walls.
And in this glittering court, where secrets are worth more than gold, Askia fears that one false step will expose her true nature. For Askia is a witch gifted with magical abilities—knowledge that could destroy not only her life but her people. As her adversaries draw closer, Askia is forced to make an impossible choice—and no matter what she decides, it may not be enough to prevent Seravesh's fall.
---
I found yet another book at my local library while browsing the shelves that I enjoyed reading. The Frozen Crown by Greta Kelly is a New Adult Fantasy/High Fantasy novel. (It may be listed as Young Adult, but I have it listed for an older audience due to some of the mature topics and scenes in the book while reading it.) The Frozen Crown is Greta Kelly's debut Fantasy novel, and this book was hard to put down when I was reading it. 
Storyline/My Thoughts: The minute I started reading The Frozen Crown, I knew I would like the female protagonist, Askia because she's determined to win back the crown that her cousin stole from her. (Kickbutt heroines are always my favorite, especially in fantasy novels.) Askia is definitely one of those heroines, primarily when she trained with the strongest warriors in the north. Her people are being tortured and killed by her cousin and the Emperor of the Roven Empire. She's determined to get an army to help her defeat her cousin and the Emperor of the Roven Empire. It will take her traveling to Vishir to ask the Emperor there for his army. His son, Prince Iskander, helps Askia on getting her to Vishir. It will not be easy for Askia once she gets there because there are protocols to follow, especially since she's a young single royal woman. The Emperor's wives are skeptical at first of Askia and, at first, shun her from being invited to the court. It takes Askia on breaking some protocols for her to be finally be invited. Once she is, she finds out the Queen is someone she can trust, especially with the secret she's kept hidden, especially after her parents were killed. 
For being a debut fantasy novel, I liked how Greta Kelly created this world and characters. It has a lot of politics to it for a fantasy world, which I usually don't like in books. Greta Kelly had me enjoying it, though. Poor Askia ends up doing things in this book that she doesn't want to do, but she has to be a leader to her people and prove to everyone that she is a strong leader.
One issue that bothered me was there was a slight love triangle in this book. It's mainly two male characters that are in love with Askia. Askia has feelings for one of them, but she can never be with him since he's not royalty. The other one she sees as a friend, and this person is not liking being put in the friend zone. The book does take a turn at the end with who Askia ends up with, which I found strange, but then I understood why she did it.
Overall, this book had a lot of twists and turns in it. I give it four stars and look forward to diving into the next book in the duology, especially since Greta Kelly left readers with a cliffhanger.
Standalone or Part of Series: It's part of a duology, and I would recommend reading in order.
Cliffhanger: Yes.
Trope: Rightful Heir to the Throne; Love Triangle (somewhat); Magic; Good vs. Evil.
Would I recommend this book? Yes. If you enjoy New Adult Fantasy/High Fantasy novels, then I would recommend this duology.

This post contains affiliate links you can use to purchase the book. If you buy the book using that link, I will receive a small commission from the sale. It will help sponsor future giveaways but costs you nothing extra. You can read the full disclosure underneath the Privacy Policy.
---
---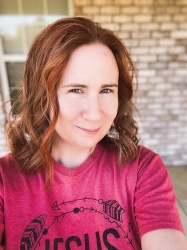 Latest posts by FranJessca
(see all)